It was trademark Normann Stadler at the Opening Ceremony for this year's Collins Cup as the Team Europe co-captain did his best to wind up his opposite numbers.
It was friendly banter rather than prickly rivalry, but there's no doubt that the 'draft' has generated some classic matchups, even if one or two were super-predictable.
The full list is here – as is reaction from the athletes.
Sheer quality
The Daniela Ryf vs Flora Duffy vs Sarah True heat that starts everything off underlines the sheer quality on show.
That's reigning IRONMAN World Champion against current Olympic and (two-time) Commonwealth champion against True, who has returned from the birth of her child to win both her races, at 70.3 and full distance.
All meeting somewhere in the middle in terms of the 100km distance.
It should be a classic and despite the best efforts of Team International's Craig Alexander to portray his side as favourites, it's hard to get away from Stadler and Natascha Badmann's European allstars.
'It's going to be fun'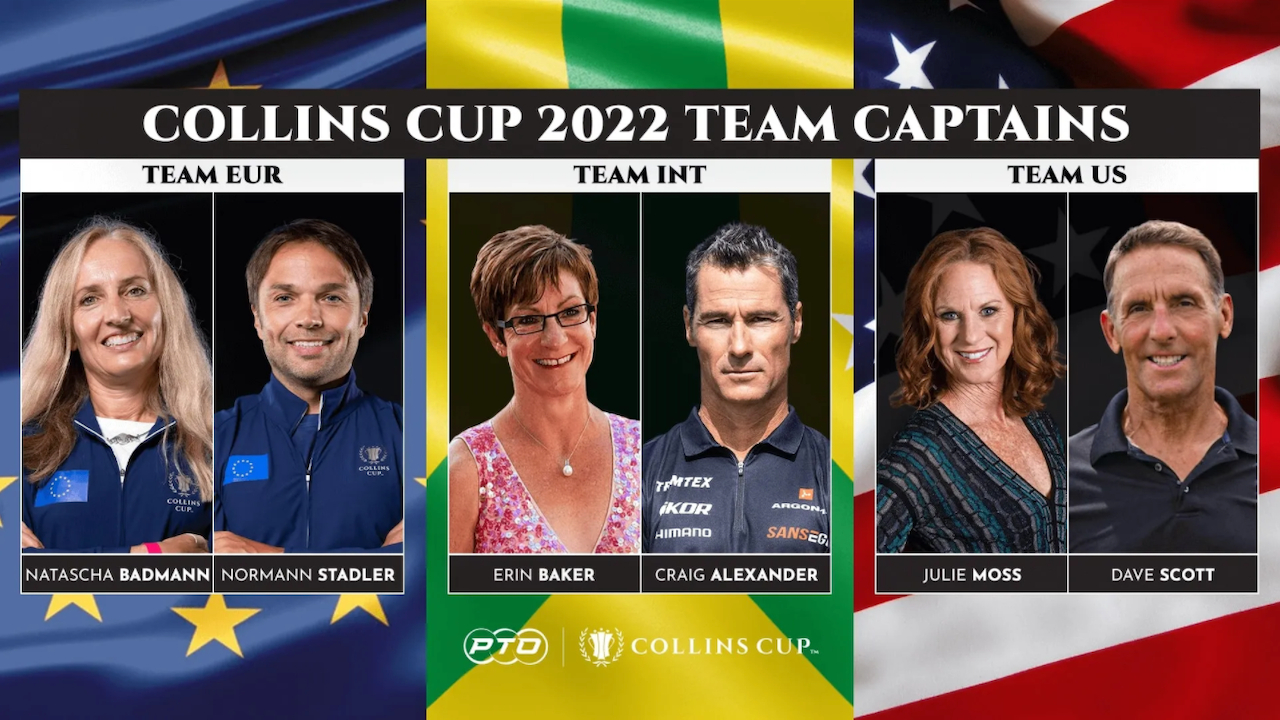 Alexander said: "Our team didn't bond on WhatsApp, we bonded in person. I think we're the favourites on paper and we can deal with it – but the races aren't raced on paper.
"I'm excited to watch all the best athletes in the sport, it's going to be fun."
That was echoed by his fellow skipper Erin Baker, who earlier in the evening was announced as the Athletica Emeritus Honouree for the 2022 Collins Cup.
She said: "You only have to look at our team and their resumes – we had the choice of the rest of the world and we picked the best. They know exactly what they're doing out there."
Down to the wire
The one thing everyone seemed to agree on was that Team US are the underdogs, even their co-skipper Dave Scott, the legendary six-time Kona winner.
But he was also in defiant mood: "A journalist asked me this week if we're capable of winning and I thought what a silly question.
"All these athletes have raced against Teams Europe and International and, on paper, there's no question about it, we're third right now but we're not satisfied with that position.
"We all know the value of garnering those last final seconds is really vital to the points system. They've really got to scream in that last 2k coming in – if they're ahead, stay ahead and if they're moving up then keep doing whatever they can.
"It's a good pressure, stress can be good and Team US are ready."
The last word though – for now – to the Team Europe captains, Natascha Badmann saying: "We are here and we have a unique moment of the sport. We're all so excited, it's spectacular, the spirit is great, let's enjoy the show."
And Stadler rounded it all off: "It stays in Europe – on paper we are the favourites. I could pick two teams and we'd still win! We're confident."