This was our guide to the Mixed Relay Triathlon at the 2022 Commonwealth Games – click here for a full report and results on how England romped to gold.
The second day of competition for triathlon at the Birmingham 2022 Commonwealth Games, Sunday 31 July, will see the third edition of the Mixed Team Relay Triathlon format at the Games.
The format has rapidly captured the imagination of sports fans, both within and outside of the triathlon bubble, assisted last season by the debut of Mixed Team Relay Triathlon at the Olympic Games in Tokyo.
That produced one of the most exciting triathlon races ever, which saw Great Britain win after a thrilling battle with Team USA and Team France. It was truly one of the highlights of the entire Olympic programme.
Commonwealth History
The Commonwealth Games has its own place in the history of this format too, with the Glasgow 2014 edition at Strathclyde Park being the first Major Games at senior level that the event was contested at.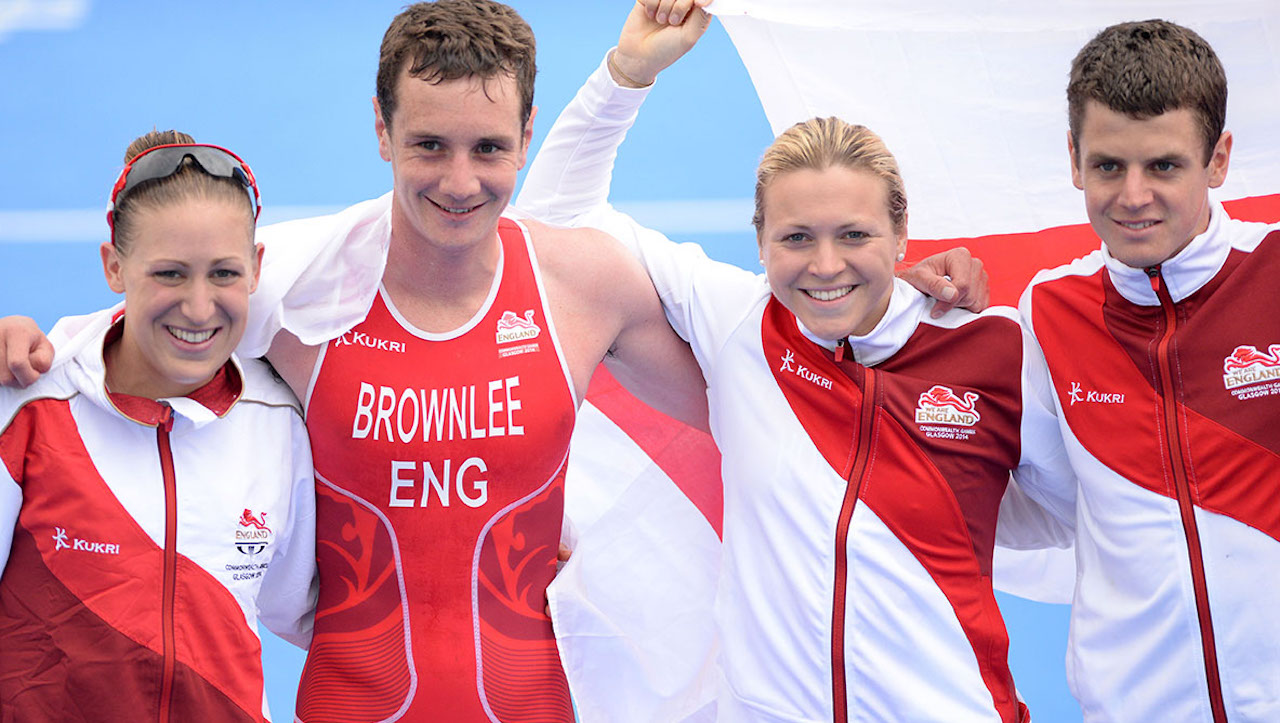 The all-conquering Team England were clear winners that day, where a thrilling three-way battle for the remaining podium slots saw South Africa claim silver and Australia the bronze.
Team Australia returned the 'home winners' favour at Gold Coast 2018, with a clear victory over Team England and Team New Zealand.
Format
Mixed Team Relay Triathlon consists of four athletes from one country, two men and two women.
Each athlete will complete a short, super-sprint style triathlon, before 'tagging' their team mate at the handover zone, and the race continues non-stop until the final athlete completes their race to determine the winner. In Birmingham the distances raced will be 300m (in Powell's Pool, Sutton Park), then a one-lap, 5km (one circuit of the same four-lap course used in the individual event), and finishing with a 2km run with Sutton Park.
There will be one significant difference in Birmingham relative to the two previous editions on Glasgow and Gold Coast. Following the rule changes implemented by World Triathlon from the 2022 season until at least 2024, the racing for all teams will be in man-woman-man-woman format.
Thus, where it was Alistair Brownlee and Jake Birtwhistle crossing the finish line and breaking the tape in Glasgow and Gold Coast, could it be Georgia Taylor-Brown, Charlotte McShane or Andrea Hansen this time around?
Tactics
While the relay format is rightly referred to as fast / furious / dynamic / exciting, there is also a significant element of tactics involved.
While the MFMF order is fixed, which athlete you select to fill those positions, and even which quartet is selected for your team, will be given significant thought. That is heightened this year, with the new 'Men start first' ruling having only been raced three times at international level (Leeds / Montreal / Hamburg). Everyone is learning fast.
Team Managers will be considering the relative strengths of their athletes across individual disciplines, and then trying to find the best way to make the most of those to optimise their overall team performance. Historically for example (when the women started), having an excellent swim-biker on leg one (e.g. Jess Learmonth) has been an excellent tactic to at the very least keep you 'in' the race, but often to split the race up early. Those teams – and their racing order – typically do not have to be confirmed until an hour or two before race start, which means that nations are also trying to second-guess what their opponents may be trying to do.
While we are very early in this new format and it is difficult to draw conclusions, we have arguably seen the races stay close together for longer with the men on leg one. It all adds another level of intrigue and discussion, to what is already a stunning spectator event.
It is one not to miss – mark it in your diary now, 14:31 local (UK) time, Sunday 31 July.