England rounded off the triathlon action at the 2022 Commonwealth Games with an utterly dominant victory in Sunday's Mixed Relay.
Alex Yee, Sophie Coldwell, Sam Dickinson and Georgia Taylor-Brown all produced terrific performances as the home team proved way too good for the opposition in front of huge crowds.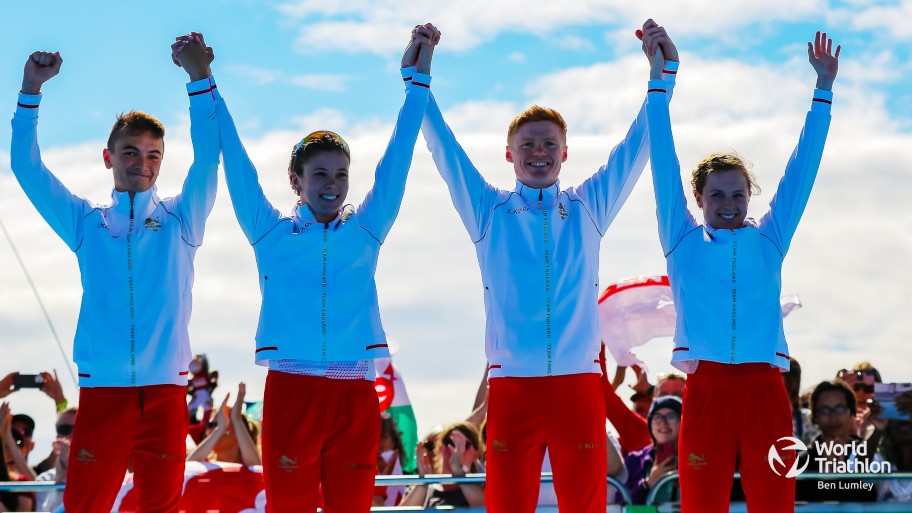 Wales produced a magnificent performance to take silver, with Australia claiming bronze.
Leg 1 – Awesome Yee blasts off
The order selected by teams meant we had another Yee vs Hayden Wilde matchup on the opening leg. But it was South Africa's Jamie Riddle – as he had in the individual race on Friday – who blasted to the front early on the 300m swim.
Riddle was relentless at the front and built a stunning lead given the relatively short distance. He exited the water with an advantage of eight seconds over Wilde of New Zealand, with Yee of England right behind him in fourth. Tyler Mislawchuk of Canada was sandwiched between the big two.
The South African was swiftly through T1 and was out on his own as he set out on the 5km bike leg. Wilde though was soon with him after a real surge took him level and then to the front. Yee's task now was to get on the back wheel of Riddle.
Pretty soon the front two became three as Yee got back on terms, and the trio shared the work before Wilde really started to inject the pace from the very front. He led Riddle and Yee into T2 and now it was time to see who could gain an advantage on the run. Bermuda, Wales and Scotland led the chasers – just 10 seconds behind that lead pack.
Yee and Wilde dropped Riddle early on the 2km run, with the Englishman taking charge at the head of affairs and the Kiwi behind, stalking. Hayden though would not give best and the two great rivals continued to run through Sutton Park side by side.
Alex made what appeared to be a decisive break late on the run, producing a sudden burst which even Wilde could not live with. Behind the leaders, Jake Birtwhistle of Australia had moved past the flagging Riddle and into third.
As Yee handed over to Coldwell, Team England had a 20-second lead over New Zealand – the individual gold medal winner stopped the clock at 17:27 after a simply blistering opening leg. Australia were third, just a further five seconds back.
Leg 2 – Coldwell adds to the gap
Coldwell set off to try and build on that terrific lead given by Yee's spectacular start, while Nicole Van Der Kaay (NZL) and Natalie Van Coevorden (AUS) had a ton of work to do.
Sophie exited the water having extended that advantage with an excellent swim – the gap to second-placed Van Coevorden of Australia was now 24 seconds with Van Der Kaay falling back to third.
Coldwell continued to race alone on the bike as she roared through the streets, backed by huge home crowds cheering her on.
Behind the English star, we had Beth Potter of Scotland and Olivia Mathias of Wales joining Van Der Kaay at the front of the chase pack as Van Coevorden tried to stay with it after being caught.
Coldwell entered T2 with an even bigger lead – she was now 36 seconds clear of that chase pack which brought in Wales, Scotland, New Zealand and Australia. They set off in furious pursuit of Coldwell, with Mathias of Wales leading the way and Van Coevorden quickly being dropped.
As Coldwell handed over to Dickinson at the halfway stage of the race, the gap at the front had closed a little with Potter (SCO) dragging that chase pack – which included Wales and New Zealand – to within 27 seconds. Still very much advantage England though.
Leg 3 – Dickinson gives his all
Dickinson came in for huge praise after his selfless display which helped Yee claim that individual gold on Friday. Here he was again very much part of a team effort – but one which would hopefully bring him a gold medal too.
Tayler Reid of New Zealand and Cameron Main of Scotland meanwhile were continuing to give chase, but as Dickinson exited the water he still retained that same 27-second edge. Wales in the shape of Dom Coy were a further six seconds away in fourth.
Dickinson had been a superstar on the bike on Friday, going through the pain barrier to help lift Yee back into gold medal contention. He was alone at the front this time, getting massive encouragement from the crowds packed around the streets of Sutton Coldfield.
While Dickinson was alone out front, Main and Reid were able to share the work as they tried to close the gap. Despite that though Sam had extended England's lead to 31 seconds by the time he reached T2. Then came New Zealand and Scotland, who had been joined late on the bike leg by Wales and Australia in the shape of Coy and individual bronze winner Mattie Hauser.
As he had on Friday, Dickinson had put in another massive effort here and it was showing as he grimaced during the approach to the handover. As he handed over to Taylor-Brown the advantage for England was now just 16 seconds.
The chase pack was now three-strong with Wales, New Zealand and Australia giving chase heading into the final leg. Scotland meanwhile had fallen back to fifth, more than a minute off the pace and now likely out of medal contention.
Leg 4 – GTB ruthless in golden surge
Taylor-Brown opted not to wear a wetsuit as she set off to try and bring home gold for England. Chasing her were Non Stanford (WAL), Andrea Hansen (NZL) and Sophie Linn (AUS).
That lack of a wetsuit definitely did not hurt the individual silver medallist from Friday as GTB came out of the water with a lead which was now up to 24 seconds after a terrific swim. By the time she left T1 it was up to 37 seconds. Wales, Australia and New Zealand were still locked together as they likely battled it out for silver and bronze.
Taylor-Brown set off alone on the bike while the chasers shared the work, surely in hope rather than anticipation as they desperately tried to cut the gap.
GTB was smooth and serene at the head of affairs and her massive lead had grown to exactly one minute as she went through T2 and out onto the run. Now surely it was all about who would win win the race for silver and bronze – early on it was Stanford of Wales and Linn of Australia building a gap over Hansen of New Zealand.
There was zero doubt about where gold was going though as Taylor-Brown roared home to complete a dominant victory for England in an overall time of 1:16:40.
Stanford produced a fairytale swansong to her great career by sprinting away from Linn to clinch the silver medal for Wales, as Australia settled for bronze.
Commonwealth Games Triathlon Results 2022
Mixed Relay Triathlon – July 31, 2022
Sutton Park, Birmingham – 300m/5km/2km
1. England – 1:16:40
2. Wales – 1:17:26
3. Australia – 1:17:29
4. New Zealand – 1:17:37
5. Scotland – 1:18:35
6. Canada – 1:20:01
7. Bermuda – 1:20:06
8. South Africa – 1:21:17
9. Namibia – 1:30:24
10. India – 1:31:43