Alex Yee may have collected the triathlon gold medal at Friday's 2022 Commonwealth Games in Birmingham, but he was quick to hand huge credit to England team-mates Sam Dickinson and Dan Dixon.
"They were immense," said Yee in the immediate aftermath of his epic victory over great rival Hayden Wilde in Birmingham.
"Those guys worked super-hard for me. Sam sacrificed his race for me on the bike and I was really appreciative of what he was doing.
"I'm just so pleased that I could honour that by getting the win."
Yee's clear focus
Dixon, the 20-year-old who come in as first reserve for Team England once Jonny Brownlee was ruled out, came out of the water in fourth and then focused on the task in hand as the chase group formed to try and reel in the front three, which included Kiwi star Wilde.
He explained: "The main thing is we came here for a medal as a team and we got it. That was absolutely the key goal.
"It's sad for Jonny obviously that he wasn't able to attend. But I'm really glad that we could make it worth it and put on a great show for everyone here.
"All three of us ended up in the bulk of the chase pack and the aim was to bring Alex towards the front as much as possible. We did a cracking job in the end. It was great."
Dream come true
Echoing Yee's comments, and with a smile and a nod towards Dickinson who was stood alongside him, Dixon added: "This man here was a hero on the bike. He was unbelievable."
It was also a first Commonwealth Games for Dickinson, and the 25-year-old was visibly emotional as the achievement sunk in.
"I'm just over the moon to be competing at the first event of the 2022 Commonwealth Games.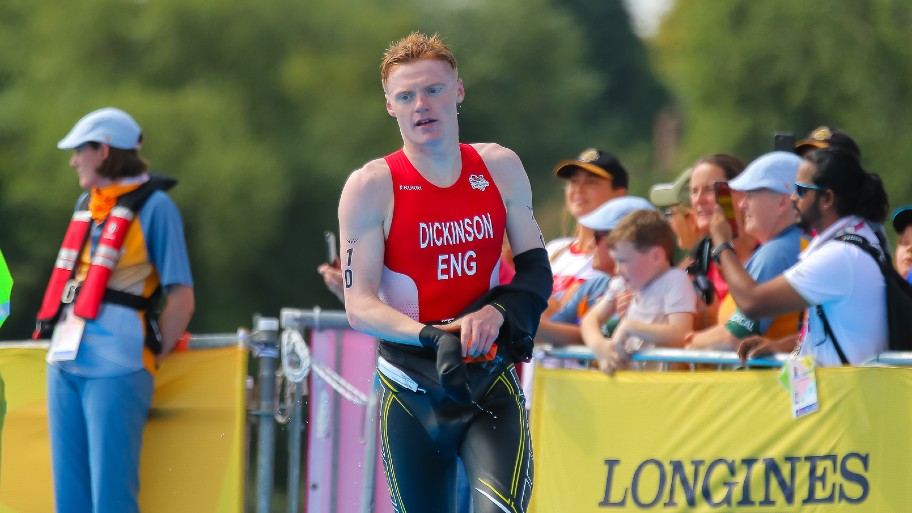 "I started triathlon after seeing Alistair [Brownlee] winning Olympic gold in London in 2012 so to be here competing 10 years later at the Commonwealth Games is a dream come true.
"When you've got an athlete like Alex Yee who can run as fast as he can, we all knew our job was to make it happen."
Reeling in Wilde
But that meant an incredible amount of work was required and Dickinson stepped up to the plate in style.
He explained: "On the bike we saw Hayden was 20 seconds up the road but let's be absolutely honest, we came here for gold.
"I gave it absolutely everything on that bike, just to get him as close as possible. And I was in a world of pain on the run, but when I was running down that last k and a couple of my mates on the course told me we'd done it, you just can't describe the elation.
"I'm so happy for the guy, we've been racing together since juniors and for him to win gold on national television and hopefully inspiring the next generation, that was unreal."
"We didn't know about Hayden's penalty but that didn't change anything. My job was to empty the tank and get Alex as close as possible to the front. We knew he had a shot if he was anywhere near."
And just to amplify the intensity there was a rare spectator at a Dickinson race, to see history being made: "My Mum doesn't ever get to come to see me race but she was in the grandstand today and it's pretty emotional."
Indeed the incredible atmosphere at Sutton Park inspired all of the England trio, with Dixon admitting: "The crowds were absolutely unbelievable. I've never experienced anything like it.
"It was absolute magic running around, even warming up, there's just been amazing support around for the team."