Second place at IRONMAN Copenhagen
It's been a busy – and successful – season for 'Cozza'
It's been a very different year for Great Britain's Corinne Abraham. With a remarkably consistent record of IRONMAN racing (see her full history below), in recent years the biggest issue has been getting to the start line at all, on a consistent basis, as injuries have thwarted her racing schedule.
That's not been the case this year and, as she recently told me (CLICK HERE FOR FULL INTERVIEW), " I am keen to make the most of my time in the sport with more racing."
Despite having secured her Kona start in the July points cutoff, Corinne was keen to race again, and on Sunday – after finishing second recently at IRONMAN 70.3 Gdynia – IRONMAN Copenhagen was the venue for her third full-distance event of the 2017 season.
After second in Lanzarote (to Lucy Charles) and second in Austria (to Eva Wutti), it would be another second place finish – this time behind local favourite, Michelle Vesterby.
That represented Corinne's tenth career IRONMAN podium finish – check out the full history of IRONMAN success for British women HERE,
IRONMAN Copenhagen 2017 – Sunday 20th August 2017
3.8km / 180km / 42.2km – PRO WOMEN
1st – Michelle Vesterby (DEN) – 9:00:19
2nd – Corinne Abraham (GBR) – 9:08:09
3rd – Sofie Goos (BEL) – 9:17:17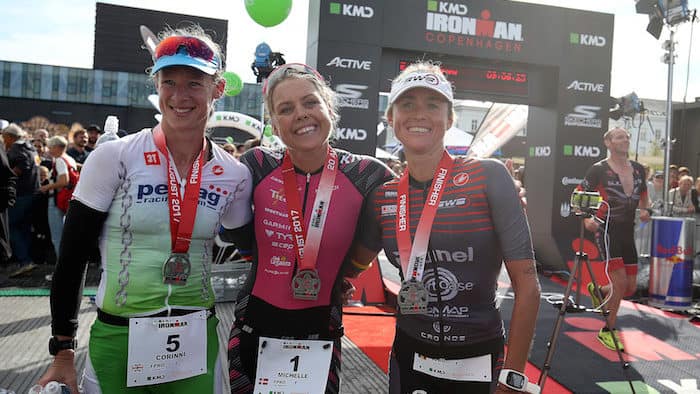 Corinne Abraham – Ironman Record
Race

Cat/Pos

Total

Ironman Regensburg 2010 (Age-Grouper)

3rd Overall, 1st Age-Group athlete

9:41:21

Ironman Hawaii 2010 (Age-Grouper)

10th Age-Group 30-34

10:09:02

*** Professional from 2011 Onwards ***

Ironman Texas 2011

n/a

DNF

Ironman Wales 2011

n/a

DNF

Ironman Texas 2012

4th

9:18:39

Ironman Frankfurt 2012

3rd

9:21:03

Ironman Arizona 2012

3rd

9:15:10

Ironman Melbourne 2013

Winner

8:10:56 (shortened swim)

Ironman Lanzarote 2014

3rd

9:51:41

Ironman Frankfurt 2014

Winner

8:52:40

Ironman Hawaii 2014

11th

9:25:04

Ironman Texas 2015

5th

9:12:20

Ironman Cozumel 2015

Winner

9:06:40

Ironman Cozumel 2016

4th

9:19:14

Ironman Lanzarote 2017

2nd

9:44:29

Ironman Austria 2017

2nd

9:08:03

Ironman Copenhagen 2017

2nd

9:08:06