The delayed 2021 IRONMAN World Championship at St George will be a race like no other – a unique test at a unique time of year – and nobody knows this better than the great Daniela Ryf.
The near three-year wait for the sport's biggest prize to once again be contested is almost over, and the Swiss superstar knows exactly how hard it will be.
St George, with its brutal undulations and climbs, will ask very different questions of the athletes to the ones normally posed at Kona in October.
While the sport's elite stars can spend a winter recovering after that unique test on the 'Big Island', St George is just the start of a packed 2022 calendar.
it all adds up to something which Ryf admits she almost fears, as she explained when interviewed by Bob Babbitt on 'Breakfast With Bob' this week.
Contrasting emotions
Ryf told Babbitt: "I'm a bit scared that the race is going to be so hard, but I'm also really looking forward to it.
"I'm also thinking, 'Oh my God, how am I going to walk the next day?' Because I think this race is going to destroy everyone badly.
"I'm already praying for my legs, especially because then it's not like the season's over – the season's just getting going.
"When you're in the race, it's the race. And I try not to think about wherever we are in the season. It's the World Championship, so I'm definitely going to give everything I have.
"I definitely want to make sure, of course, my fans and my country proud. And of course, also the preparation I put in and all the people who helped me with it.
"You want to embrace it. Then I will raise for that race and then whatever happens after we'll see."
Very different climates
Daniela of course dominated at Kona between 2015 and 2018, claiming four consecutive IRONMAN World Championship victories. It's fair to say she perfected what it takes to win at the sport's most iconic venue.
St George though replaces the tropical humidity of Hawaii with the dry heat of the American Mountain West. Daniela stressed that makes being there early incredibly important – getting to used to the conditions for her is a huge positive.
"Just being able to have to get these long rides in and to acclimatise – it's super dry – which I believe is going to be very hard. It took me almost three weeks to get used to it, to be honest."
Ryf, with that experience now in her back pocket, provided a fascinating take on how the conditions affect athletes.
"The breathing is heavy, even though you would think in dry air it's easy to breathe, but I find it quite challenging. And so, yeah, it was important for me that I can get used to it.
"You do get almost a sore throat breathing even when you're swimming, so it's really super-dry. I think the least we had was 6% of humidity, which is pretty much none.
"It just takes time. The body can get used to it, but the skin is dry and you always have to make sure you drink enough and you actually don't feel thirsty.
"I've had long rides where I didn't even drink because I forgot it and then realised, 'oh, I need to drink'. So you don't really realise that you're sweating. So, yeah, it's very different to Kona, but it's always good to adapt to the challenges and make the best out of what you need to get used to."
The challenges of 2021
Daniela went into 2021 as THE dominant force in women's long-distance triathlon. But that aura of invincibility slipped just a little as her performances dipped from her own lofty standards, particularly during the second half of the year.
The 34-year-old spoke at length about how she battled illness and health issues for much of the season.
"Last year was about more than overcoming my health issues and that was a bit of a problem," said Daniela.
"I'm not really sure if I had COVID or if it was from something else, but I did have really big problems with the immune system and breathing, lung and heart, and that was really through the whole year.
"I did not manage to actually do the training I need to do and it was a bit frustrating because I was motivated and there were races again on the horizon and I couldn't really do the training which was needed.
"I was always very tired and just wanted to sleep. So I managed to deal with this and overcome that. So that's definitely for me a big step. I feel healthy again and able to put in the training now."
"She used to be good at triathlon"
Despite winning five of her seven races in 2021, Ryf joked that even her own godson was left questioning her abilities to return to the top of the sport.
"It's actually funny because my godson – I think it was last winter – he introduced me to a friend of him and he would say, 'yeah, this is my godmother. She used to be good in triathlon'.
"I was like, well, okay, yeah, I know at that point because it's true. I mean, we haven't had a World Championship since almost three years, and that one I missed.
"It's been four years since I had a really good race. So it was just funny how little kids they interpret them. The situation is a little bit different, but it was funny. I had to laugh. I love that 'she used to be good' at that."
Absence of LCB
With just over a week remaining until the St George showpiece, would-be challengers continue to fall to the wayside due to injury and illness.
The likely pre-race favourite on the women's side – Britain's Lucy Charles-Barclay – was forced to withdraw with a hip injury. Daniela expressed her sadness that LCB will not be on the start line with her in Utah.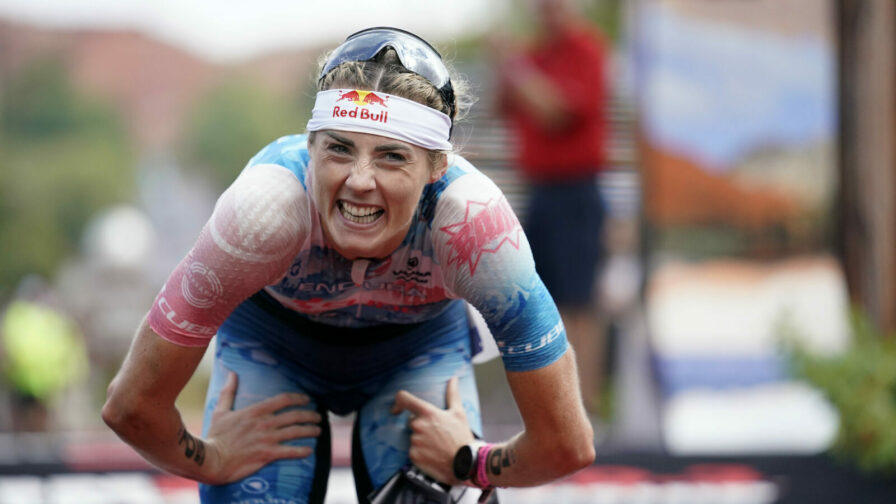 "It's definitely very sad that she's [Lucy Charles-Barclay] not racing. I believe it would have been a very good course for her. This sport is so cruel. So for her, it's really hard to miss out."
As for Daniela herself, she is just happy to be heading for the biggest race of all in good shape after missing out at Kona in 2019.
"To actually make the start line healthy and not injured, that's such a huge part of the race and to be able to get it all together, it is hard."