Dave Ellis won Commonwealth Games Paratriathlon gold in Birmingham on Sunday – click here for the full race results and report.
Dave Ellis may be a clear favourite for the men's Commonwealth Games paratriathlon title in Birmingham on Sunday, but he has an even bigger picture in view.
Ellis, who competes with his guide Luke Pollard in the visually impaired (PTV1) category, is the world number one and is the hot favourite to top the podium for England.
While the 36-year-old would love to add a first major Games title to his World and European crowns, he feels that raising the profile of para sport is an equally important goal.
Ellis wants a lasting legacy
Speaking in a documentary produced by his sponsor dhb, Ellis said: "We obviously want to do well at Commies, we'd love to win the Paralympics but then yeah, obviously, you'd like to inspire the next generation because you're just one moment within the sport.
"Para sport in general, you always want to see it grow and develop and get to that level of able-bodied sport. But it has got a long way to go.
"It needs exposure. It won't take one generation or one set of athletes to change the sport, but if we can do it as a collective, where the level is so strong in para tri that more people want to get involved, more people get interested in it, then hopefully that will keep it growing and keep it pushing forwards."
Ellis, who hails from Heanor in Derbyshire, added: "In VI or blind sport, without having someone to either be a guide runner or a pilot on a bike or in triathlon a guide through the whole event, we wouldn't be able to do the sport.
"It's everything to you in the race or just in general.
"A lot of the time people will just be volunteers at club, just to help VI athletes out or ride a tandem with someone who is blind.
"It definitely makes all the difference in getting people involved in sport who have a visual disability."
Ellis, who has less than 10% vision, is classified in the PTVI3 category for less severe partially sighted athletes.
PTVI3 and PTVI2 (severe partially sighted) athletes start 2min 46seconds after their PTVI1 (totally blind, to some light perception) counterparts, with medals then decided on the order they cross the finish line.
Pollard, 30, will be tethered to Ellis in the swim, but must not 'propel, push or pull' him.
They then ride a tandem bike, before again being tethered together for the run in which Pollard must finish behind or beside Ellis.
Pollard, who is from Telford in Shropshire, and works in logistics for the RAF, was an elite level cyclist himself before getting into guiding.
He said: "Currently, guiding Dave is my full-time role. So yeah, I'm pretty fortunate to be supported by the RAF.
"I have been watching cycling all my life, really.
"What I always love is the fact that there will be people in that team who will sacrifice their own races and some people sacrifice their own careers, in terms of helping the leader of the team get the result. And the team get the result.
"I feel like, maybe, my personality suits that quite well, where I don't mind the spotlight not being on me. I'd love to be part of something that's bigger than me, I guess."
A snapped chain cruelly robbed the Loughborough-based triathletes of a shot at glory in the Paralympic Games in Tokyo last year.
But as a four-time world and five-time European champion, Ellis has more than enough pedigree to land Commonwealth gold.
Sight issues, and fear
Diagnosed with the eye condition Stargardt's Disease and told he was going to go blind as a teenager.
He said: "I just thought I needed glasses. I was kind of struggling a little bit at school to see the board.
"I sort of thought there was a bit of a reflection on the board all the time and I was struggling to pick out some of the finer words and numbers and stuff like that, probably when I was about 16.
"I went for an eye test, then got referred to hospital, because obviously it is quite rare.
"It's not the standard thing you go to the opticians and they know about.
"There is a fear, obviously, because they say you need to register blind because you'll be blind one day.
"You're like, oh, okay. That was quite difficult to take as a 15/16-year-old.
"It was definitely a tough time. And then it changed quite rapidly through to 17/18.
"I went from having pretty standard eyesight to then not really being about to see anything in the middle of my eyes.
"I think it's different for different people, but for me, in particular, it's almost like flashing light in the middle.
"A bit like if you have a camera with a flash on, that big spark in your eye. Just all the time."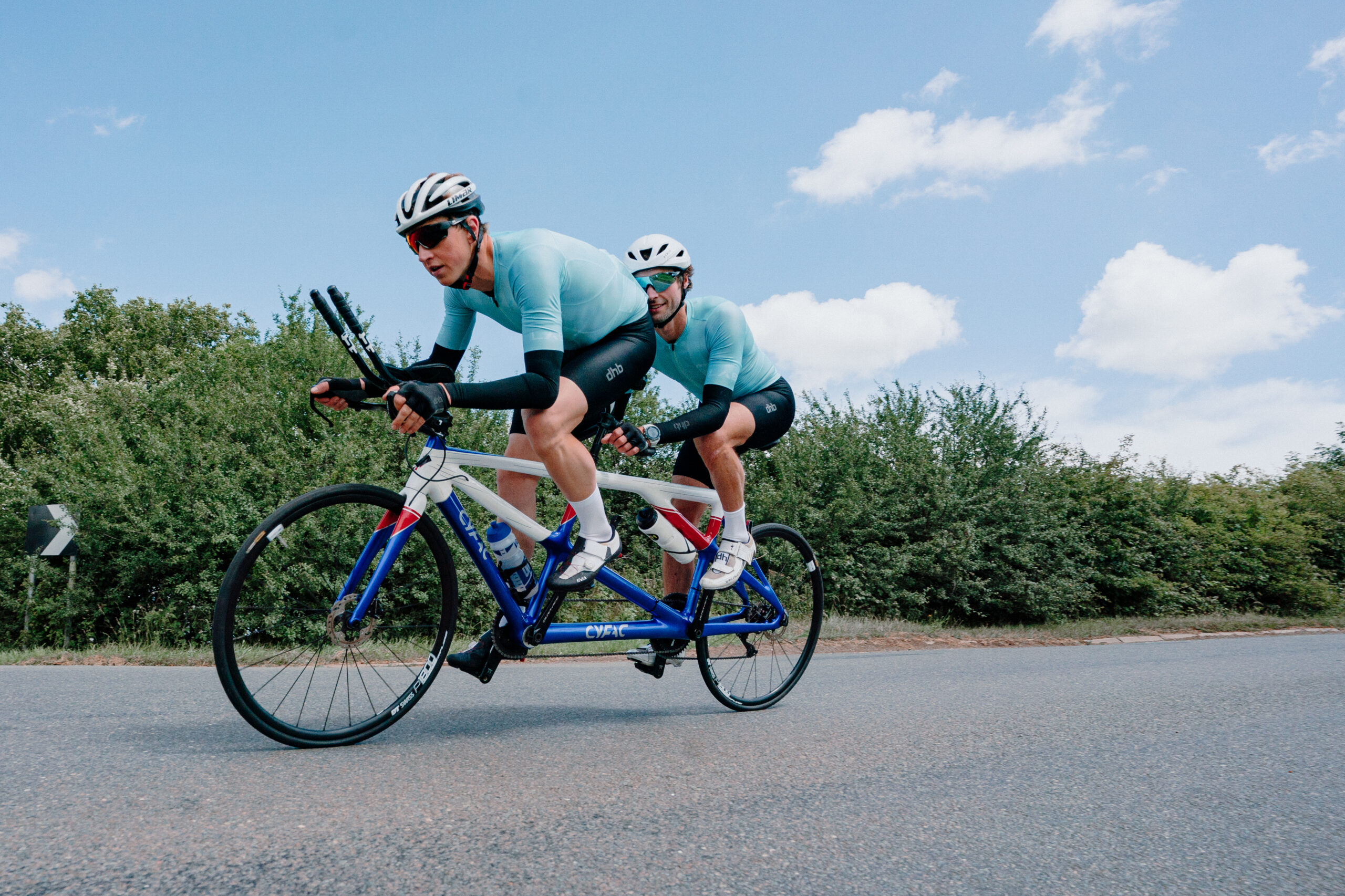 Ellis made his Paralympic Games debut as a swimmer at Beijing in 2008.
After coming fifth in the 200m Individual Medley in China, Ellis agonisingly missed out on qualification for London 2012 by less than one tenth of a second, which led to the Briton making a switch to triathlon.
From swim to swim/bike/run
"There was actually almost six months where I was a bit lost and didn't really know whether I wanted to be an athlete anymore," he said.
"There happened to be a talent ID day for triathlon in early, or maybe end of January 2013.
"I'd never really run before, so trying to pick up, not just cycling, but running as well was difficult and challenging.
"But it all seemed to go quite well and I managed to go to European champs about four months after starting the sport and win that, which was a massive shock again."
Reaching the levels required to guide Ellis proved a real challenge for Pollard, but now the duo are very much in tune.
Pollard said: "Just training with Dave day-to-day is difficult, physically, for anybody. I came from elite racing myself and I had to spend six months just hammering my swim just to get to a level where I am able to complete sessions with Dave.
"You need to have 100 per cent of yourself into it because, like, this matters probably more than my own career.
"People look at Dave and that's where the pinnacle of the sport is at the moment.
"That's where people want to be, that's what people aspire to, that's the aim, that's the goal, that's the benchmark."
And as they prepare for Sunday's race, Ellis has a clear message for others looking to get into para sport.
He said: "There are no limits. Yeah, you might have a disability and it might stop you doing something in a certain way, but loads of people have found a way to carry on, to get into sport and be amazing at sport.
"So, just because you've got one leg, one arm or no vision, don't let that stop you."