Dave Ellis romped to a brilliant victory for Team England in the men's Paratriathlon at the 2022 Commonwealth Games in Birmingham on Sunday.
He and guide Luke Pollard were utterly dominant throughout the race, roaring clear of the rest of the field in great style to top the podium.
The 36-year-old was diagnosed with the eye condition Stargardt's Disease as a teenager, and told he was going to go blind. He continues to overcome adversity, after his build-up to this race was hampered by the two broken arms he suffered in January.
Those injuries, sustained tripping over an extendable dog lead, may have cost him valuable time in the water in particular in recent months but he was absolutely brilliant here as he claimed a convincing victory.
It was a very special moment for Ellis, who had his shot at Paralympic glory in Tokyo so cruelly ruined by a snapped bike chain last summer.
Swim – Ellis takes control
Ellis and Pollard were super smooth in the water in Sutton Park despite the miserable weather conditions, stopping the clock at 9:46 for the 750m swim leg.
That gave the English star a lead of just over 30 seconds from another Team England star, youngster Oscar Kelly. Australia's Sam Harding was 30 seconds further back in third.
Bike – Dave drops the hammer
The weather in Birmingham was now thankfully improving, and Ellis and Pollard took full advantage on their tandem bike as they poured it on during Lap 1 of 4. By the end of that first 5km circuit, their lead was now 1:29 from Harding.
Lap 2 brought more of the same with Ellis and Pollard looking really strong as they upped the lead to just over two minutes from Harding. Another Aussie in Gerrard Gosens was currently holding onto bronze medal position with Rhys Jones of Wales in fourth.
The relentless progress of Ellis and Pollard continued on Lap 3, putting another half-minute into the opposition. The advantage over Harding was now 2:32 with Gosens 4:43 off the pace in third.
Ellis smoothly progressed through the final bike Lap to stop the clock at 26:27 for the leg, before a perfectly transition through T2. Now all that separated him from that prized gold medal was the 5km run. He was three minutes clear of Aussie Harding.
There was bad news coming through for England's Kelly meanwhile, with his chances of a medal severely hampered by a puncture early on the bike leg.
Run – Ellis brings it home
Harding is known for his prowess on the run, but the gap to Ellis already appeared too big to eradicate with just the 5km to cover. And so it proved as Dave actually increased his advantage to 3:33 on the first of the two run laps.
All that remained now was a glorious victory as the agony of Tokyo was replaced by utter joy. Ellis stopped the run clock at 16:38 for an overall time of 57:39.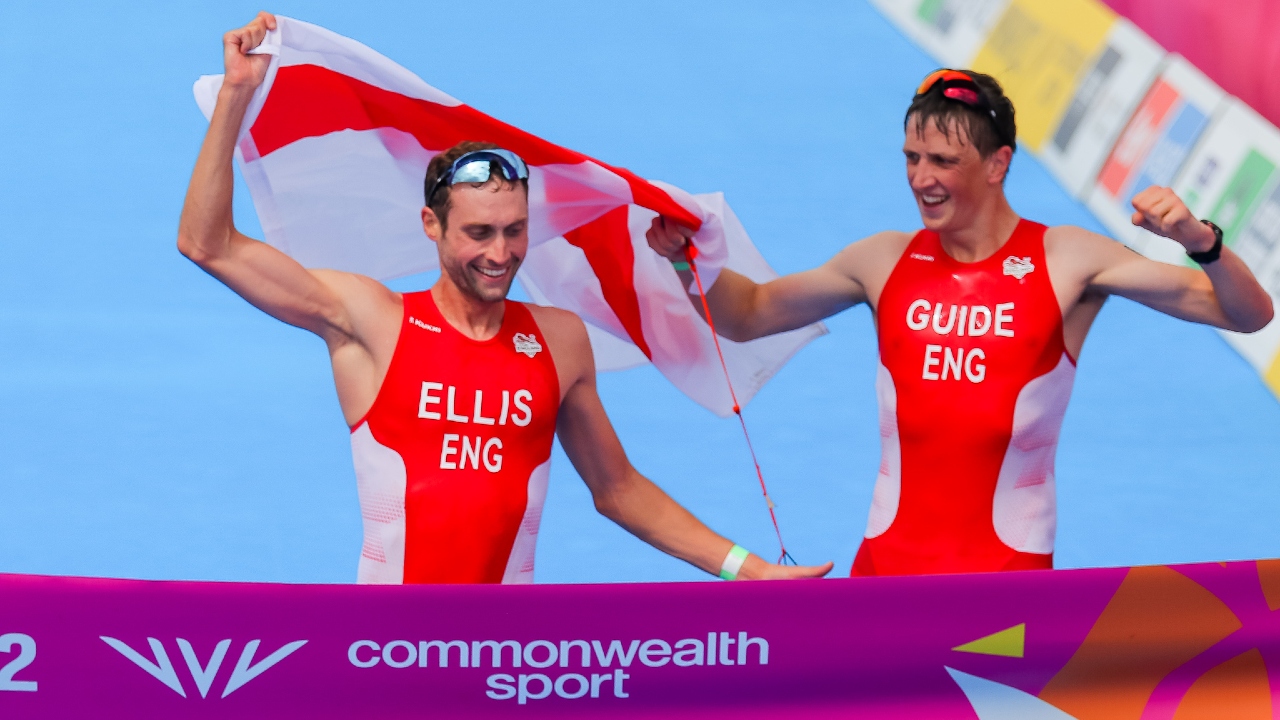 The margin of victory for Ellis was 4:30 as Harding claimed silver for Australia while another Aussie Jonathan Goerlach grabbed the bronze. Rhys Jones of Wales took fourth while England's Kelly was fifth after a terrific recovery following that mechanical.
Commonwealth Games Paratriathlon Results
PTVI Men – Sunday July 31, 2022
Sutton Park, Birmingham – 750m/20km/5km
1. Dave Ellis (ENG) – 57:39
2. Sam Haarding (AUS) – 1:02:09
3. Jonathan Goerlach (AUS) – 1:05:21
4. Rhys Jones (WAL) – 1:06:02
5. Oscar Kelly (ENG) – 1:06:38