The 2022 Commonwealth Games in Birmingham promised some absolutely stellar triathlon action, and how it delivered.
With superstars like Flora Duffy, Georgia Taylor-Brown, Alex Yee and Hayden Wilde heading terrific fields, this was always going to be special. And it didn't disappoint.
Here is how it all unfolded.
Yee and Duffy strike gold
The women's and men's individual races both took place on Friday July 29, with England's Alex Yee claiming the men's gold and Bermuda's Flora Duffy retaining her women's title in spectacular fashion.
Sunday July 31 saw the remainder of the action, bringing in Mixed Team Relay and Paratri action.
The PTVI men's race went to Dave Ellis, who was so unlucky at the Tokyo Olympics, while teenager Katie Crowhurst made it a Team England double with gold in the PTVI women's race.
The Mixed Team Relay brought the tri action to a spectacular climax on Sunday afternoon, with England dominating from start to finish, while Wales took a superb silver.
All individual races took place over triathlon's Sprint distance – a full breakdown on that to come.
How can I watch on TV and live stream?
All races were screened live in the UK by the BBC – the national broadcaster.
The Games start on Thursday July 28, and they close 11 days later on Monday August 8. In between the BBC will air more than 200 hours of live coverage.
Coverage will be available across BBC One, BBC Two and BBC Three, with more live action available on the BBC iPlayer and Red Button.
Seven network will carry coverage in Australia while Sky TV is the go-to option in New Zealand. CBC Sports has the call in Canada and SuperSport will air coverage in South Africa.
The Olympic Channel will air a daily highlights show in the United States – starting each day at 6pm Eastern Time.
And our special live blog featured updates, colour and analysis.
Sprint triathlon distance: Breaking it down
You can check out our detailed guide to all triathlon distances right here, but this is the breakdown of what the triathletes will face at Sutton Park in Birmingham.
All individual races will take place over that breakneck Sprint distance, which means:
Races start with a 750m swim
Then the action moves to two wheels for a 20km bike leg
Then the races finish with a 5km run
The Sprint distance in case you are wondering is exactly half of the Olympic distance for all legs. So much shorter than you saw in Tokyo last summer.
Distances for the Mixed Relay in Birmingham (there is a full guide to that format here) are as follows:
Who is racing at Birmingham 2022?
You can check out latest start lists and bib numbers for both of Friday's huge races – the men's individual featuring Yee vs Wilde and the women's individual featuring Duffy vs Taylor-Brown.
If it's predictions you are looking for then fear not, our John Levison has analysed the fields forensically as ever. He has come up with his podium picks for both the men's and women's individual races, paratriathlon and mixed team relay:
There are some terrific rivalries to look forward, with Team England's Olympic silver medallist Taylor-Brown taking on Bermuda's Olympic Champion Duffy in the women's race.
The men's field meanwhile is headed by the two superstars of 2022 so far – Team England's Yee and New Zealand's Wilde. Between them, they have won all four World Triathlon events this year. You can click here for all you need to know about their growing rivalry.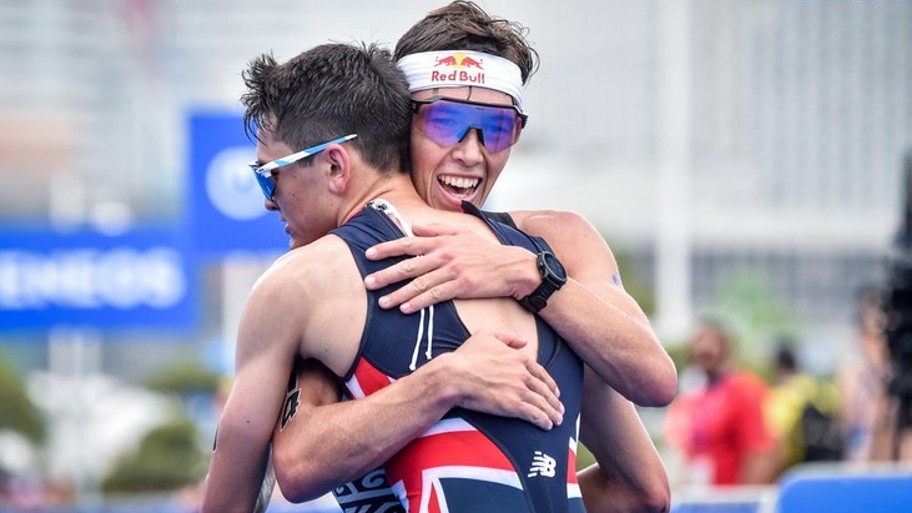 The interest will extend beyond those four Olympic medallists however. The women's individual race for example will also feature the in-form duo of Beth Potter (Scotland) and Sophie Coldwell (England), while 2013 World Champion, Non Stanford, will be hoping to add the silver medal that Leanda Cave won for Wales, 20 years ago in Manchester.
The Paratriathlon event includes the world's top-ranked PTVI athlete, Dave Ellis (guided by Luke Pollard), while the Mixed Team Relay has become a fan favourite, both among triathlon enthusiasts and the general sporting public. Team England will start as favourites to regain the title they won eight years ago in Glasgow.
Commonwealth Games Triathlon Past Winners
This will be the fifth time that triathlon has been a full medal event as part of the Commonwealth Games, having made its debut 20 years ago in Manchester.
Commonwealth Games Triathlon Champions – Women
Manchester 2002 – Carol Montgomery (CAN)
Melbourne 2006 – Emma Snowsill (AUS)
Glasgow 2014 – Jodie Stimpson (ENG)
Gold Coast 2018 – Flora Duffy (BER)
Birmingham 2022 – Flora Duffy (BER)
Commonwealth Games Triathlon Champions – Men
Manchester 2002 – Simon Whitfield (CAN)
Melbourne 2006 – Brad Kahlefeldt (AUS)
Glasgow 2014 – Alistair Brownlee (ENG)
Gold Coast 2018 – Henri Schoeman (RSA)
Birmingham 2022 – Alex Yee (ENG)
Commonwealth Games Triathlon Champions – Mixed Team Relay
Glasgow 2014 – Team England
Gold Coast 2018 – Team Australia
Commonwealth Games Triathlon Champions – Paratriathlon
Gold Coast 2018 (PTWC) – Joe Townsend (ENG) and Jade Jones (ENG)
What is a good time for a Sprint distance triathlon?
If you are new to triathlon, then one thing you'll find absent in short distance racing is references to personal bests / championship records / world records.
The nuances of each specific course and terrain mean that it is impossible to really set meaningful times against each other. If you don't want to compare anything, it's positions you need to look at, plus time gaps relative to other athletes. That's what tells the true story of the race.
That said, we can give you an approximate guide. Given that we will have four of the six Olympic medallists racing in Birmingham, the pace at the front of the field will be as fierce as any international race.
The Elite men will swim the 750m in approx. nine minutes, complete the 20km cycle in around 28 minutes and finish off with a 5km run in close to 14 minutes. Add in the swim to bike (T1) and bike to run (T2) transitions, and the winner will likely close the line in circa 53 minutes, give or take a minute or so either way.
Not too much difference for the Elite women, where the overall winning time will likely be within around five minutes, seeing the gold medal winner breaking the tape in, or slightly under, the one hour mark.