These were our podium picks for the Mixed Relay Triathlon at the 2022 Commonwealth Games – click here for a report and results on how England won gold.
The Mixed Team Relay event at the Birmingham 2022 Commonwealth Games will represent the conclusion of two days of triathlon competition in Sutton Park.
Sunday 31 July is the date, with a local start time of 1431BST.
Having had a day's rest from Friday's individual races, who will come out on top in team relay format?
England expects
Straight to the point – Team England will start as the very short-priced favourites to win gold in Birmingham.
Champions on UK soil at Glasgow 2014, British teams have finished second (Leeds), second (Montreal) and first (Hamburg) in WTCS Mixed Team Relay events this season. Of course, not every athlete in those squads has been English (Grant Sheldon in Leeds, who will be representing Scotland in Birmingham), but each squad has delivered consistently, whatever the team selection has been.
In Montreal, which was the World Championships, the squad of Alex Yee, Sophie Coldwell, Sam Dickinson and Georgia Taylor-Brown overcame a penalty to finish second only to France. There's a strong chance that could be the selected quartet to race in Birmingham, which with two MTR Olympic gold medallists (GTB and Yee) along with a three-time WTCS podium finisher in Coldwell, is the backbone of a very strong team.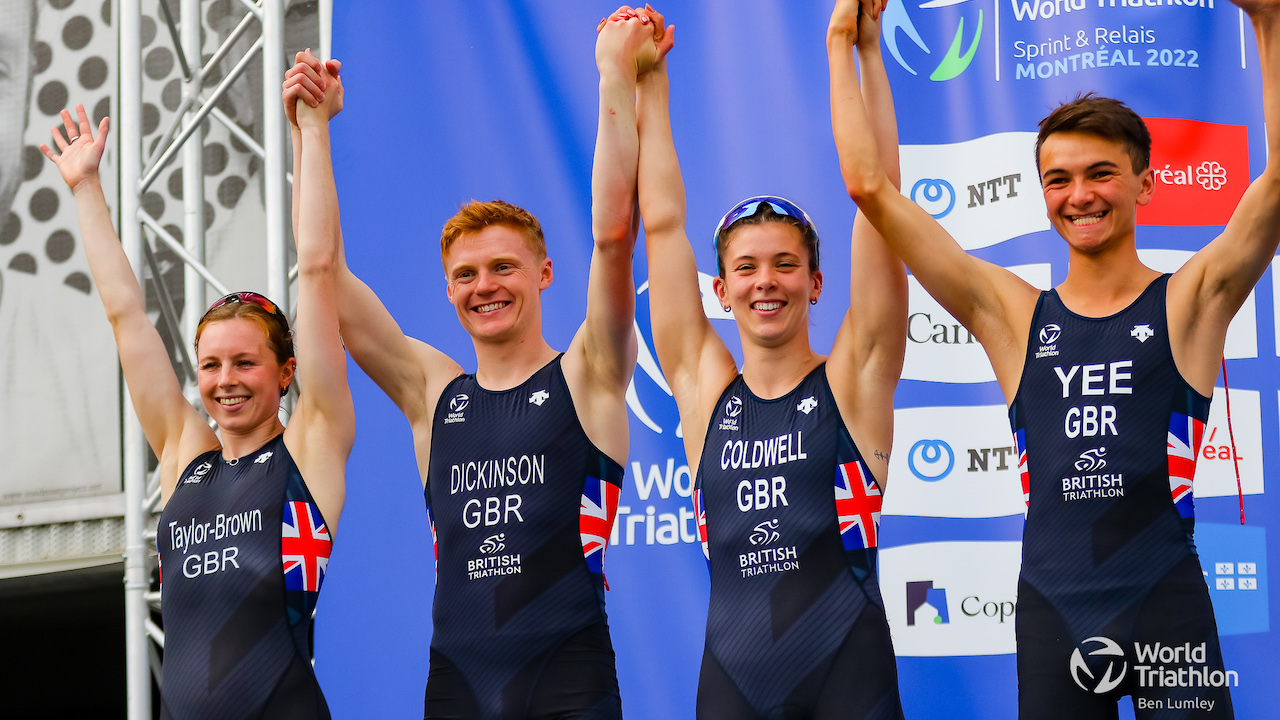 Look out for the silver fern
Team New Zealand have been pretty solid in preparations for Commonwealth. Though 12th in Leeds, the Kiwi squad there included Olivia Thornbury, who is new to the international racing scene and not part of their six athlete Commonwealth Games selection.
Fourth in Montreal was perhaps a better gauge on their Birmingham prospects (Hayden Wilde, Ainsley Thorpe, Tayler Reid, Nicole Van Der Kaay), which they followed up with fifth in Hamburg. Wilde, Van Der Kaay, Dylan McCullough and Andrea Hansen was their team there, as they work on trying to determine their strongest line up.
Wilde, of course, is sure to be an automatic selection and you would have to think that Reid, who was 18th in Tokyo and currently sits 11th in the World Triathlon rankings, will join him. It's quite possible that Montreal reflected their likely Birmingham selection – one which, in a tight battle, could be enough for silver.
An interesting point to note. Back in 2019, New Zealand won the Mixed Junior/U23 Relay World title in Lausanne, and three of that team – Wilde, Reid, Thorpe – are likely to feature again in Birmingham.
An Oceania battle
In broad terms, Australian short course triathlon has not been firing on too many cylinders over the past couple of years. While things always come in cycles, the impacts of the global pandemic and restrictions on travel severely limiting competitive opportunities, does appear to have hit them harder than most.
The tide does appear to be turning however. Matt Hauser in particular has shown some great form and consistency, and a second place for their relay squad in Hamburg was welcome, and somewhat overdue, from the reigning Commonwealth Games champions.
Three of their four athletes who raced in Hamburg (Sophie Linn, Hauser and Natalie Van Coevorden) are part of their selected Birmingham 2022 six, and with Jacob Birtwhistle the likely name to take the place that Luke Willian filled in Germany, that team would potentially be even stronger. Birtwhistle has produced some great relay performances over the years.
There really isn't too much to choose between the potential New Zealand and Australia teams, and while I think Team England will be just too strong for either, the race for silver and bronze should continue until well into leg four. I'm forecasting an Australian bronze medal this time around in a tightly contested, back-and-forth battle.