As we published on Friday, Leeds-based Sam Dickinson was confirmed as the third male athlete to represent Team England at the Commonwealth Games of Birmingham 2022. He will join the already selected Alex Yee and Jonathan Brownlee.
With, we suspect, a close selection for that third sport behind the two current stars of British men's short-course racing, Dickinson is looking forward to a very different experience to last summer, as he told us when we spoke to him shortly after that selection news.
"It was definitely a very tight selection, definitely not a runaway winner for me. It's all about development, this third spot, because none of the other English males have proven they are a medal contender and so I've obviously got the nod with a look to the relay, helping the other athletes and to future medal success – hopefully!
"To experience this major Games and compete at it, and not just be the travelling reserve like I was for Tokyo, feels like another step on and I can't wait to get stuck in."
Not guilty! The truth about Montreal penalty
"I was using some very strong curse words for little Samuel over here!" said Georgia Taylor-Brown post-race in Montreal last week, after having to serve a penalty in the Mixed Relay World Championship which had been incurred by Dickinson on leg three. Fortunately the British squad was able to retain their second place at the finish line thanks to a brilliant final leg from GTB.
The casual assumption that Sam had, perhaps, been a little careless in transition and potentially cost his team, does not paint the full picture, as he explained:
"Yeah, she's not done me any favours!
"What happened was my helmet got blown off of my bike with my sunglasses on before the race started. An official picked it up, put it back on my bike but left my sunnies on the floor. So I did the whole race not knowing, and then I got penalised because they were outside the box – when actually it shouldn't have been a penalty anyway.
"Luckily we were far enough ahead to take the penalty and still qualify our Paris spot. It was a big learning for the whole of British Triathlon; luckily we fell the right side of the coin this time but that's a staffing and a coaching error to make sure that our transitions are just the way that we set them up when we left to go and race.
"Of course, nobody in the general public knows this so I'm getting slated for getting a penalty and making G's life hard! However… she needed to work harder, didn't she?!!"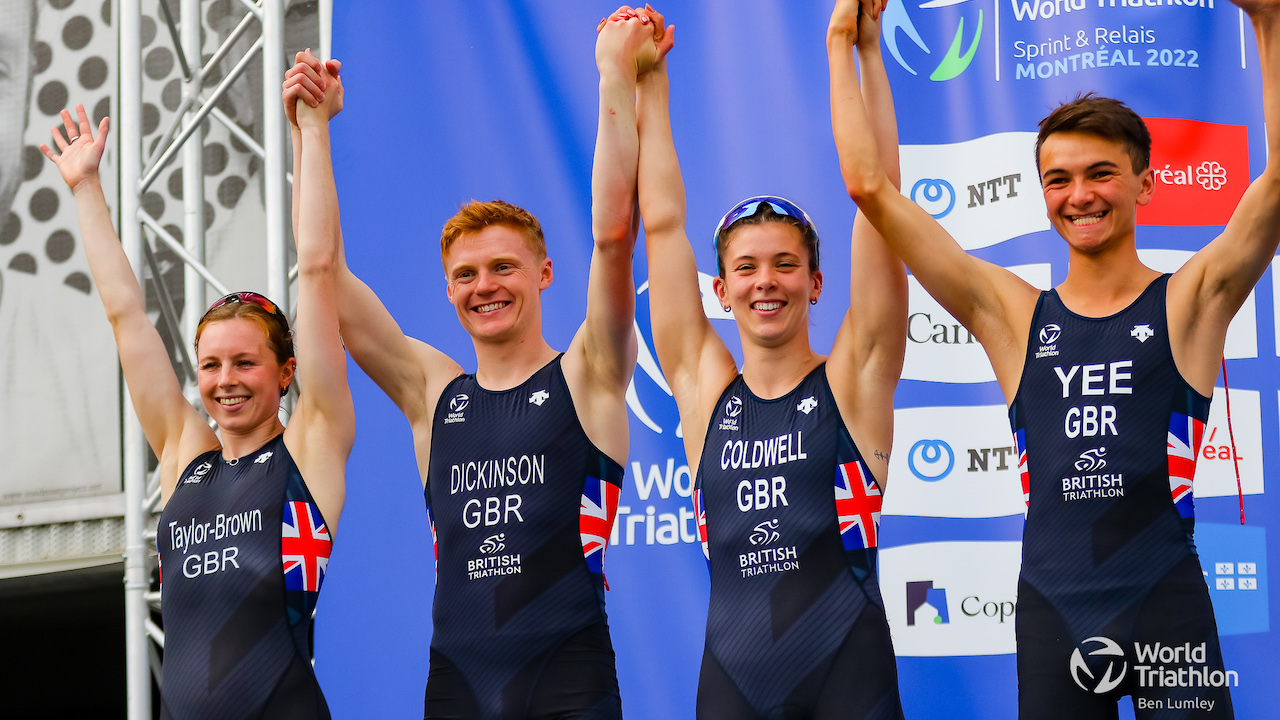 Making progress
Sam's results have shown a steady progression this season, across three European Triathlon Cup events. From 12th in Quarteira, to sixth in Caorle and then third in Coimbra. Numbers alone tell just part of the story however and Dickinson wants to be back racing in World Cup and WTCS events soon on a regular basis.
"Yes, I'm definitely heading in the right direction – and there's always stuff going on under the surface. That 12th in Quarteira for example, I actually had COVID but didn't realise. I made the breakaway, but didn't run well. And the sixth, the guy that came second there in Caorle [Ed. Lasse Lührs (GER)] he made the podium in Leeds. I was three seconds behind Richard Murray too, who finished seventh in Leeds, so really I should have raced Leeds that weekend rather than Coimbra.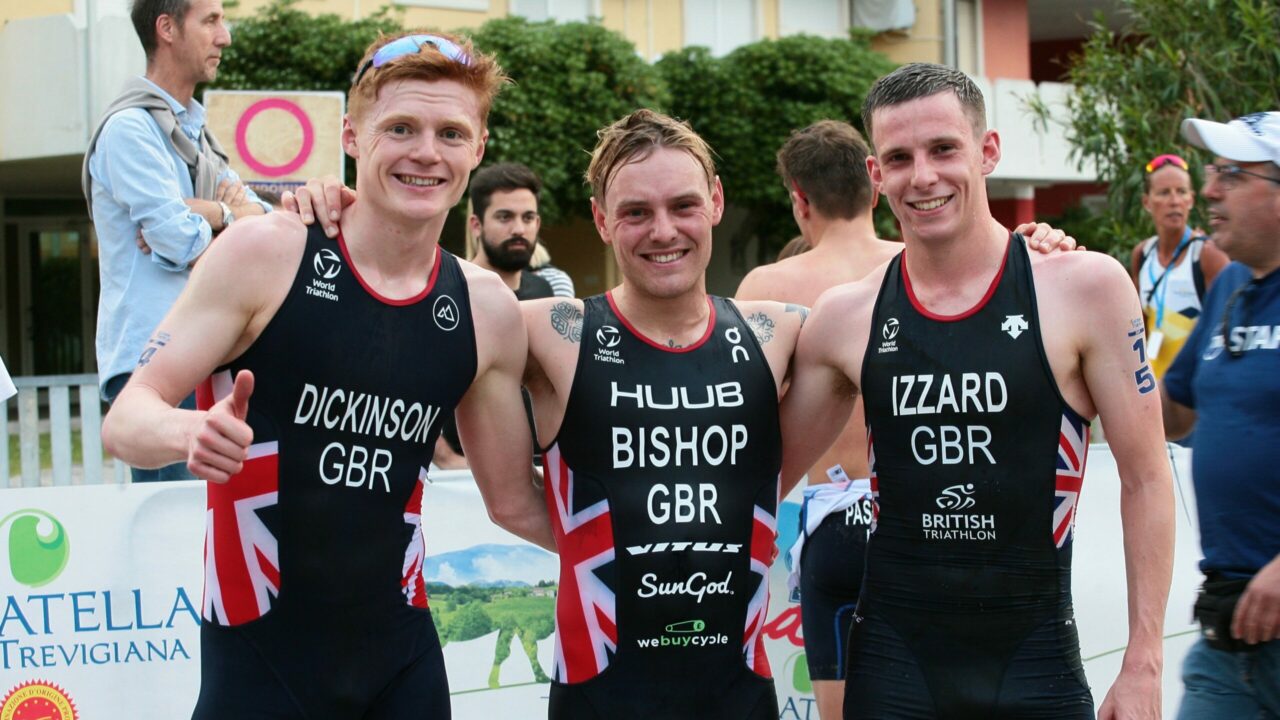 "I've proved that I'm capable of racing on the World Series level plenty of times before. I'm actually really happy with my progression and where I'm heading, I just need to get some races under my belt to be honest to prove to myself and the world that I'm good enough to race at the top level."
Next steps for Dickinson?
Having raced in Montreal and with Hamburg being next up, Sam will be back at the top tier of racing in the lead-up to Birmingham. The season is long, and there are plenty of races he is looking forward to later in the season.
"I'm going to do Hamburg (and the relay), then Comm Games and the European Champs. That is pretty much the first half of the season done, it flies by.
"After that I will then hopefully do Karlovy Vary World Cup [Ed. which he won in 2019], Cagliari World Series, Bermuda World Series and then the Grand Final. A lot of big races to come, but I'm looking forward to them.
Dickinson is relishing returning the the Czech Republic, where he won previously:
"It's horses for courses – it's a tough, Olympic distance, and being a kid from Leeds that's what I like. Hamburg is going to be tough, it's a flat out fast run race which isn't my first favourite, but you give me Karlovy Vary, Cagliari, Bermuda – all hilly – it's being sensible about which races I decide to race."