Debut ITU World Cup victory for Sam Dickinson in the Czech Republic
A welcome return to form with Bronze for Grant Sheldon too
A year which started with injury and no racing has proven to be a rather good one for Great Britain's Samuel Dickinson.
Gold at the Tartu ETU Triathlon European Cup, Silver at the ETU Sprint Triahtlon European Champs and now a debut victory on the second tier of the draft-legal racing, the ITU World Cup Series, achieved on Sunday in Karlovy Vary. Check out the highlights of the race here and the full ITU race report below.
Men'a report from the ITU
By the time the men took to the start line there was a stifling heat across the water of Rolava Lake, where race number one Simon Viain struggled to come to terms with the tricky swim course while Igor Polyanskiy and Richard Varga spearheaded the athletes out up the ramp and back in at the halfway point.
There, too, was Linus Stimmel putting together an excellent first segment, and by the end of the second lap in the water, Edson Gomez (MEX) was right up among the leaders, Gordon Benson (GBR), Russell White (IRL) and Collin Chartier (USA), as well as crowd favourite Frantisek Linduska (CZE) all well set to be able to create a potent group out front. Viain was a minute back at this stage, Felix Duchampt and Lukas Hollaus (AUT) also trailing after toiling in the water.
The bike soon settled into an unlikely pattern given the conditions, a huge group of 29 athletes somehow hanging in together despite the climbs, twists and turns of the tough seven-lap ride. Gaspar Riveros (CHI) and Adrien Briffod were flying at this stage too, driving things onward from the front along with Belgium's Erwin Vanderplanke and Ryan Bailie (AUS), while Viain was able to take advantage and claw his way back in touch.
By the closing stages of the ride there was clearly no desire to make a break away, rather to conserve power for what was always going to be a demanding 10km as the mercury hit the high 20s Celsius. Taking charge out of T2 were Jorik van Egdom (NED) and – thanks to a supreme bike performance – Lukas Hollaus (AUT), but by the end of the first lap it was Great Britain's Grant Sheldon taking the race on, teammate Sam Dickinson going with him and van Egdom hanging tough. Meanwhile France's Raphael Montoya was building up a head of steam further back and settled in between the British duo as the Dutchman's challenge waned.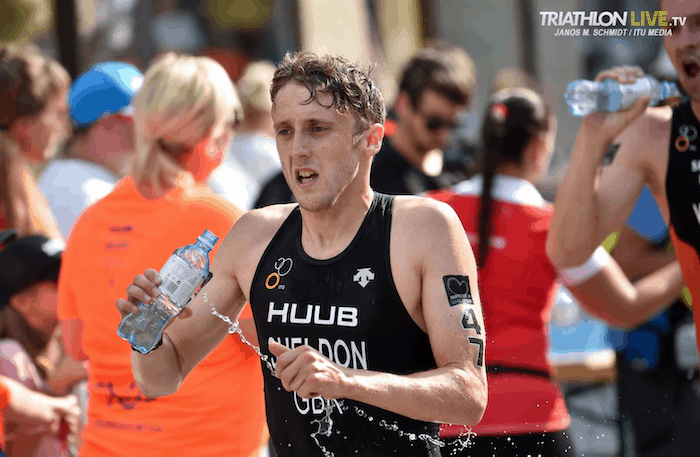 Sheldon pressed on despite the heat, only to have the door shut on him with one lap to go as Montoya took to the front. Somehow, Dickinson dug deep once again though and early in the final lap he made his move, desperate to put as much light behind him as possible and douse his rivals' ambition.
The move worked, too, so that by the time the head was getting loose and the control deserting him, Dickinson's lead was already unassailable, an 11-second margin over a second-placed Montoya delighted to be back on a World Cup podium, Grant Sheldon likewise, scoring his first medal at this level since 2013.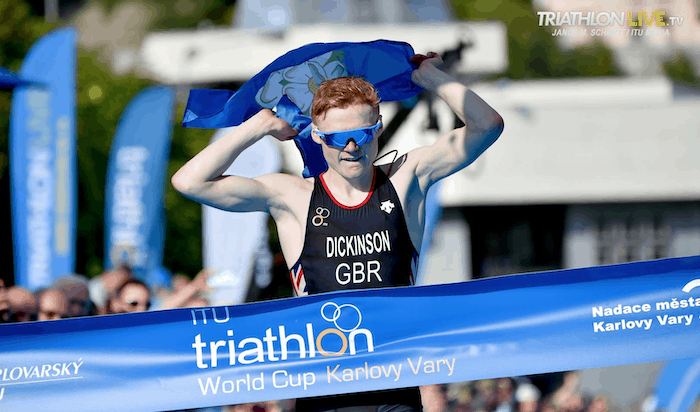 Israel's Ran Sagiv held on for an excellent fourth thanks to a blistering bike, Ryan Bailie, Adrien Briffod and Jorik van Egdom following him over the line.
Karlovy Vary ITU Triathlon World Cup – Sunday 25th August 2019
1.5km / 40km / 10km
Elite Men
1st – Samuel Dickinson (GBR) – 1:56:11
2nd – Raphael Montoya (FRA) – 1:56:22
3rd – Grant Sheldon (GBR) – 1:56:40
9th – Calum Johnson (GBR) – 1:57:21
21st – Gordon Benson (GBR) – 1:59:26
DNF – Morgan Davies (GBR)
https://www.instagram.com/p/B1o7FGnBUqr/
In the Elite women's race, home athlete Vendula Frintova (CZE) repeated her victory of 12 months ago (HERE), to keep the home crowds happy.
"I came off the pace on the swim and had a lot to do but it all came together. I had some stomach problems out there but the crowd was amazing for the last laps and they pushed me through so I was so glad to win again here. I had nothing to give really, I just had to dig in and stay there. We had a little gap after I lost contact in the water so we had to push really hard from the beginning, then the pace settled a little."
Elite Women
1st – Vendula Frintova (CZE) – 2:09:08
2nd – Tamara Gorman (USA) – 2:09:12
3rd – Caroline Pohle (FRA) – 2:10:41
8th – Beth Potter (GBR) – 2:11:53