A British one-two in Russia as Benson and Dickinson dominate

European Sprint Distance Triathlon Championship success in Russia
Russia has proven once again to be a happy hunting ground for Great Britain's Gordon Benson, the winner on Saturday – via a sprint finish – of the 2019 ETU Triathlon European Sprint Distance Championships in Kazan.
The Elite Sprint Distance European Championships was added to the ETU schedule three years ago, with past British success including Sophie Coldwell (Gold, 2018 in Tartu) and Lucy Hall / Jess Learmonth / Grant Sheldon (Gold / Silver / Bronze, 2016 in Châteauroux). Another British Gold and Silver now to add to that history.
Back in 2014, Benson won the U23 European Champs in Penza, also in Russia, and Saturday's race went very smoothly, when a group of five – Benson, Sam Dickinson, Denis Vasiliev (RUS), Igor Polyanskiy (RUS) and Rostislav Pevtsov (AZE) – escaped early in the bike after the non-wetsuit swim, and by T2 the medals would almost certainly be decided amongst them.
https://www.instagram.com/p/B0dZeF-hTWu/
It was clear from the very start of the 5km that the Brits would go head-to-head for Gold, with Dickinson in only his second race back (he won the first one), looking to challenge to 2016 Rio Olympian, Benson has been in consistent form this year and running well, but the title would not be decided until the blue carpet where the 2015 European Games Gold medallist was able to just edge out last years U23 World Championship Silver medallist. Both recorded 15:02 run splits
(Sprint finish from 46:00)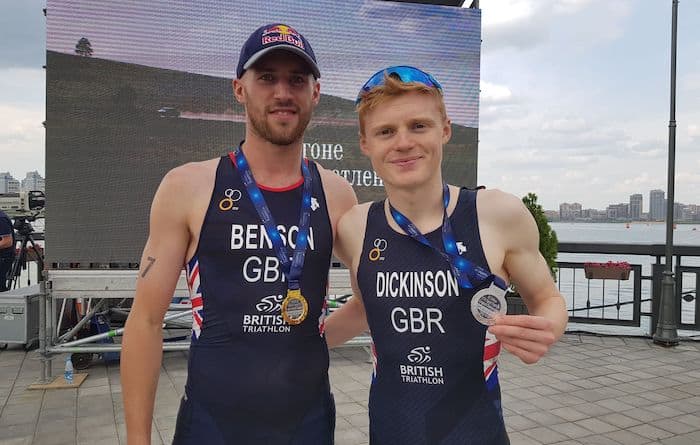 Kazan ETU Sprint Triathlon European Championships – Saturday 27th July 2019
750m / 20km / 5km
ELITE MEN
1st – Gordon Benson (GBR) – 52:03
2nd – Samuel Dickinson (GBR) – 52:04
3rd – Rostislav Pevtsov (AZE) – 52:36
4th – Jan Celustka (CZE) – 52:54
5th – Felix Duchampt (ITU) – 52:55
15th – James Teagle (GBR) – 53:37
ELITE WOMEN
1st – Julie Derron (SUI) – 58:49
2nd – Petra Kurikova (CZE) – 59:11
3rd – Tamara Gomez Garrido (ESP) – 59:23
4th – Carlotta Missaglia (ITA) – 59:30
5th – Anastasia Abrosimova (RUS) – 59:43