Jonny Brownlee and Alex Yee endured a day of disaster at WTCS Leeds as Hayden Wilde claimed a brilliant victory in Yorkshire on Saturday.
The British stars both crashed out following an accident very early on the bike leg as the field left T1, a huge disappointment for the home fans who had come out to cheer their Olympic heroes on.
It was then left to Wilde to pass Frenchman and long-time leader Léo Bergere in the latter stages of the run to claim victory.
Vincent Luis meanwhile had looked set to compete for the win before a disaster in T2 ruined any chance of a podium for the two-time World Champion.
Wilde afterwards described the victory as "bitter sweet", admitting that he probably caused the crash which saw Brownlee and Yee go out. It was later revealed that Brownlee had suffered a broken elbow.
Swim – Close at the front
A field of more than 50 elite athletes entered the lake under gloomy skies at Roundhay Park just on 2pm local time, and it was Brazilian Miguel Hidalgo who blasted out fast on the 750m swim. He had South African Jamie Riddle and Hungary's Mark Devay for company.
Devay gained the upper hand in the closing stages of the first leg to exit the water first, but nobody had built any sort of a gap, he had a huge group of athletes right behind him.
The British big guns Yee and Brownlee came out of the water together, just 12 seconds off the pace. We had a huge group of about 30 athletes all heading for T1 at the same time.
Closer to the front though it was the French contingent who aced it through T1 and they were prominent heading out onto the bike course.
Bike – Brits crash out, Luis disaster
Luis, looking to reassert his brilliance in WTCS combat after an ultimately disappointing 2021, led early on the bike and he and compatriot Bergere quickly made a break to take 15 seconds out of the rest of the field in Lap 1.
It was disaster though for Brownlee and Yee as they were involved in an accident climbing the hill out of T1, which saw both crash out. Also out were Kevin McDowell (USA) and Dylan McCullough (NZL).
Lap 2 saw Bergere and Luis continue to hold sway, though Wilde did up the pace move clear of the chasers to cut the gap to around 10 seconds. Marten Van Riel meanwhile remained 17 seconds away from the French duo – he was part of a pack which also included Italian Michele Sarzilla, Riddle and another French pair in Tom Richard and Pierre Le Corre.
Bergere and Luis actually extended their advantage on Lap 3 as Wilde fell back into that chase group which was now led by Van Riel. They were now some 20 seconds clear.
The fourth lap saw more French dominance as Bergere and Luis continued to inject pace to increase the gap to the chasers – it was now 27 seconds with Riddle and Sarzilla now heading the chasers.
Luis and Bergere were first into T2 after a dominant bike leg, but Luis had a disaster in transition which cost him well over 10 seconds as he failed to dismount and crashed into a barrier. He had miscounted the laps and did not know the bike leg was over.
Run – Wilde makes the pass
While Luis backtracked to his racking spot, Bergere made his escape onto the closing 5k run. Jonas Schomburg of Germany and Sarzilla were around 25 seconds away as they headed the chasers. Pretty soon though it was Wilde emerging from the chasing pack to set out in pursuit of the Frenchman.
The misery continued for a clearly rattled Luis as he was first swallowed up by that big pack of chasers, and was then handed a 10-second stop/go penalty after that transition nightmare. His chances of a podium were now well and truly scuppered.
Bergere continued to lead as the first of two run laps concluded, but Wilde was cutting into the deficit, which was now down to just eight seconds. The question now was could the Kiwi complete the catch with just 2.5km remaining?
We got the answer very swiftly as Wilde absolutely blasted past Bergere early on that second lap with a blistering turn of pace. The Frenchman, perhaps a little weary after that huge bike leg, had no answer.
Wilde continued to increase his advantage with a dominant performance, and he was 60-70 metres clear as they came to the closing stages. It was the most impressive of victories with Bergere claiming an excellent second.
Germany's Lasse Lührs grabbed third on the line in a thrilling photo finish with Portugal's Vasco Vilaca, while Luis would eventually come home a disappointing 10th after serving that penalty.
WTCS Leeds 2022 Results
Saturday June 11 2022 – ELITE MEN
750m / 20k / 5k
1. Hayden Wilde (NZL) – 53:18
2. Léo Bergere (FRA) – 53:28
3. Lasse Lührs (GER) – 53:38
4. Vasco Vilaca (POR) – 53:38
5. Lasse Nygaard Priester (GER) – 53:42
6. Michele Sarzilla (ITA) – 53:53
7. Richard Murray (NED) – 53:57
8. Jelle Geens (BEL) – 53:59
9. Antonio Serrat Seoane (ESP) – 54:00
10. Vincent Luis (FRA) – 54:01
33. Thomas Bishop (GBR) – 55:07
40. Grant Sheldon (GBR) – 56:01
DNF. Alex Yee (GBR)
DNF. Jonathan Brownlee (GBR)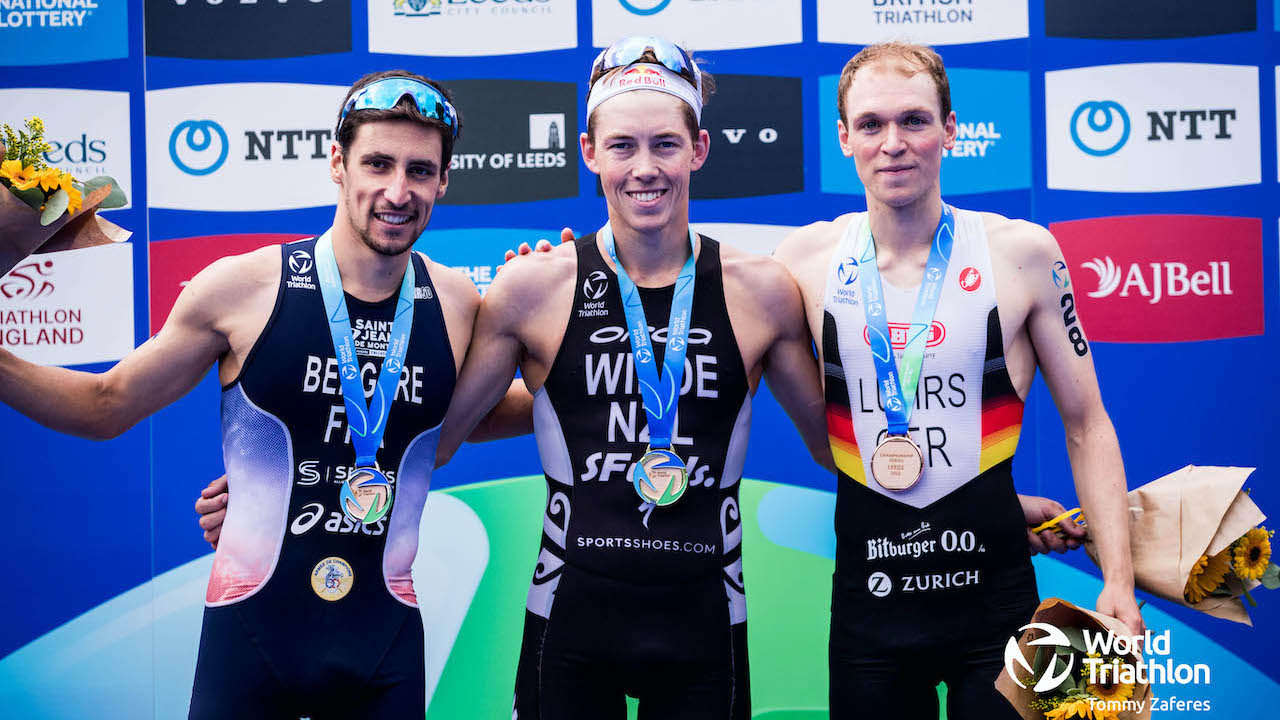 WTCS Rankings Standings after Leeds
1. Leo Bergere (FRA) – 2769 points
2. Antonio Serrat Seoane (ESP) – 2325 points
3. Hayden Wilde (NZL) – 2254 points
4. Vasco Vilaca (POR) – 1846 points
5. Lasse Nygaard Priester (GER) – 1832 points