The Commonwealth Games triathlon at Birmingham 2022 provides a fascinating rematch of the top two women at the Tokyo Olympics last summer – Flora Duffy vs Georgia Taylor-Brown.
The pair claimed gold and silver respectively in the brutal heat of the Japanese capital, with Flora becoming the first Bermudian ever to win an Olympic event.
While the margin of victory was comfortable that day, it would have been a whole lot closer if Taylor-Brown had not suffered a mechanical on the latter stages of the bike leg.
These two superstars of women's triathlon have enjoyed some great battles in recent years, and Friday July 29 at Birmingham 2022 should provide another instalment.
Here is a little more detail on the rivalry between the two women likely to fight it out for gold.
Duffy vs Taylor-Brown results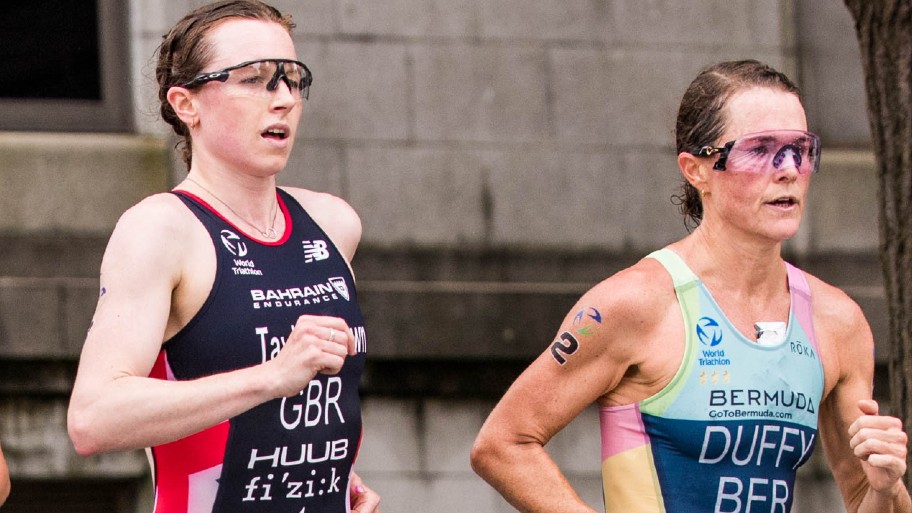 Not an exhaustive list, but here are just some of the recent meetings between the pair:
WTCS Yokohama 2022: GTB leads on the run in Japan, is caught and then pulls clear again in terrific fashion in the closing stages to beat the chasing pack. Duffy has to settle for third.
WTCS Abu Dhabi 2021: Duffy ends an incredible triathlon year in spectacular style with yet another high-profile victory. She comes home 12 seconds in front of Georgia with the pair clear of a field which is deep in quality.
Super League Triathlon Malibu 2021: Very different goals for the two here but both achieve their aims. It is Duffy – included as a wild card – who wins the race on the day. Taylor-Brown meanwhile claims second, which is enough to pip great friend and GB team-mate Jess Learmonth to the overall Super League Championship title.
Tokyo 2020 (2021) Olympic Games: An epic performance from Duffy to become the first ever Olympic gold medallist to hail from the island of Bermuda. She comes home unchallenged, some 1:14 seconds clear of Taylor-Brown. That doesn't tell the whole story though – the performance on the run from GTB is incredible after suffering that flat tyre late in the bike.
Hamburg World Championships 2020: Taylor-Brown claims a brilliant victory in the standalone World Championships staged as the sport bids to emerge from the COVID pandemic. Duffy though is delighted with second spot after the frustrations of lockdown.
Flora Duffy career so far
Flora Duffy, born in Baget Parish, Bermuda on September 30, 1987 is now 34 years old and stands at the pinnacle of women's short-course triathlon.
The Bermudian finally claimed that elusive Olympic gold in Tokyo to add to a glittering array of honours down the years. She followed up less than a month later by claiming WTCS World Championship glory in Edmonton.
Duffy has few weaknesses and is a fabulous technician to watch on the bike. Her all-round skillset has brought a ton of high-profile wins so far.
In addition to that Olympic gold she has been WTCS (ITU) World Champion on three occasions and XTERRA World Champion (for off-road triathlon) on six occasions.
2022 to date had been largely frustrating for Flora, as she has struggled to find absolute top form until her victory at WTCS Hamburg. Her bid to qualify for the IRONMAN 70.3 World Championship was scuppered first by COVID in Chattanooga and then by her bike not arriving in time in Mont Tremblant.
Duffy though is an athlete for the big occasion, and it would be no surprise to see her produce her best performance of the season in Birmingham on July 29.
Georgia Taylor-Brown career so far
Georgia Taylor-Brown, born in Manchester, England on March 15, 1994, is now 28 years old and at the peak of her triathlon powers.
GTB proved her star quality beyond doubt in 2021 when she followed up that 2020 World Championship success with a banner 12 months.
As well as claiming individual silver behind Duffy in Tokyo, she would win gold a few days later as part of the Great Britain Mixed Relay squad.
Then came that Super League Triathlon Championship Series title, which she claimed on a sun-baked day in Malibu in September.
2022 started with that fine victory in Yokohama, before a second place behind Cassandre Beaugrand in Leeds. That on a day which GTB herself said "it went very wrong".
Taylor-Brown though was back on top later in June in Montreal, producing a terrific performance to top Beaugrand and Potter to extend her lead in the WTCS standings.
Now comes another Major Games and the opportunity to claim another gold. Standing in her way though, again, will be Duffy.
Get the poporn ready…