Georgia Taylor-Brown and Alex Yee clinched Super League Triathlon titles in a thrilling finale to the 2021 Championship series in Malibu on Saturday.
Taylor-Brown finished second behind wild card Flora Duffy, but with Learmonth finishing fourth it was enough for the Olympic silver medalist to take the overall women's title by a solitary point.
Yee meanwhile pipped Marten Van Riel to win yet another epic men's race and beat Hayden Wilde and Jonny Brownlee to the overall title in the process. Pre-race leader Brownlee had to settle for third in the final standings after coming home in seventh on Saturday.
Women's Race – The Eliminator
Newly-crowned IRONMAN 70.3 World Champion Lucy Charles-Barclay, a wild card here, took control of the opening swim leg as the women set off into the choppy ocean off Zuma Beach. Lucy exited the water first and claimed a Short Chute, while Taylor-Brown lost a little time when she dropped her goggles heading for T1.
Olympic champion Duffy applied the hammer for a furious bike leg and after coming into T2 first she just pipped Learmonth to the second Short Chute, heading onto the run marginally in front of the British star. Then came Vittoria Lopes, with Taylor-Brown in fourth.
Duffy looked very comfortable on the opening run and she crossed the line a couple of seconds in front of Taylor-Brown, who had passed Learmonth and Lopes to move into second spot. Learmonth was just over a second back in third.
Swim #2 saw Duffy blast out ahead of Learmonth and Charles-Barclay, the Bermudian looking in great form as she returned to competition after claiming those Olympic and World titles.
Learmonth tried to force the issue as they headed onto Bike #2, but Duffy was right with her. The pair swiftly dropped Charles-Barclay while Taylor-Brown moved up into third and gave chase to the leaders.
Learmonth was quickest out of T2 and onto the run with Duffy right behind her, while Taylor-Brown was an ever-present danger just off the pace in third. That second run turned into a pretty comfortable jog for that front three with Duffy leading them and Learmonth and Taylor-Brown following together.
Stage 3 began with Duffy and Charles-Barclay owning Short Chutes, but with Learmonth and Taylor-Brown set to fight it out for the Super League title.
Flora again looked terrific as she went flying out into the ocean, but she lost her lead coming out of the water as Charles-Barclay caught a wave and was propelled to the front into T1. Learmonth, Duffy and Taylor-Brown were all close behind.
A tardy transition from Charles-Barclay saw Duffy soon into the lead on the bike with Learmonth, Taylor-Brown and Katie Zaferes making up a select leading group.
That pack of four were still right together heading into T2 for the final time, and everything was set up for one final lung-bursting 1.6km run for not only Malibu glory, but also the 2021 Super League title. Further back meanwhile, Charles-Barclay was eliminated.
Back at the front it was Taylor-Brown who asserted early with Duffy right on her shoulder and Zaferes also looking dangerous. Learmonth though had dropped back as her hopes of clinching the overall title started to slip away.
Flora of course still had that Short Chute to employ, and she took it on Lap 1 to open a gap to Taylor-Brown and Zaferes. She was absolutely dominant as she surged clear to win on the day, while Taylor-Brown claimed second ahead of Zaferes.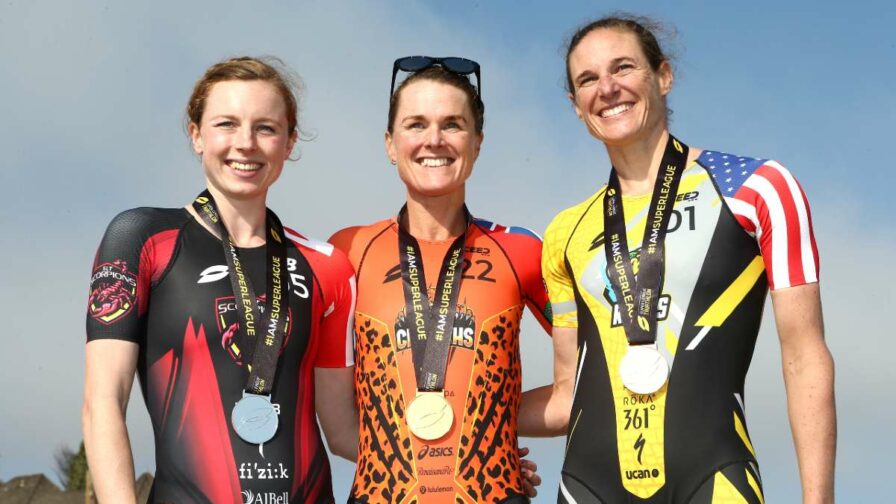 Learmonth would come home fourth but that was not enough to claim the overall title, with Taylor-Brown clinching it in dramatic circumstances to finish a rollercoaster Championship Series for her.
Men's Race – The Eliminator
Brownlee headed into the ocean with a one-point lead over Wilde in the overall standings, while Yee was a couple of points further back in third.
It was Aussie pair Aaron Royle and Matthew Hauser who exited the water first, and Hauser claimed the first available Short Chute. They were swallowed up early on the bike though and it was Marten Van Riel who pipped Seth Rider by a whisker for the second Short Chute.
Olympic champion and wild card Kristian Blummenfelt injected some serious pace on the first run, blasting clear while the chasing pack were content to watch him surge ahead. The Norwegian crossed the line first at the end of that opening stage, way clear of his rivals.
Tayler Reid was fastest out of the water second time around with Vincent Luis, Brownlee and Van Riel among those right behind. Blummenfelt meanwhile was just off the pace. It was Vasco Vilaca who led the way on the bike, heading a snaking leading group which included all the major players.
Run #2 was almost an action replay of the first as Blummenfelt swiftly took over from Vilaca at the front and then stayed there to cross the line first in front, ahead of Brownlee and the fast-finishing Yee.
It was all to play for heading into the final stage, with Brownlee, Wilde, Yee and Luis knowing the overall title was very much up for grabs.
Luis produced a terrific swim but Reid and Van Riel caught a huge wave to pass him exiting the ocean. Brownlee was four seconds back with Yee a further five seconds behind him. Reid, Van Riel and Luis led the way out on the bike, while Blummenfelt was at the front of the chasing pack trying to catch them. That pack contained Yee, Brownlee and Wilde.
Vilaca and Blummenfelt led the field out of T2 onto the run with Wilde, Yee and Brownlee all around four seconds back.
It was Wilde who made the first break in a bid to clinch the overall title as he moved to the front with Yee close behind. Van Riel then used his Short Chute to claim the lead with 400m left. The title was on the line with a thrilling finish in prospect.
Wilde started to chase down Van Riel while Yee was looking really comfortable in behind, and the final 200m culminated in yet another epic race for the tape. It was Yee who produced one devastating final burst to pip Van Riel for the race win and claim the overall title in a fittingly spectacular manner.
Super League Triathlon Malibu 2021 Results
Saturday September 25, 2021
Women's Eliminator
Flora Duffy (BER) 48:26
Georgia Taylor-Brown (GBR) 48:29
Katie Zaferes (USA) 48:59
Jess Learmonth (GBR) 48:57
Cassandre Beaugrand (FRA) 49:39
Leonie Periault (FRA) 49:35
Non Stanford (GBR) 49:21
Taylor Spivey (USA) 49:43
Rachel Klamer (NED) 49:47
Beth Potter (GBR) 49:48
Men's Eliminator
Alex Yee (GBR) 44:59
Marten Van Riel (BEL) 45:21
Vasco Vilaca (POR) 45:15
Hayden Wilde (NZ) 45:05
Kristian Blummenfelt (NOR) 44:48
Vincent Luis (FRA) 45:16
Jonny Brownlee (GBR) 45:19
Tayler Reid (NZ) 45:42
Gustav Iden (NOR) 45:56
Matthew Hauser (AUS) 45:57
Super League Triathlon Final Standings 2021
After Super League Triathlon Malibu
Women
1. Georgia Taylor-Brown (GBR) 60 points
2. Jess Learmonth (GBR) 59 points
3. Katie Zaferes (USA) 49 points
4. Beth Potter (USA) 39 points
5. Vicky Holland (GBR) 38 points
6. Taylor Spivey (USA) 37 points
7. Leonie Periault (FRA) 34 points
8. Cassandre Beaugrand (FRA) 33 points
9. Sophie Coldwell (GBR) 30 points
10. Rachel Klamer (NED) 25 points
Men
1. Alex Yee (GBR) 59 points
2. Hayden Wilde (NZ) 54 points
3. Jonny Brownlee (GBR) 50 points
4. Vasco Vilaca (POR) 49 points
5. Vincent Luis (FRA) 47 points
6. Marten Van Riel (BEL) 39 points
7. Seth Rider (USA) 26 points
8. Kenji Nener (JP) 21 points
9. Matthew Hauser (AUS) 19 points
10. Tayler Reid (NZ) 17 points
Teams
1. Eagles 362 points
2. Scorpions 277 points
3. Sharks 258 points
4. Cheetahs 232 points
5. Rhinos 199 points