Team England teenager Katie Crowhurst claimed a famous victory in the women's Paratriathlon at the 2022 Commonwealth Games in Birmingham.
The 18-year-old, along with guide Jessica Fullagar, was far too good for the opposition as she took the lead during the bike leg before roaring clear to grab gold. It completed an English win double after Dave Ellis had earlier reigned supreme in the men's race.
Sadly it was not a good day for big Scottish hope Alison Peasgood, who was a DNF.
Swim – Big guns poised to strike
Canada's Jessica Tuomela, who received a start of just over 3 minutes due to the severity of her visual impairment, was first out of the water with guide Emma Skaug.
Tuomela was followed closely by England's Crowhurst and Scottish star Alison Peasgood – both within a minute of the leader. Australia's Erica Burleigh was fourth.
Bike – Crowhurst takes control
Tuomela had her advantage cut on Lap 1 of 4 on the bike, but she still held sway by some 16 seconds from Crowhurst with Peasgood now just over a minute back in third.
By halfway on the bike leg Crowhurst and guide Jessica Fullagar had cut the gap even further, it was now just three seconds. Peasgood meanwhile was 1:05 off the pace.
Crowhurst claimed the lead early on the penultimate bike lap and set about trying to build an advantage to take onto the closing run. She did just that on Lap 3 by moving 22 seconds clear of Tuomela, and it was up to 43 seconds by the time they reached T2.
Run – It's gold for Katie
Crowhurst appeared to be struggling with a stitch as the run progressed, but that did not stop her relentless progress as she built on her advantage.
By the end of Lap 1 of 2 the English teenager held a lead of 3:37 now over Tuomela, with Northern Ireland's Chloe MacCombe now in the bronze medal position.
Now it was just the victory lap between Crowhurst and gold, and she stopped the run clock at 23:51 to win in an overall time of 1:10:32.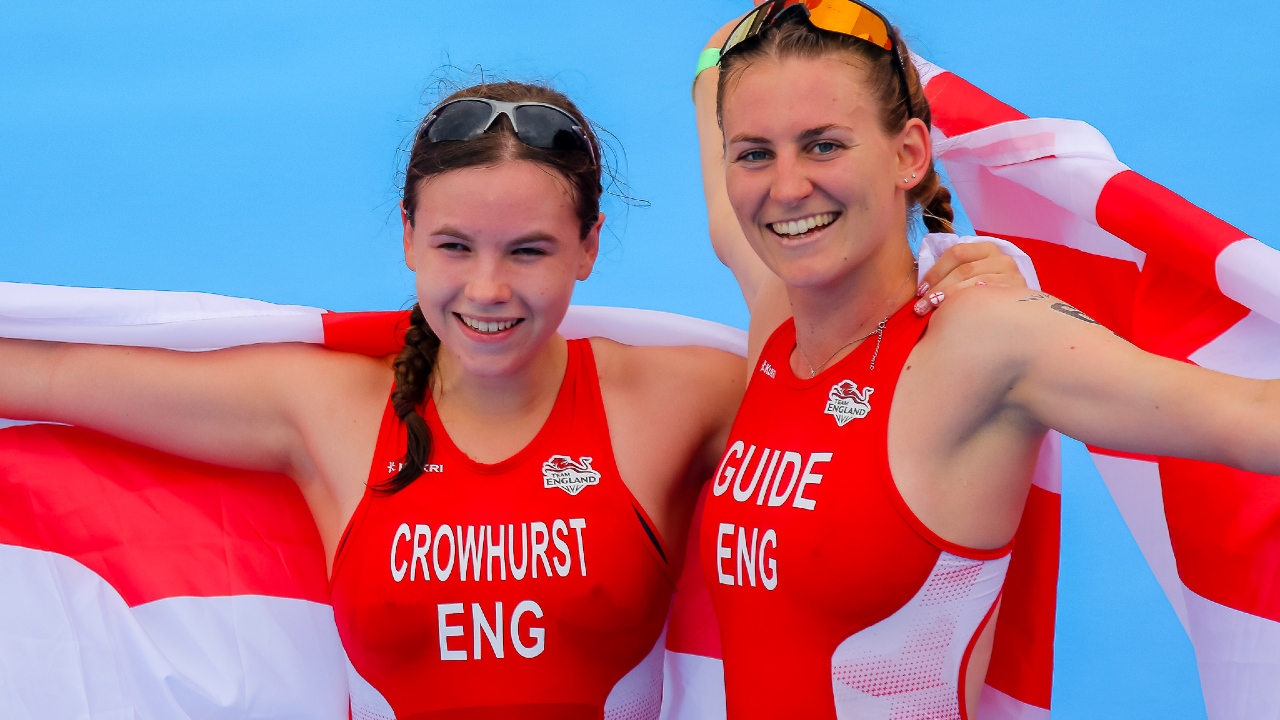 MacCombe raced past Tuomela in the closing stages to claim a famous silver for Northern Ireland, as the Canadian settled for bronze.
Commonwealth Games Paratriathlon Results
PTVI Women – Sunday July 31, 2022
Sutton Park, Birmingham – 750m/20km/5km
1. Katie Crowhurst (ENG) – 1:10:32
2. Chloe MacCombe (NIR) – 1:14:39
3. Jessica Tuomela (CAN) – 1:15:12
4. Judith MacCombe (NIR) – 1:18:30
5. Linsay Engelbrecht (RSA) – 1:23:27