Five years ago, Great Britain's Emma Pallant-Browne finished second at the IRONMAN 70.3 World Championship in Chattanooga. Falling relatively early in her middle distance career, the biggest surprise perhaps is that it has taken her those five years to return to the podium at the 70.3 champs.
That is just what she did on Friday, utilising her fantastic run speed to overtake defending champion, Lucy Charles-Barclay, with little more than a mile to go of the run in St George. Crossing the line third behind Taylor Knibb and Paula Findlay meant a lot to the Brit, who now lives in South Africa.
Fuel to the fire
The subject of that run was the first topic of the post-race press conference – but the day had started particularly well in the water, too.
"It hurt enough, it was tough! I got on the bike and I was so happy with my swim. I could see the girls I was around with, and for me it was probably the best swim I've ever had and so I thought, this could be an ok day.
"I got on the bike, and I could hardly even put on my shoes, it was freezing. I was really unhappy with my bike, but in a way I think that added a bit of fuel to the fire to have a hard run and make it suffer out there."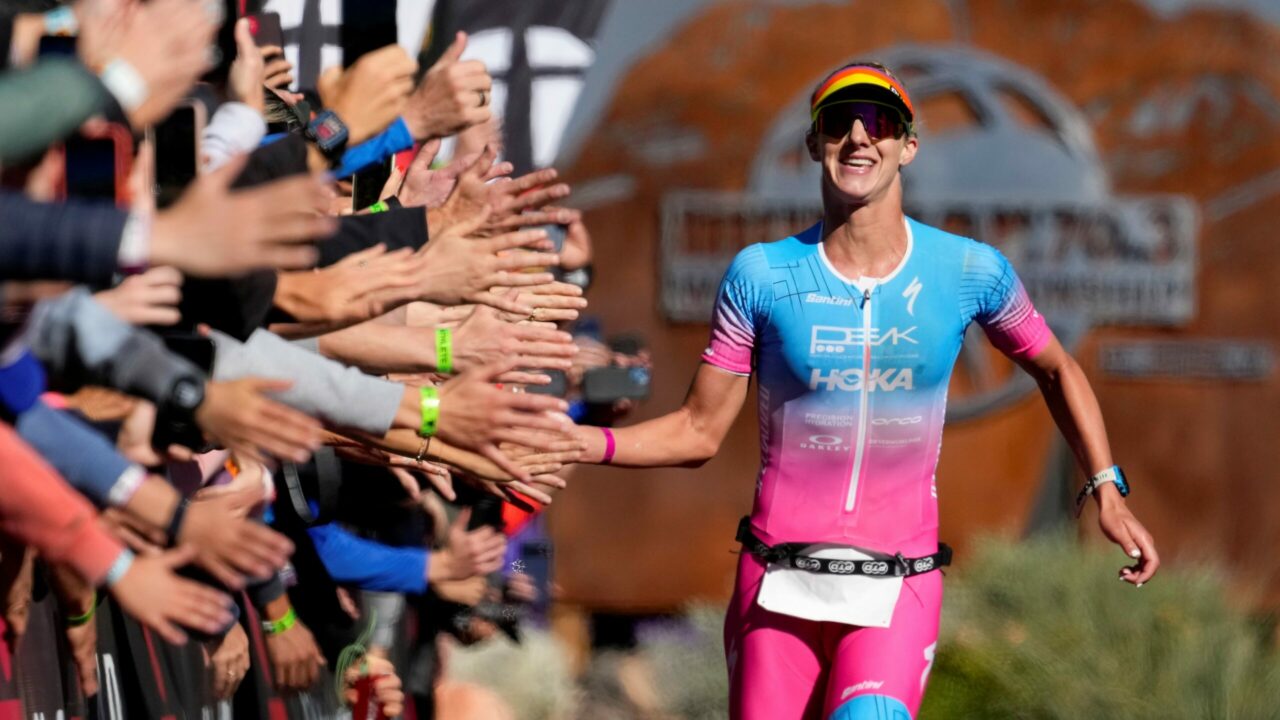 While Pallant-Browne's run prowess is well known, when you are starting several minutes down on the likes of Flora Duffy, Paula Findlay and Lucy Charles-Barclay, did she think a podium was still possible?
"I had no expectations. I just wanted to run fast, and if I saw people then great, but I was just looking at every aid station and focussing on that instead. I knew that it wouldn't be easy overtaking as everyone is going to go with the battle – it was really tough."
The conditions also impacted Emma's typical nutrition strategy, as she explained:
"I knew that I'd actually probably use more calories because I was so cold on the bike, but I struggled because I didn't want to take my hands off of the bars. I probably didn't get in anywhere near enough as I should have on the bike, so as soon as I hit that run every aid station to me was gold, and I just drank as much as I could, grabbed as much as I could.
"I think that I made up for the calories on the run this time – normally in my races I do it the other way around, hardly take in anything on the run and do it all on the bike."
Good to be back… on the World Champs podium
"It was so emotional because Chattanooga seems like forever ago. There I was no one, nobody knew who I was and I got a second. The worlds since then I think there's been three or four of them, and I've kind of scraped top-10's, a top-5, so to get back on the podium meant a lot.
"I was getting time splits so regularly and I could see that the time was coming down, but I know that all of the girls can run super fast, and so I thought it would be the second lap that anything happened. I was really encouraging getting the support on course, but we could see each other, especially on the u-turns, and I was thinking that none of these girls are giving an inch and that it might come down to the wire."