More Powerman Zofingen success for Pooley
Russia's Maxim Kuzmin earns his first title in Switzerland
Living in Switzerland, and with a passion and aptitude for hills on both the bike and run, it is no surprise that the infamous Powerman Zofingen has been a venue of significant success for Great Britain's Emma Pooley.
On Sunday, she raced at the venue of the ITU Long Distance Duathlon World Championships, and extended her unbeaten run to four straight years – doing so with a huge winning margin of 27 minutes. Speaking to Powerman media, Emma commented, "I'm very proud that I could win here for the fourth time in a row, despite the fact that I felt some pressure to win."
Completing the opening 10km run in the company of Sabrina Monmarteau (FRA), with another five athletes all starting the very challenging 150km ride within a minute, Pooley delivered a cycling masterclass. Her 4:19:16 split was more than 16 minutes faster then the next best of the Elite women – though with 30km of running to finish, you can never assume anything is safe in Zofingen.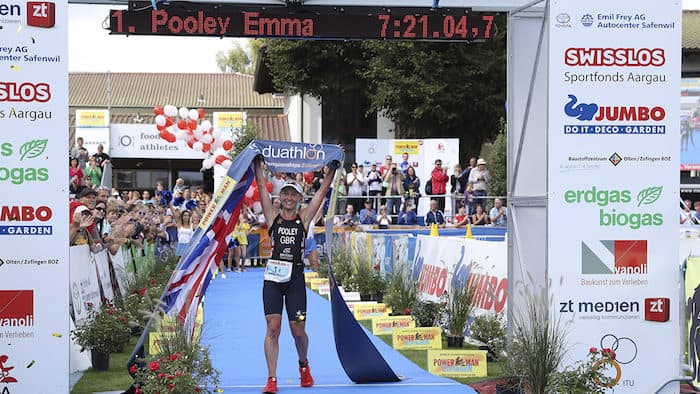 With a significant lead, Pooley ran a controlled race over the two-lap, very challenging run course (which was slightly modified this year) – but still only conceding less than a minute to the eventual Silver medallist, Miriam Van ReijIn (NED), who was able to pass Katrin Esefeld (GER) in the very late stages of the run.
Zofingen ITU Powerman Long Distance Duathlon World Championships – Sunday3rd September 2017
10km run / 150km bike / 30km run
ELITE WOMEN
1st – Emma Pooley (GBR) – 7:21:04
2nd – Miriam Van Reijin (NED) – 7:48:19
3rd – Katrin Esefeld (GER) – 7:49:05
4th – Nina Zoller (SUI) 7:59:16
5th – Sabrina Monmarteau (FRA) – 8:09:07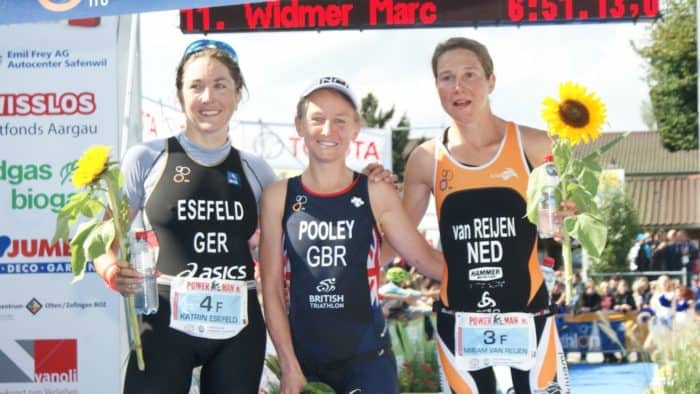 ELITE MEN
1st – Maxim Kuzmin (RUS) – 6:31:04
2nd – Seppe Odeyn (BEL) – 6:32:20
3rd – Soren Bystrup (DEN) – 6:34:52
4th – Gael Le Bellec (FRA) – 6:36:55
5th – Yannick Cadelen (FRA) – 6:39:10
19th – Julian Lings (GBR) – 7:04:37
23th – Peter Ellis (GBR) – 7:30:25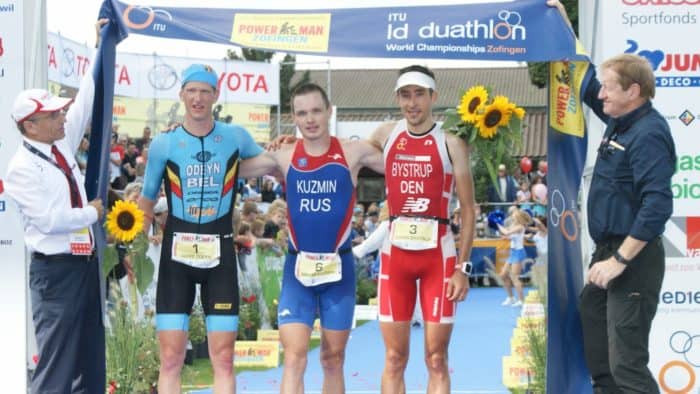 GREAT BRITAIN AGE-GROUP TEAM MEDALS IN ZOFINGEN (5)
GOLD (2)
Flora Colledge – F30-34
Melanie Hayes – F50-54
SILVER (2)
Lise Soerensen – F35-39
Louise Goddard – F50-54
BRONZE (1)