The depth of British Triathlon talent is displayed (again) in Lithuania…
I've written before (HERE) about the depth of talent in British triathlon currently in the Junior ranks. Well, I think we can confidently suggest that the younger (Youth) athletes are doing a rather good job too. Of course, success in the younger categories is no guarantee that will lead to podium performances in the senior ranks in years to come, but, it would suggest that some talented athletes in conjunction with excellent coaching and support are producing excellent work right now.
Congratulations to all involved. Here is the news from the weekend's Panevezys ETU Triathlon Youth European Championships Festival in Lithuania.
---
Great Britain's youth team won two very impressive gold medals at the Panevezys ETU Triathlon Youth European Championships Festival in Lithuania.
Athletes aged 16 and 17 took part in individual and Mixed Relay races over four days in Lithuania. The event started with semi finals on Thursday, and saw all eight British athletes progress to Saturday's finals covering a 500m swim, 11.4km bike and 3.6km run.
Abbie Williams, 17, from the west coast of Wales was Britain's top female performer in fifth place. The gold medal went to Jessica Fullagar of France. Freya Thomson was just outside the top ten in eleventh place.
The men's race saw Dan Slater, Matt Willis and Sam Hart claim the three top spots. Slater, 17, from Merseyside, won the race by four seconds from Willis, who also finished second last year in Tiszaujvaros, Hungary.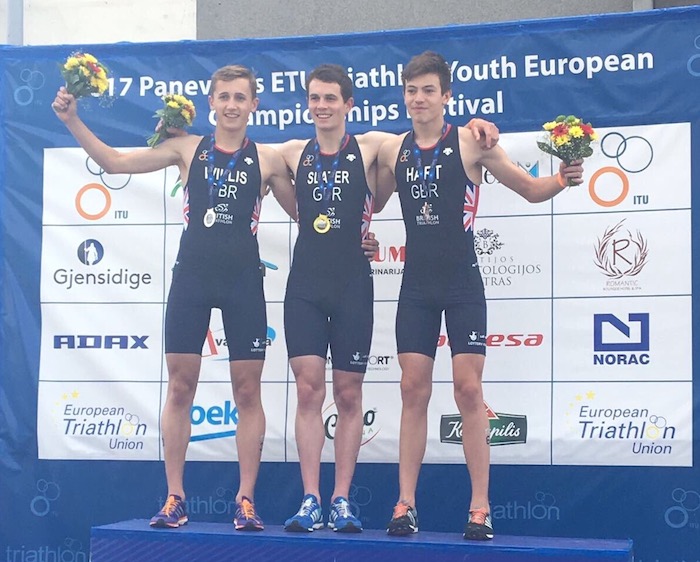 Slater and Willis teamed up with Williams and Thomson to win the Mixed Team Relay today. Each athlete covered a 250m swim, 5.7km bike and 1km run. Willis brought the team home over the final leg and set up a comfortable win over France and Portugal to secure the gold medal.
Dan Slater said: "I'm really happy to take the win and improve on my 13th place from last year. It was great to share the podium with my relay team mates too."
It is hoped that these athletes will have been inspired, not just from the racing experiences, but also the educational support programme that has been an integral part of these European Championships. The success by the team is a strong reflection of excellent home support and coaching within clubs, regional academies and Home Nation programmes.