Incredible Sprint Finish in Mixed Relay U23 Championship
Bronze for Olivia Matthias in the Individual race
The British run of medal success at the ETU Triathlon U23 European Championships continued in Eilat, Israel over the weekend – but it was an event dominated by Switzerland, with triple Gold in both individual events and a thrilling finish in the Mixed Relay to push the British squad into Silver, by the narrowest of margins.
It was Olivia Mathias (Bronze) who kept the British run of medals in the individual races (full history below) in tact with Bronze, where the champions were the Swiss pairing of Julie Derron and Max Studer.
Sunday's Mixed Relay was decided in the final metres, a sprint finish with Jack Willis (fifth in the individual) left them separated by just inches – and given the same time, it was so close, with several present describing it as one of the most exciting races they had ever seen. Scroll forward to 1:10:45 into this video and enjoy – the final moments of commentary are courtesy of Paul Groves! (And great job – once again – from the ETU in trying to provide some live coverage, with zero budget. It's times like this, that the efforts of some truly dedicated triathlon volunteers pays off).
https://www.facebook.com/ETUtriathlon/videos/1507150326096033/
Great Britain's success at the ETU U23 Triathlon European Championships:
2018: Olivia Mathias (Bronze)
2017: Georgia Taylor-Brown (Gold), Sian Rainsley (Bronze)
2016: Sophie Coldwell (Silver)
2015: Lucy Hall (Gold), Marc Austin (Silver)
2014: Gordon Benson (Gold)
2013: Lois Rosindale (Gold)
2012: Thomas Bishop (Bronze)
2011: N/A
2010: Jonathan Brownlee (Silver)
2009: Jodie Stimpson (Silver)
2008: N/A
2007: Ritchie Nicholls (Gold), Rosie Clarke (Gold)
2006: Will Clarke (Gold), Oliver Freeman (Silver)
2005: Helen Jenkins (Silver)
ETU Triathlon U23 European Championships, Eilat Israel – Saturday 20th October 2018
1.5km / 40km / 10km
MEN
1st – Max Studer (SUI) – 1:54:19
2nd – Jannik Schaufler (GER) – 1:54:34
3rd – Roberto Sanchez Mantecon (ESP) – 1:54:36
4th – Ran Sagiv (ISR) – 1:54:38
5th – Jack Willis (GBR) – 1:54:43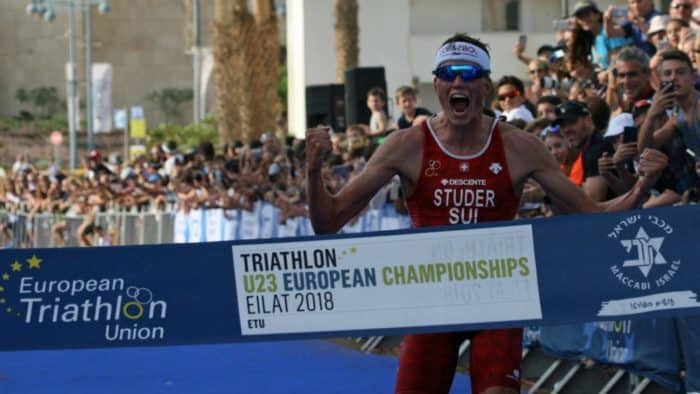 7th – Barclay Izzard (GBR) – 1:55:01
15th – Samuel Dickinson (GBR) – 1:56:49
31st – Chris Perham (GBR) – 2:00:34
WOMEN
1st – Julie Derron (SUI) – 2:09:19
2nd – Cecilia Santamaria Surroca (ESP) – 2:09:43
3rd – Olivia Matthias (GBR) – 2:10:39
4th – Sophie Alden (GBR) – 2:11:19
5th – Estelle Perriard (SUI) – 2:11:52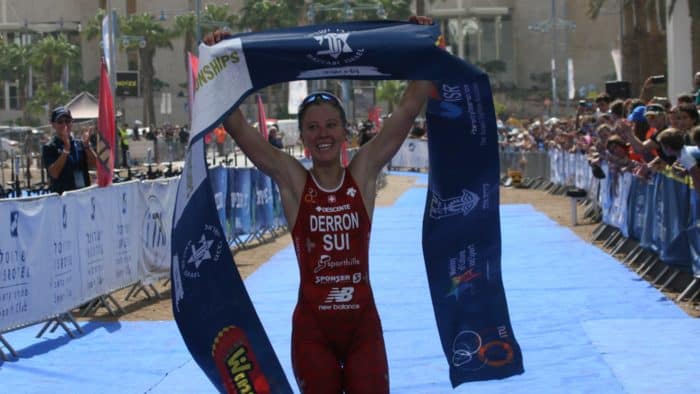 DNF – Sian Rainsley (GBR)
ETU Mixed Relay Triathlon U23 European Championships, Eilat, Israel – Sunday 21st October 2018
300m / 5.6km / 1.1km
1st – Switzerland – 1:06:17
2nd – Great Britain – 1:06:17
3rd – Russia – 1:06:30
Omg…photo finish at the mixed team relays!! Gold to @SwissTriathlon_ #2 @BritTri and #3 @RussianTri. #4 @TRIATLONSP and team Israel 5. pic.twitter.com/Xtlm9fsdfS

— ISRTRI (@isrtri) October 21, 2018
European U23 silver for 🇬🇧 in Eilat! #MixedRelay pic.twitter.com/vgU40ToT9t

— British Triathlon (@BritTri) October 21, 2018