Tom Bishop joins exclusive club of British Male WTS podium finishers
Head-to-head with Javier Gomez on the run, Tom Bishop secures career best in World Triathlon season opener in Abu Dhabi
It looked, on paper at least, a relatively easy course bike course. Multiple laps around a purpose-built, super smooth F1 circuit. But, when a group of 25 athletes emerged from the swim in close order – and soon exploded into pieces, eventually whittled down to just ten – well, that proved not to be the case.
This is already proving to be an absolute test of the strongest athletes at #WTSAbuDhabi w/ the boys on the front motoring. Huge gaps formed

— Fraser Cartmell (@Frasertri) March 4, 2017
When one of the strongest in that group was Great Britain's Tom Bishop, the signs were there that it could be a good day for the Derby athlete. Little did we know how good.
For Bishop – and for the returning Javier Gomez – that Mario Mola, Richard Murray, Fernando Alarza, Joao Perreira and many others did not make the selection, was great news. Bishop and Gomez ensured the pace was high at the front, and despite their best efforts, the chasers would get no nearer than 40 seconds during the 10 lap, 40km bike leg.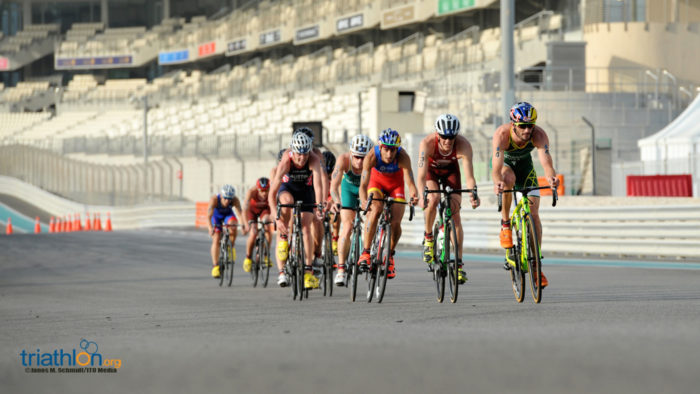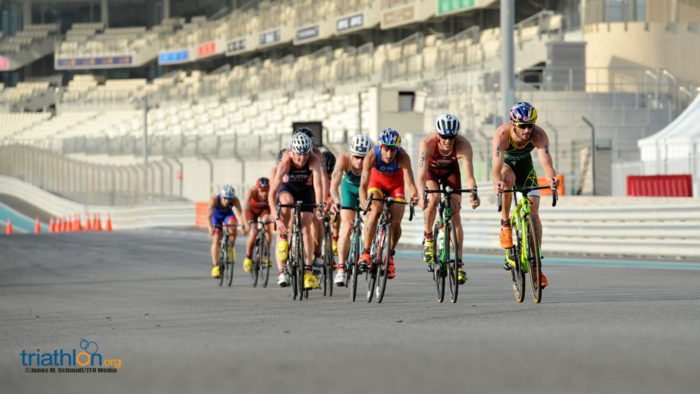 At T2 that deficit had expanded to a minute – and with Gomez, Schoeman and Luis the only previous WTS podium finishers in the lead group, the podium looked set, with just the order to be decided.That wasn't in the Tom Bishop script however.
Plenty left for the run
Achieving a WTS podium finish should not be underestimated. Sure, the Brownlee's have won countless, but consider this from a British Male perspective, the format now starting its ninth season…
Other than Killer B's, @StuHayes13 / @Theclarke /@trithedon are the only @BritTri Male @worldtriathlon Series podium finishers since 2009…

— TRI247 (@tri247) March 4, 2017
Henri Schoeman (RSA) was first to the front on the run, Vincent Luis was not far behind and – after a fairly poor transition – an incredibly strong looking Javier Gomez was soon making his way to the front. Normal service. Except that the Derby lad in the GB trisuit was not fading…but the Olympic Bronze medallist was.
And now @tom_bishop … has dropped @H_Schoeman, and is on the shoulder on @Jgomeznoya in 1st/2nd. Wowsers!

— TRI247 (@tri247) March 4, 2017
And,, just for kicks, he wasn't just going to sit on Javiers shoulder either; he upped the pace and moved past the Spanish legend.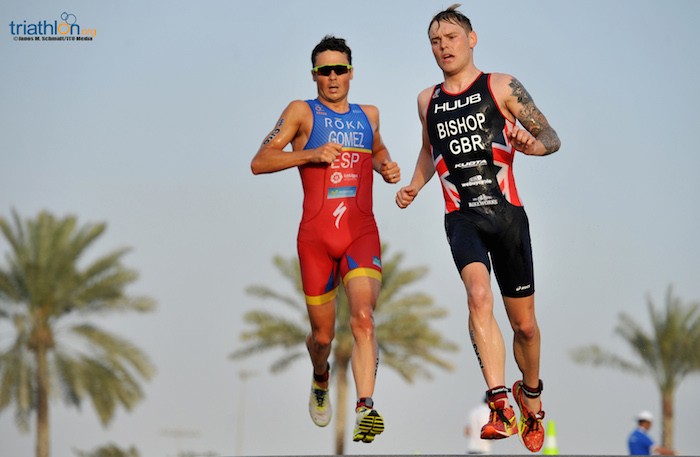 A brave move on a day where he had played all of his card well – why not? It didn't last too long, but he didn't blow up either:
You have to say, @Jgomeznoya always looks a strong, balanced and resilient athlete. Leads now by 6secs. 23 secs further back to Luis (FRA)

— TRI247 (@tri247) March 4, 2017
While Javier would take his 37th podium (and 13th win) in his 50th WTS start, Tom Bishop held strong and can be well and truly satisfied with his fine efforts today. What a way to start 2017.
INCREDIBLE PERFORMANCE @tom_bishop. Take a bow, Sir!

— TRI247 (@tri247) March 4, 2017
We are well used to the brothers Brownlee dominating on the WTS circuit, but Tom is of course the twin brother of another international triathlete – David – who was rightly very proud today:
Well pretty speechless. Knew he had it in him, but wow proud of my bro @tom_bishop 2nd at #WTSAbuDhabi

— David Bishop (@davidrbishop) March 4, 2017
Bishop said of his performance, "I can't believe it to be honest. I had a plan, I wanted to swim as best as I could, save as much energy on the bike. I wasn't really sure how it was going to go because it was the first race of the season. I had a feeling that it might all come together when I found myself in the front group and there was a gap so I knew I had to work as hard as I could."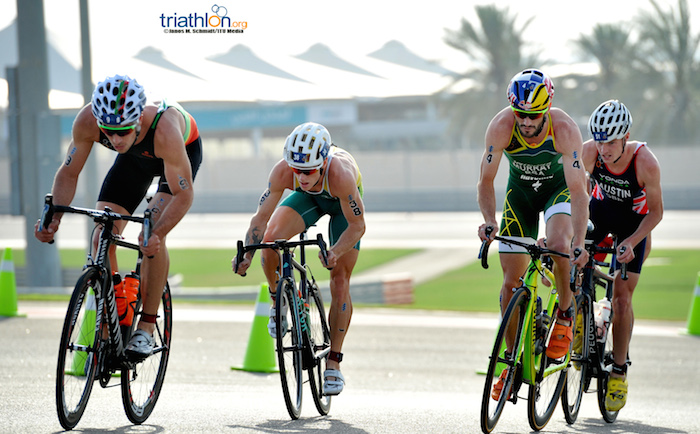 Marc Austin had a good day too. After his typically strong swim, he was one of the casualties when the 25 were whittled down to 10 early in the bike, but he held strong in that second group alongside Mola, Murray and co., to come home in 14th position. He can be inspired by Tom Bishop, and will certainly push on to top ten finishes in the not too distant future.
ITU World Triathlon Abu Dhabi – Saturday 4th March 2017
ELITE MEN – 1.5km / 40km / 10km
1st – Javier Gomez (ESP) – 1:52:31
2nd – Tom Bishop (GBR) – 1:52:45
3rd – Vincent Luis (FRA) – 1:53:08
4th – Fernando Alarza (ESP) – 1:53:18
5th – Richard Murray (RSA) – 1:53:25
6th – Joao Perreira (POR) – 1:53:38
7th – Gregory Billington (USA) – 1:54:00
8th – Mario Mola (ESP) – 1:54:06
9th – Andrea Salvisberg (SUI) – 1:54:20
10th – Henri Schoeman (RSA) – 1:54:35
14th – Marc Austin (GBR) – 1:55:56
20th – Adam Bowden (GBR) – 1:57:15
DNF – Grant Sheldon (GBR)
Congrats to today's #WTSAbuDhabi podium! @Jgomeznoya @tom_bishop @vincentluistri pic.twitter.com/k1cCIbPUVj

— TriathlonLIVE (@triathlonlive) March 4, 2017