A third consecutive IRONMAN win in Bolton for Duracell Bunny, Lucy Gossage
CLICK HERE FOR THE MEN'S PRO RACE REPORT
It wasn't the easiest lead in to a race, but Lucy Gossage got through her pre-race issues to win IRONMAN UK in Bolton on Sunday, and take her seventh career victory over the iron-distance.
"It is my hardest win here and it makes it even sweeter. I knew the gap was closing on the run but you can't give too much, you just have to keep going. It's a battle, I gave it everything on the run. I love this course because of the support. Everyone is shouting, "Lucy, Lucy" and I just wish I could have been relaxed and acknowledge it, but you just have to concentrate until the end," said Gossage.
So happy to win again in Bolton! I may not have been smiling at the support but I heard it all. It was IMMENSE! Thank you.

— lucy gossage (@lucygoss) July 16, 2017
There is no hiding from the fact that just five female PRO starters is disappointing – but what is also true is that there was a real race going on at the head of the field, the final margin at the finish line in front of Bolton Town Hall being just two minutes and eight seconds. Quality, if not quantity, and the women were racing hard.
The day started, predictably, as it did at IRONMAN 70.3 Staffordshire with super swimmer Hannah Drewett (GBR) setting the pace with a swift 52:01 clocking, almost six minutes ahead of Diana Riesler (GER), 58:53, with the trio of Gossage, Nikki Bartlett (GBR) and Brooke Brown (CAN) a further minute and a half back.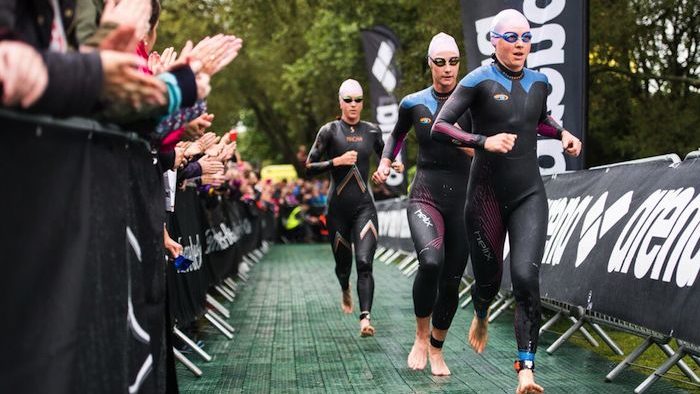 Riesler is a class act, a Sub-9 hour iron-distance athlete and an IRONMAN Champion. She can also ride a bike! On the tough Bolton course, the lead to Drewett was soon gone and there was a close race being set up. Gossage – riding last years bike, because of a very late and unavoidable mechanical to her 2017 ride on Friday, which involved many hours of frantic bike (re)building – was able to take the lead on a course she knows so well, with a race-best 5:23:07 split, but with Riesler and Bartlett both finishing with impressive 5:27's themselves, starting the marathon the defending champion only had a lead of 2:54 over Diana and 5:27 over Nikki. The race was not over yet.
Better known for her powerful cycling, during the first half of the run the German did lose time to the home favourite Gossage… but, the gap was still hovering around the four minute mark. In an IRONMAN marathon, that is far from 'job done'. Into the second half of the run, and the gap started to reverse. At 33km it was 2:47 and at 38km it was less than two minutes. Were the Duracell Bunny's batteries fading? If they were, she wasn't going to give up the title easily at a race she loves and has never been beaten at.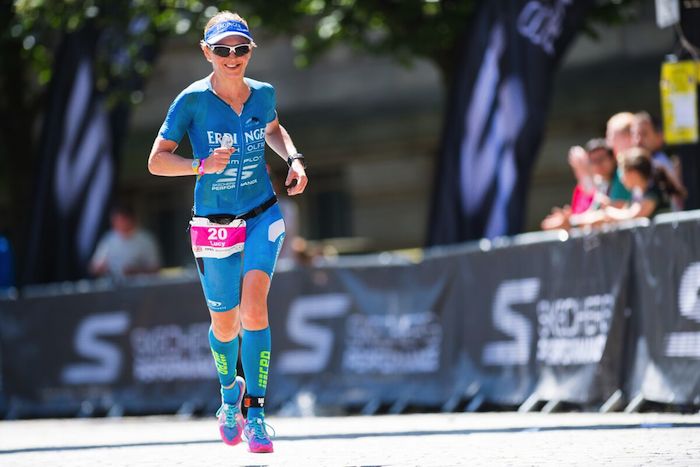 Digging deep over the final kilometres and with the support of the crowd, Gossage would deliver again to take the win, Riesler second and Bartlett would also dip under the 10-hour mark to round out the podium.
Wow. #IMUK you BEAST. That course. 3rd Pro today, gave it everything I had. Massive respect to all racing. ❤️ support! 📸 @OATriPodcast pic.twitter.com/cDW3jZIPZi

— Nikki Bartlett (@NikkiBartlett1) July 16, 2017
So that is two wins (70.3 Staffs, Bolton) and a second (70.3 Edinburg) on the 2017 'UK Grand Slam' so far from Lucy Gossage. While she may have now gone back to working as an oncology doctor, as she told me at the end of 2016, "don't write me off yet!".
IRONMAN UK, Bolton – Sunday 17th July 2017
3.8km / 180km / 42.2 km
PRO Women Results
1st – Lucy Gossage (GBR) – 9:39:48
2nd – Diana Riesler (GER) – 9:41:56
3rd – Nikki Bartlett (GBR) – 9:59:09
4th – Brooke Brown (CAN) – 10:21:16
5th – Hannah Drewett (GBR) – DNF