A second title for Cyril Viennot who adds another Bolton victory to his 2014 win
Will Clarke battles to second place with a late catch of defending champion, Kirill Kotsegarov
(Separate report(s) coming soon on some fantastic Age-Group performances)
CLICK HERE FOR THE WOMEN'S PRO RACE REPORT
The race began with the always reliable Harry Wiltshire setting the swim pace and reaching T1 first, but in the close company of the BMX-Etixx Pro Triathlon Team pairing of Romain Guillaume (FRA) and Will Clarke (GBR); a great start to the day for the Will. 2014 IRONMAN UK winner (and 2015 ITU Long Distance World Champion), Cyril Viennot (FRA) was just over a minute back at this early stage.
One man who wasn't having a good day (see more below), was Fraser Cartmell. Three-times a podium finisher in Bolton, Cartmell was almost five minutes in arrears after the swim – something that, I doubt, has ever happened in his career. Kudos to him for toughing it out on what was clearly a difficult day.
Guillaume set the pace in the early part of the ride, but Viennot was on a charge and would soon race the front of the race and then push on alone. With 100km completed he had built a six minute lead over Will Clarke, nine minutes over a fast-riding Bryan McCrystal (IRL) and twelve and a half over defending champion, Kirill Kotsegarov (EST). Guillaume was now out of the race, while Wiltshire (see below), while still riding, would be facing a DQ in T2…
Viennot continued his charge to T2, which he would reach with an 8:21 buffer over Clarke, 11:12 over McCrystal and 11:55 over Kotsegarov. This would change significantly before the run start however, with Clarke having to serve a five minute penalty in T2, meaning the Frenchman would start the marathon over 11 minutes clear, and Clarke entering T2 in second but leaving in fourth.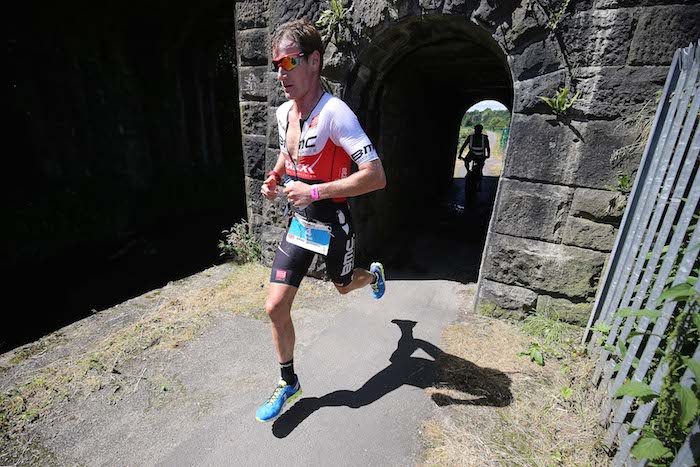 Kotsegarov and Clarke would soon move past McCrystal into second and third positions, and while they were gaining a few seconds on Viennot, the biggest battle was between themselves. Separated by just 1:45 at 11km, 1:13 at 20km and 1:20 at 33km, could Clarke close the gap? With 4km to go Will had pushed again to get within 40 seconds, but this was proving to be a tough one to crack. "I had a real hard battle… there were numerous times when I wasn't making inroads… my best kilometre split was my second to last one, 3:24, and I managed to come away with second. It was an amazing feeling, a completely savage course."
Viennot was the worthy winner however and could enjoy his final kilometres and a second IRONMAN victory – both of them in Bolton.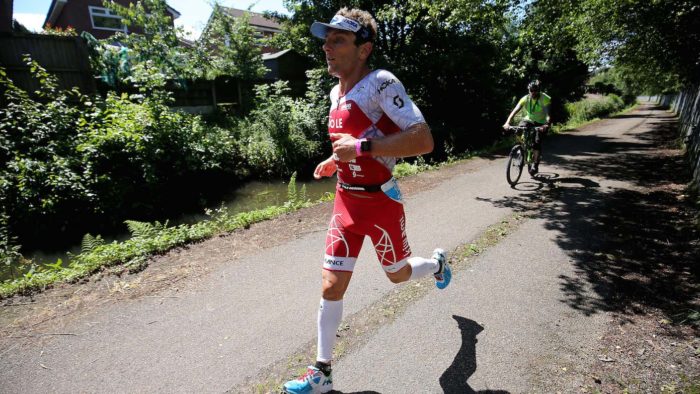 "The fact that it's so hard is what makes this race special. The bike is slow and hilly, but the support is good. On the main hill on the bike you have guys who dress in [fancy dress costumes], it's about 10 degrees outside and cloudy but the guys are here, shouting. It's incredible and a wonderful atmosphere," added Viennot.
That was SAVAGE! I'm super happy with 2nd at @IRONMANtri UK. These two were tough as old boots…good luck to those still out there grinding pic.twitter.com/DGqBEQvOX8

— Will Clarke (@Theclarke) July 16, 2017
A tough day for 2010 champion, Fraser Cartmell:
I may have to think twice about racing an IM for a wee while after today🙁 Great start to swim (1st lap) and then everything went wonky (1/2) pic.twitter.com/BFYoPSVm87

— Fraser Cartmell (@Frasertri) July 16, 2017
Never in my years racing have I been sick 😷 in the swim! I should be glad I finished, and w/out @Blaircartmell cheers I likely wouldn't👊2/2

— Fraser Cartmell (@Frasertri) July 16, 2017
A 'littering' DQ for Harry Wiltshire:
1 mile into bike I threw this on verge, I couldn't see a thing + was dangerous. In t2 I was DQ'd. I was collecting it. Won't do that again! pic.twitter.com/wgvYhsB8s3

— Harry Wiltshire (@harrywiltshire) July 16, 2017
IRONMAN UK, Bolton – Sunday 17th July 2017
3.8km / 180km / 42.2 km
PRO Men Results
1st – Cyril Viennot (FRA) – 8:41:07
2nd – Will Clarke (GBR) – 8:47:03
3rd – Kirill Kotsegarov (EST) – 8:48:16
4th – Bryan McCrystal (IRL) – 9:10:31
5th – Nicholas Ward Munoz (GBR) – 9:16:52
6th – Pedro Gomes (GBR) – 9:25:44
7th – Fraser Cartmell (GBR) – 9:33:49