Bastille Day success for France at World Triathlon Series Hamburg
From a starting line-up packed with seriously powerful podium potential, it was to be France's surprise package, Cassandre Beaugrand, who left the field in her wake to earn a first-ever WTS gold at Saturday's WTS Hamburg. An excellent swim saw the French National Champion in contention early on and she held firm in the 6-strong lead bike pack, before taking the race by the scruff of the neck and flying through the 5km run in a time of 15:48, Germany's Laura Lindemann out-sprinting USA's Katie Zaferes to win silver.
"I am so, so happy, I can't believe," said the delighted 21-year-old after the race. "I had a crash here last year, and to be able to win one year later is just amazing. I have improved a lot on the bike, and I pushed a lot today to be in the front group"
With such a strong field, including the returning double World Champion Flora Duffy (BER), Series leader Zaferes and Great Britain's WTS Leeds winner Vicky Holland, it always looked like victory would require something special. Jessica Learmonth (GBR) and Summer Cook (USA) were the two first out of the swim, but Beaugrand, Taylor Spivey (USA), Vittoria Lopes (BRA) and Duffy were part of a sizeable swarm exiting T1.
An early fall from Rachel Klamer (NED) may have seen her lose touch with the lead group, but did little to deter her from another gutsy display on the bike. She then merged with a chase group that included Zaferes, Nicola Spirig (SUI), Vicky Holland, Kirsten Kasper (USA) and Emma Jeffcoat (AUS), but there seemed little hope of catching the front six.
By the bell, that had all changed. The hugely experienced Spirig had pushed the pace of the chase group and both she and Zaferes, accompanied by the likes of Angelica Olmo (ITA), Kirsten Kasper and Non Stanford, were making up ground. By the time T2 came into view at the end of the six laps, Duffy, Georgia Taylor-Brown (GB), Learmonth, Taylor Spivey (USA), Beaugrand and Lopes had been caught.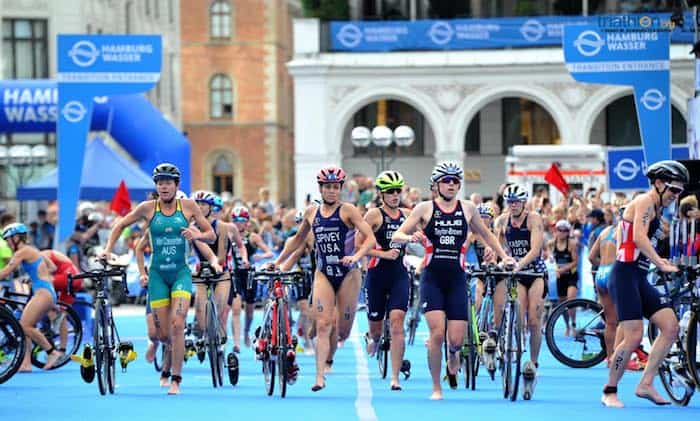 As if to underline the momentum shift, it was Spirig who was first out of transition and onto the two-lap run, Australians Emma Jeffcoat and the in-form Natalie van Coevorden on her shoulder, Beaugrand dropping back to 16th and Laura Lindemann also struggling to negotiate T2 efficiently.
That merely seemed to dictate the French star's tactics for the remainder of the race, however. Having put in a huge effort to get back among the leaders, Beaugrand clearly felt comfortable enough to maintain the pace and soon found herself alone out front.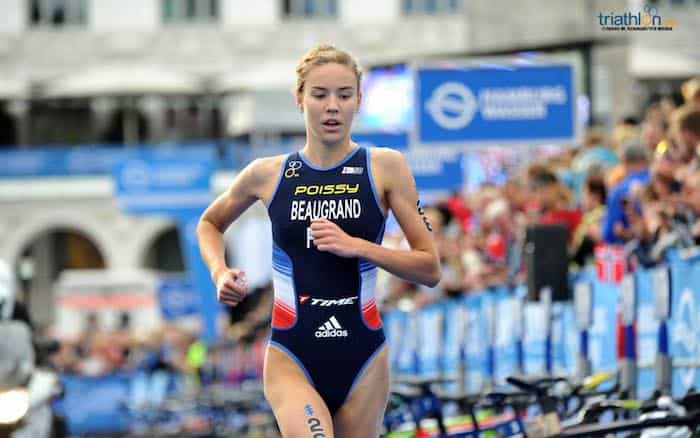 Katie Zaferes and Nicola Spirig held firm, patiently awaiting their moment to pounce when the leader tired. That moment never arrived. Spurred on by her crowd, Germany's Laura Lindemann locked in on the American's shoulder as Spirig fell away, and it was an almighty sprint for the line as Lindemann won silver, bronze going to Zaferes with Spirig and Kirsten Kasper in fourth and fifth.
"I am very happy with second place, I didn't expect it at all after the swim and the bike, because I had a really bad transition. But I just ran for my life and i'm very happy with the result. The crowds here are awesome, they really pushed me, and it felt like I was flying on the course with the cheers from the crowd."
"I am so excited to come away with a podium in this race," said USA's Katie Zaferes. "When I came out of the water I was a bit further behind than I like to be, so being on the podium is a relief. The second group on the bike, the one I was in, was super motivated to catch the leaders and we did a really good job. When I saw Cassandre go i thought that we could close that gap but then it just seemed to be increasing. Winning the Series is on my mind now, and I hope third place here is the lowest I come in the rest of the races of the season."
ITU World Triathlon Hamburg – Saturday 14th July 2018
750m / 21km / 5km
1st – Cassandre Beaugrand (FRA) – 58:06
2nd – Laura Lindemann (GER) – 58:36
3rd – Katie Zaferes (USA) – 58:37
4th – Nicola Spirig (SUI) – 58:42
5th – Kirsten Kasper (USA) – 58:44
6th – Non Stanford (GBR) – 58:45
7th – Jodie Stimpson (GBR) – 58:48
11th – Georgia Taylor-Brown (GBR) – 59:20
22nd – Vicky Holland (GBR) – 1:00:06