There is only one time a year I contemplate doing an IRONMAN, and that is when the triathlon circus moves to Kona, Hawaii for the World Championship.
I love the build-up, the hype around the race, the excitement of following local athletes who I know this is their trip of a lifetime to go and compete at the World Championships. The feeling goes pretty quick when I assess my fitness levels and wonder if I really want to ride my bike for 112 miles. 
I competed in short-course, Olympic distance racing throughout my career. I was always injury-prone due to back problems. After the birth of our first child, Mali, in 2017 I needed to undergo a spinal fusion to correct my long-standing back condition.
It wasn't a decision based on sporting goals, it was about my future life and having a healthy body for years to come. We had our second child, Max, in 2019 and surprisingly my back was a lot better than it had been in years and I did a 70.3 in February 2020.
The aim was to do an IRONMAN at some point but then Covid hit, the reality of two young kids (two-years-old and nine months) in lockdown and some additional injuries pretty much ended my IRONMAN dream. Although I admit, the itch to complete one, to tick it off the bucket list is still there, and always amplified around Hawaii.
Sodaro an inspiration
I don't follow all long course racing; as a commentator for World Triathlon I follow a lot more short-course athletes and try to keep up to date with tri news in general. I love the videos we see from the long-distance athletes, the PTO videos, and athletes' own YouTube channels. I have my favourites, the athlete you are always rooting for to do well. One of mine is Chelsea Sodaro.
I met Chelsea at Sands Beach in Lanzarote in 2020. I was training for my 70.3 and looking after two kids. It was probably the hardest training camp I have ever done; I had childcare for the hours I was training but around training I had the kids on my own as my husband was back in the UK working.
Max was teething and I would spend a couple of hours at night walking around the apartment getting him to sleep, usually at 2am, then go ride for four hours in the morning. Luckily this was only for a short period.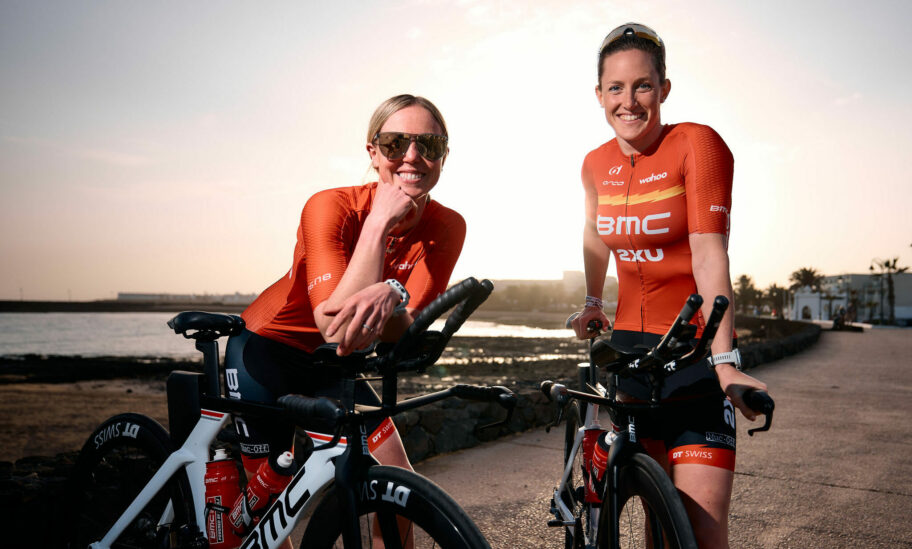 So when I met Chelsea, along with Kat Matthews, I was so happy to have someone to chat with for half an hour! They were off for a coffee and I think I was off to the park to entertain the kids.
Empowering example
There are a lot more mothers competing now compared to when I was young and I find it so empowering that you can do both, and we are showing young women they don't have to choose between their athletic career and kids. Nicola Spirig, Jackie Hering, Mirinda Carfrae and Meredith Kessler are all women who I have found inspiring to watch race and I follow their journey.
As a professional triathlete everyone's set up will be different, with the help they have with childcare. I did have help but the biggest change for me was recovery time; it went down drastically, although some of that was affected by Covid where we lost all childcare help.
I used to see pictures of other athletes' Instagram sat down recovering in compression recovery boots and I had finished my session, gone straight into negotiating with my toddler to eat her lunch while holding my clingy almost one-year-old! It was a big contrast. Not one I would change and I enjoyed the challenge of fitting everything in. I had to be smarter about recovery and what was essential, what could be parked.
I have loved following Chelsea's journey, the groundbreaking maternity pay from the PTO, the documented videos of her pregnancy, the setbacks and injuries she has had whilst racing as a mother. I can relate so much as I tried to do what she has just done, although definitely not as successfully!
How relatable is the journey to the amateur triathlete? Or for the mums who barely have anytime to exercise in their busy lives? When I first started taking Mali to school and the other mums found out what I did, there was genuine disbelief that you could do that with kids. I hope stories like Chelsea's can show that the return to exercise after kids is possible; we aren't all trying to win an IRONMAN, but to get back to doing triathlons, get back to exercising, it is possible.
Practical pointers
There are a few of things I found especially useful in returning to exercise after pregnancy:
1. Active in pregnancy. I trained consistently when pregnant with Mali. The intention was to get back to racing, so I had a plan of training. With Max I had a lot of bleeding at 20 weeks, It was really scary and we thought we were losing him. I did very little exercise after the bleeds. mainly walking, 20/30 min swims. It wasn't much compared to what I did with Mali but I found my fitness came back quicker after Max. I think any movement is good, so don't be daunted by trying to exercise too much.
2. Postpartum checks. I went to a specialist physio as I was feeling a loss of strength in my core and weakness in my pelvic floor and was given a program to help. After following the program for a few weeks I noticed massive improvements. The physio was so friendly and approachable and made discussing post-pregnancy issues – which sometimes feel taboo – very comfortable. I would highly recommend this to any woman no matter what your level of fitness.
3. Comparison is a b*tch! Don't compare to any other athlete, influencer, or even your former self. Our bodies all react so differently to pregnancy. I used to constantly compare what I was doing in training to previous sessions. I should have been focusing on the improvement I was making every step of the way.
4. Scheduling. This is more essential to me now than it was when I was still an athlete. When I was an athlete/mother the training was my job so it was a big priority if I had to get it done. Now my 30-minute jog I want to get in is not the priority, there are so many more things I need to get done in the day. I schedule it into my day, get up early if I need to, or get it done late. If I don't schedule it in, it's so easy to let it slip.
5. Why? What is your reason? Pre-kids, this was easy, I had big goals and I went after them. When kids came along there was a massive pull for me to be at home all the time and be with them, there is the guilt of leaving them. Guilt of putting myself first, guilt of everything really! Is there ever a parent without guilt? So my reasons why had to be strong. Now as an ex-pro, someone who trains a bit because I enjoy it, my reasons are that as I love to feel fit and active, the training gives me good headspace that allows me to be a nicer person! I definitely get a bit snappy if I haven't exercised for a few days.