Canadians Matthew Sharpe and Rach McBride came out on top after a dramatic IRONMAN 70.3 Boulder on Saturday.
Olympian Sharpe, who announced his retirement from the ITU circuit in February, claimed his maiden 70.3 victory at the very first attempt.
McBride meanwhile took full advantage of a difficult run for Holly Lawrence (GBR), the highest-ranked athlete in the women's field.
Pro Men – Sharpe steps up in style
Matthew Sharpe was to the fore right from the start, using his swim strength to create a gap alongside Marty Andrie (USA) in what was a non-wetsuit swim that started half an hour late due to delays for some athletes getting to the start.
They had over a minute on the rest, with the chase group including American duo Justin Metzler and Ben Hoffman. Not much more than 10 miles into the bike leg it had become a lead group of four as Sharpe and Andrie then joined forces with Metzler and Hoffman.
The lead swapped a few times but the big move as the race wore on came from Tripp Hipple (USA), more than three minutes back after the swim. He bridged that gap, but no sooner had he done so he was hit with a five-minute drafting penalty.
His response was to power clear and the next big surge came from Kennett Peterson who also went straight past the chase group and assumed the lead heading into T2 as Hipple stopped at the penalty tent.
Peterson's bike split of 1:59:38 was the only sub-2hr one and comfortably the quickest of the day but it didn't take long on the run for everything to close up.
No less than 40 seconds separated the top five but it soon became clear that Sharpe was shaping up as the strongest and he was at the head of affairs before the halfway point.
He was never able to relax as Metzler, Hoffman and Andrie kept the pressure on but Sharpe was able to close out the win in 3:49:56.
Metzler showed great character just two weeks after his energy-sapping fourth place at IRONMAN Lake Placid, as he found extra reserves to reclaim second place some 51 seconds behind.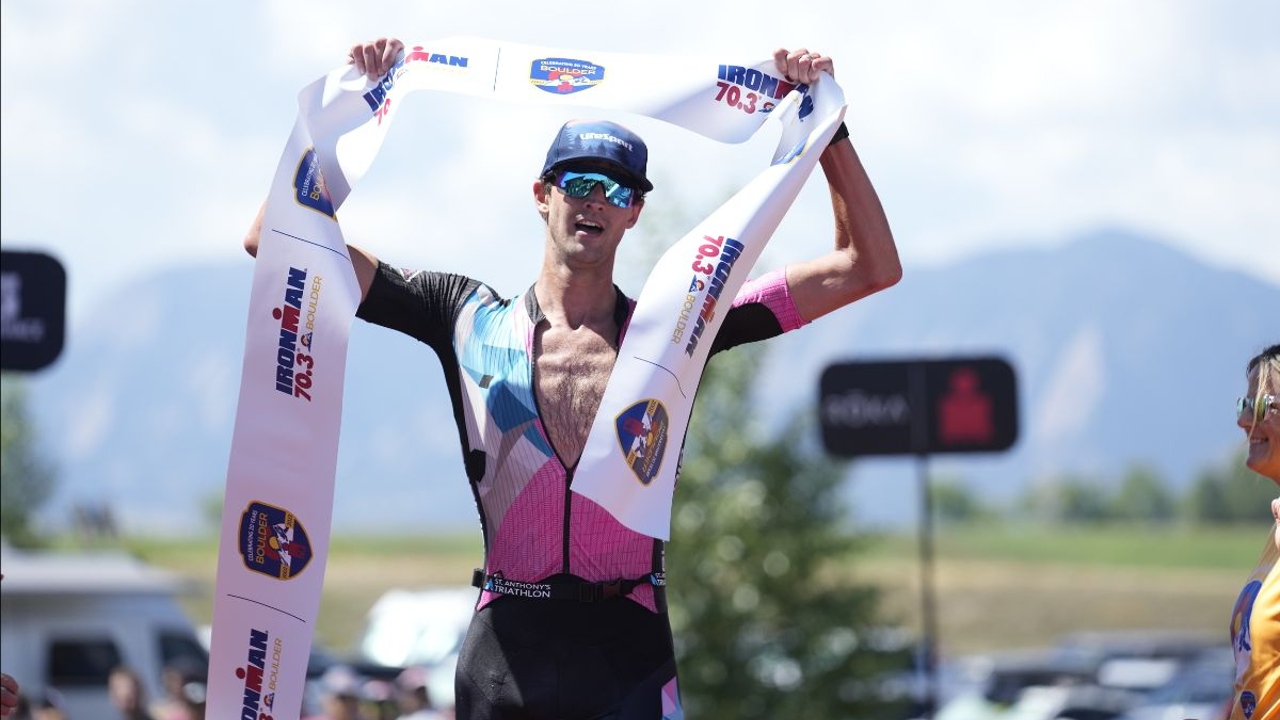 Hoffman, who spoke beforehand about this race being a stepping stone as he builds up to Kona, was patient throughout and took third at +1:05.
And it was clear that as the temperatures rose, the run conditions were severely testing looking at the times – with that half hour delay at the start perhaps contributing.
Pro Women – McBride takes advantage
It was no surprise at all to see Lauren Brandon (USA) show the way on the swim.
Indeed her time of 25:52 was only a fraction behind men's one-two Sharpe and Andrie.
Holly Lawrence was able to stay with her early on, but by the time they exited the water there was 55 seconds between them. That was rapidly reduced in T1 as Brandon's helmet and visor had got knocked off her bike.
The pair then rode together, albeit with Lawrence driving it throughout and late on she finally shook off Brandon but all the while Rach McBride was closing on both, so much so that they surged into the lead just ahead of T2.
It didn't take long on the run for Lawrence, given a Captains' Pick for the Collins Cup by Team Europe this week, to regain the lead – but the alarm bells were about to start ringing.
At the first aid station, less than two miles in, she slowed to a walk and McBride pounced past, never to be headed again.
It was a hugely difficult half marathon from then on for Lawrence, seemingly struggling with GI issues, and she would eventually drop out soon after the halfway point.
But up front McBride soon had a near five-minute advantage and though Lesley Smith (USA) and Hannah Wells (NZL) were both running strongly, they were never threatened.
McBride crossed the line in 4:12:53, 3:19 ahead of Smith, with Wells a further 3:17 back.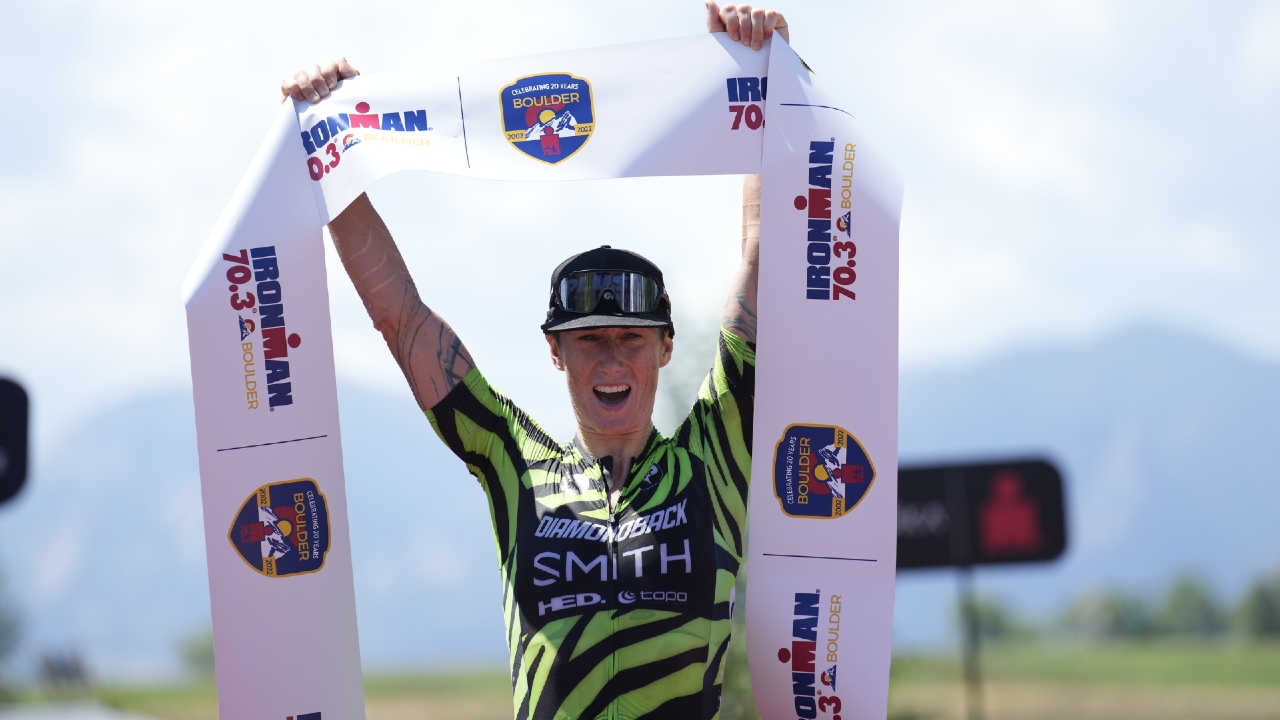 IRONMAN 70.3 Boulder Results
Saturday August 6, 2022 – 1.9km / 90km / 21.1km
Pro Men
1. Matthew Sharpe (CAN) – 3:49:56
2. Justin Metzler (USA) – 3:50:48
3. Ben Hoffman (USA) – 3:51:01
4. Marty Andrie (USA) – 3:51:41
5. Adam Feigh (USA) – 3:52:34
Pro Women
1. Rach McBride (CAN) – 4:12:53
2. Lesley Smith (USA) – 4:16:13
3. Hannah Wells (NZL) – 4:19:30
4. Mollie Hebda (USA) – 4:23:40
5. Danielle Lewis (USA) – 4:24:34