It was an Aussie double at GWM IRONMAN 70.3 Melbourne as Steve McKenna and Ellie Salthouse took the titles.
The pair had very different motivations – McKenna was clear favourite and confident with it as he builds up to IRONMAN Western Australia in three weeks' time.
While for Salthouse she admitted it was a "salvage" mission after a frustrating year compared to multiple wins in 2021.
She was 13th at the 70.3 Worlds a fortnight ago and said before this event: "I just want to have a race I'm proud of and have a performance that reflects the training I've done."
PRO Women – Salthouse runs away
It was a strong women's field and no surprise at all to see Lotte Wilms (NED) show the way in the water, opening up an advantage of almost exactly a minute from the rest, who were headed by Salthouse.
Radka Kahlefeldt (AUS) was third, a further 25 seconds back, and then Chloe Hartnett (AUS), Hannah Wells (NZL) and Amelia Watkinson (NZL) were all within range.
Queensland-based Dutch athlete Wilms stayed ahead on the bike and halfway through she was nearly a minute to the good but not long after both Salthouse and Watkinson joined her and that trio dominated all the way to T2.
Salthouse was actually third out of transition but kicked straight into the lead on the run and never looked back.
She was 20 seconds clear after 1.6km, had doubled it after 5km and kept extending her advantage, eventually crossing the finish line in 4:03:18, 1:41 ahead of Watkinson, with Wilms completing the podium.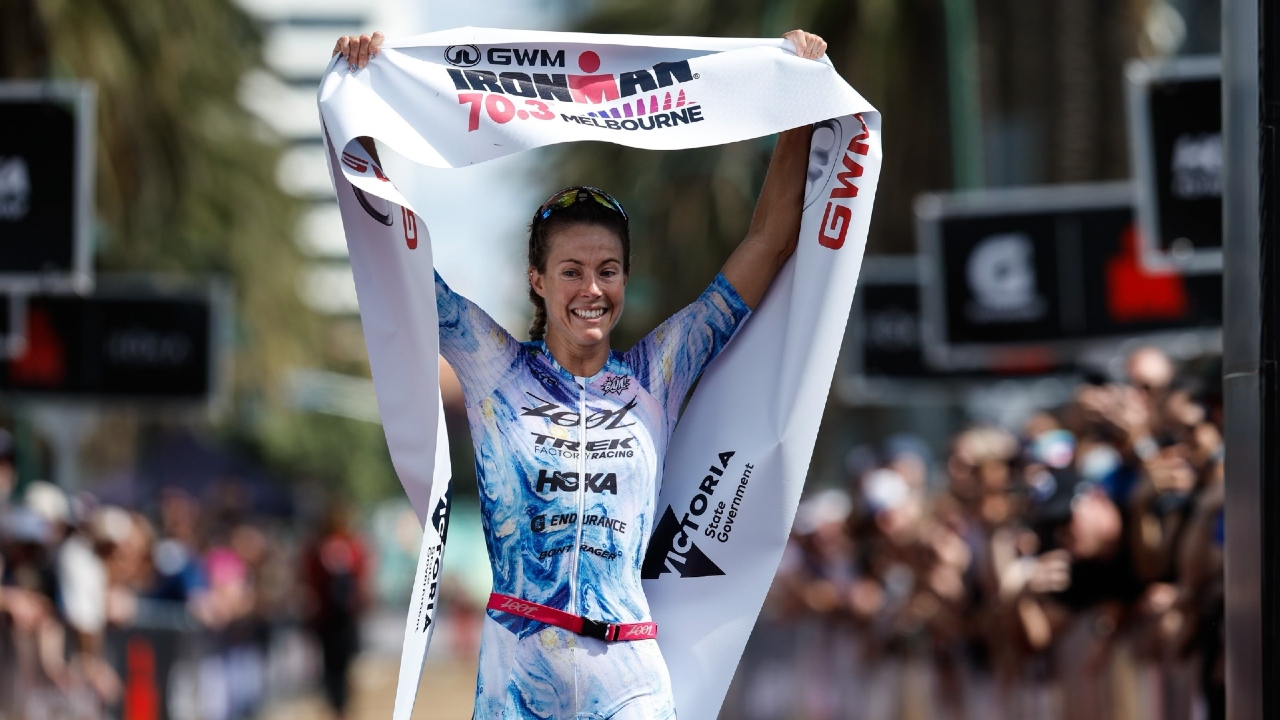 PRO Men – McKenna's actions match words
The swim saw a lead group of 11 dominate – and the podium places would all be filled by those in that selection.
Kurt Fryer (AUS) was first out of the water, just ahead of McKenna and the latter was clearly visibly frustrated on the bike by the amount of work he was having to do.
There was little cohesion to what was now a front pack of seven, which allowed a couple of those who had lost touch – Kieran Storch (AUS) and Yoann Colin (FRA) – to join them.
Storch helped animate things up front but nine was soon back to seven at T2 as Mitchell Cunningham (AUS) and Sam Osborne (NZL) both had to serve penalties.
But first out of T2 was recent Noosa winner and 70.3 debutant Charlie Quin (AUS) and he quickly put daylight between himself and the rest.
Midway through the half marathon his lead was nearly a minute, with McKenna the only person able to stay in touch.
McKenna had said beforehand: "I've trained the most I ever have for the last five weeks in a row and am as fit as I've ever been. I'm confident, really confident but if I am to win it's going to be in the last quarter of the run I'd say."
And those words proved prophetic as he surged to the front with 5km remaining and powered clear, opening up over three minutes on Quin by the time the line came as he clocked 3:39:12.
Nicholas Free was third on an Aussie-dominated leaderboard.
IRONMAN 70.3 Melbourne 2022 results
Sunday 13 November 2022 – 1.9km / 90km / 21.1km
PRO Women
1. Ellie Salthouse (AUS) – 4:03:18
2. Amelia Watkinson (NZL) – 4:05:00
3. Lotte Wilms (NED) – 4:06:32
4. Radka Kahlefeldt (AUS) – 4:07:51
5. Anna Bergsten (SWE) – 4:11:33
PRO Men
1. Steve McKenna (AUS) – 3:39:12
2. Charlie Quin (AUS) – 3:42:23
3. Nicholas Free (AUS) – 3:43:04
4. Kieran Storch (AUS) – 3:44:23
5. Fraser Walsh (AUS) – 3:46:33