The 2022 Nutri-Grain IRONMAN 70.3 New Zealand in Taupō was the last PRO race of the season and it proved a special one for both Kiwi Jack Moody and Sweden's Anna Bergsten who claimed their maiden 70.3 wins as professionals.
Riding 'the house down'
Moody went out hard on the bike to recover a 50-second deficit lost to the leaders after the swim but once he hit the front victory never looked in doubt, with the Aucklander running home to take the tape in 3:49:18.
"I can't believe it, I probably had the best swim of my life, I thought the group had separated at halfway and I tried to swim across and I actually realised that I was the one swimming away from group two and then I managed to ride the house down which was cool, haven't ridden like that ever, and then really paid for it on the run but held it together and got the win which just means so much," he said.
"It's really special to get on the board here, it's all the legends of New Zealand, so my name's up there now.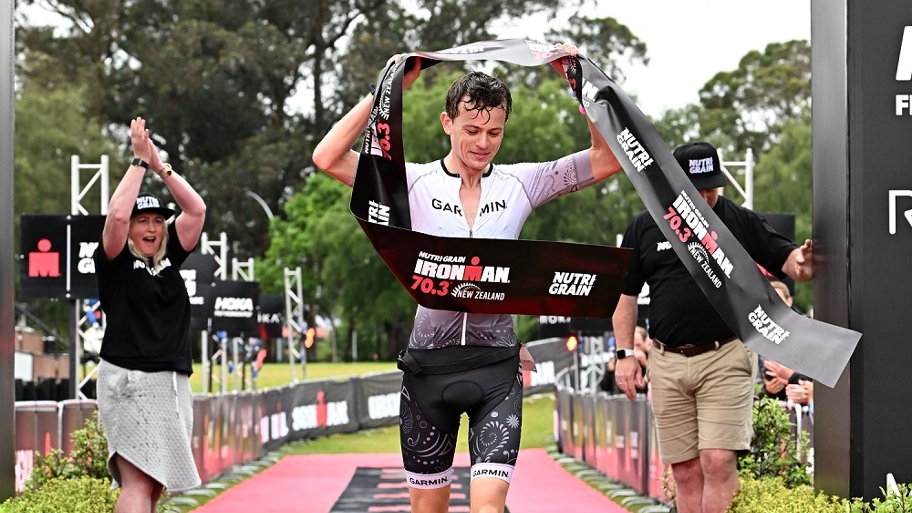 "I think I've done enough of these now, it's so hard to win one, you can get on the podium but to actually get first just feels like that next step up and to win like I did today, even better. It kind of cements what I'm doing now and how hard I've been working this year and what I've thrown into the sport, and where I might go next year," said Moody.
Significant step up for Swede
Meanwhile Sweden's Bergsten, who hails from Öglunda, only made the step up from age group racing this year.
The women's race had looked like a head-to-head foot race between New Zealand pair Hannah Berry (née Wells) and Rebecca Clarke, but Bergsten had a different script in mind and swept past them both on the run to win convincingly.
"I'm so happy to be here. I was going here in 2020 actually for the age group World Champs so I've been longing to come back ever since and finally I've been able to make it over, as a pro, not an age grouper, it feels amazing," said Bergsten.
Bergsten is the 2021 Age Group World and European IRONMAN 70.3 Champion but only turned professional at the start of 2022. After enduring a tough year she has now announced herself on the world stage.
It felt really good to end the year on a high.
"Very special because I've had a catastrophic year, I had COVID then iron deficiency and then I crashed at the European champs, so it's been a really tough season, so it's great to go into off season able to do some good work for the year ahead," she said.
"On the run the plan was just to go out quite hard and I found a pretty good rhythm early on and then I just stuck to that and caught the girls around eight, nine kilometres and then I just stuck to my rhythm, eased off a bit when my friends said, 'play it smart here', so yeah it was quite an enjoyable race actually, I didn't mind too much the rain."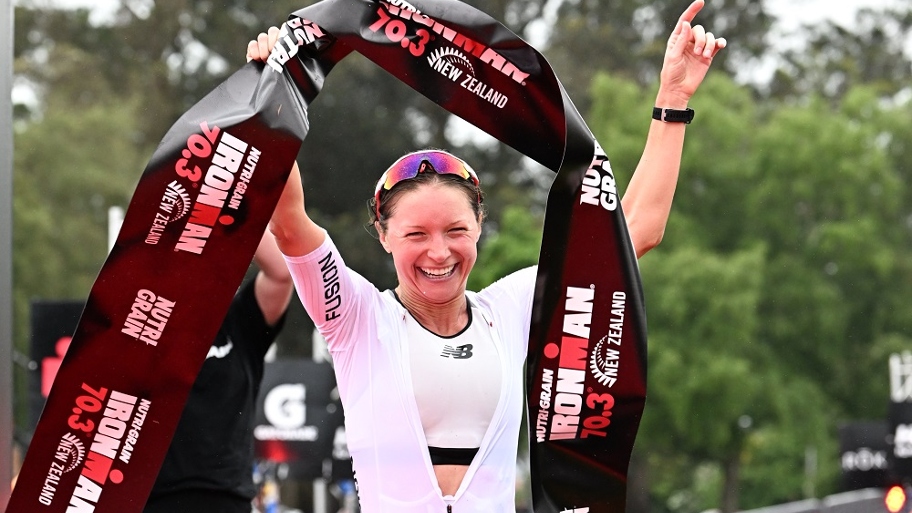 It was the perfect fillip for the 31-year-old who now plans to spend some time with friends in Aotearoa, making the most of the warm weather she hopes will come.
"I've always wanted to come to New Zealand, my whole family has been here when they were younger and I'm the only one who hasn't been here, so I really wanted to go a couple of years ago but that didn't happen," she said.
"We just made it a vacation now with off season coming up, a nice summer over here – hopefully that will come – so yeah, just lucky circumstances with being able to race and then being able to have a bit of vacation together."