The last PRO race of the 2022 season and the honours at IRONMAN 70.3 New Zealand went to local favourite Jack Moody in the men's race and the sole European challenger in the women's, Sweden's Anna Bergsten.
It was a special day for both as they were registering their maiden IRONMAN 70.3 wins as professionals.
Pro Men – Moody kicks clear on bike
The swim saw three men lead the way – Aussies Charlie Quin and Sam Osbourne and French Polynesia athlete Benjamin Zorgnotti.
Moody, wearing the #1 bib was 48 seconds behind in fourth but the Aucklander would move into a share of the lead midway through the bike alongside Quin.
Quin was the form athlete after a dream run since moving up to middle distance racing – a win at the Noosa Triathlon followed by a second-place finish at last month's 70.3 Melbourne and a victory at the Laguna Phuket Triathlon in Thailand.
But it was Moody who took command. He too has had a strong season, featuring a third at IRONMAN Australia in May and a second at IRONMAN 70.3 Oregon in August. Coming out of T2 he was nearly four minutes clear of his rivals.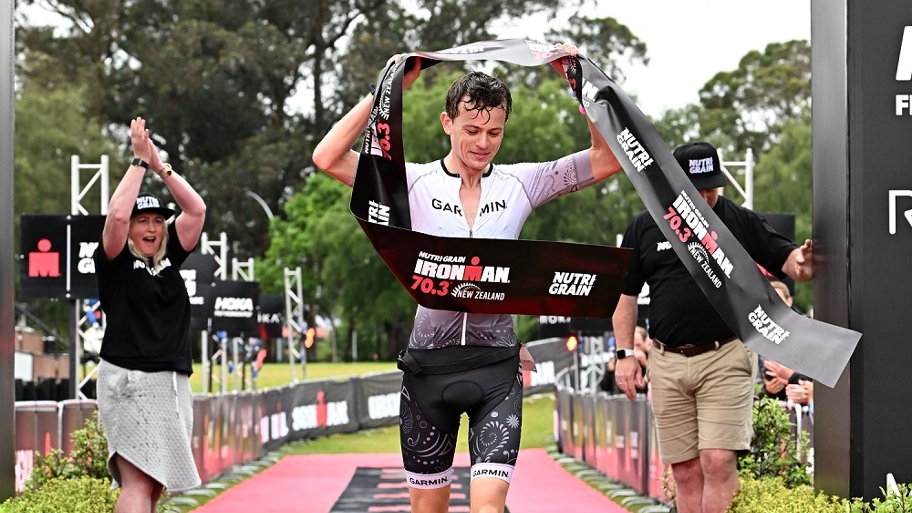 They were headed by compatriot Mike Phillips, who cut through the field thanks to his Tour of Southland cycle race power. He has twice claimed the IRONMAN 70.3 Taupō crown (2018 and 2017) and is returning to the sport after a year out battling plantar fasciitis.
But it was Moody who underlined his status as favourite, moving further and further clear to win by a huge margin after a 1:15:30 half marathon, 7:50 ahead of Phillips, with Simon Cochrane in third to complete a New Zealand 1-2-3.
Pro Women – Bergsten upsets the odds
It was a duel in the water off the shores of Lake Taupō, between home hope Rebecca Clarke and Australian Chloe Hartnett who put over a minute between themselves and the rest.
After what she calls her "best year" of middle and long course racing, which included a top 20 at the IRONMAN World Championship at Kona in October, Clarke headed into the event on the back of a recovery spell and the start of her summer training block in Wanaka.
On paper her big rival was fellow Kiwi Hannah Berry, the defending IRONMAN New Zealand and IRONMAN 70.3 Taupō champion, and by the time they reached T2 that pair were first and second, with Hartnett 15 seconds back.
But Bergsten, hailing from Öglunda in Sweden, had a different script in mind as she claimed her maiden IRONMAN 70.3 win as a professional, having only made the step up from age group racing this year.
She was fourth off the bike, 1:40 down on the Kiwi duo, but her women's best half marathon of 1:25:50 saw her sweep past Berry at the halfway mark on the run and she continued to extend her lead to take out the win in 4:21:09, with Berry and Clarke rounding out the podium.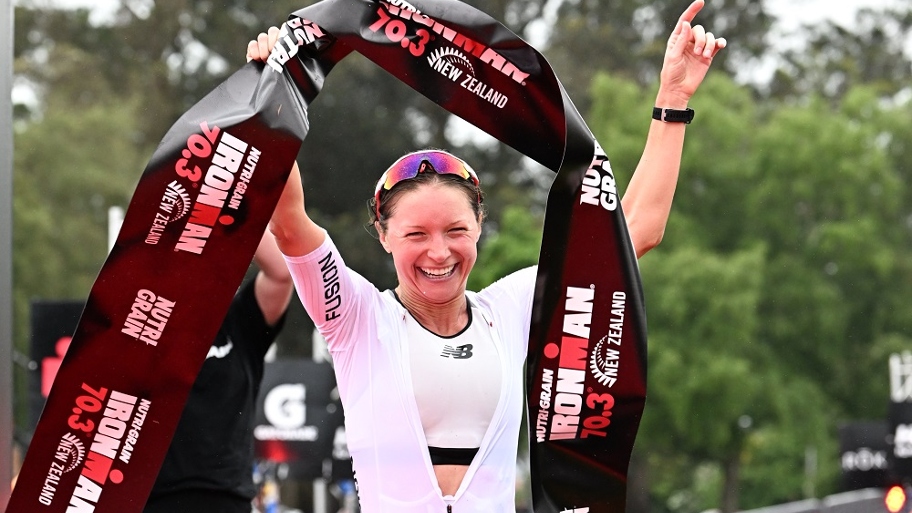 Click here for all the post-race reaction from both Moody and Bergsten.
IRONMAN 70.3 New Zealand 2022 Results
Saturday 10 December 2022 – 1.9km / 90km / 21.1km
PRO Men
1. Jack Moody (NZL) – 3:49:18
2. Mike Phillips (NZL) – 3:57:08
3. Simon Cochrane (NZL) – 3:57:58
4. Benjamin Zorgnotti (THA) – 4:00:24
5. Sam Osborne (NZL) – 4:03:02
PRO Women
1. Anna Bergsten (SWE) – 4:21:09
2. Hannah Berry (NZL) – 4:23:27
3. Rebecca Clarke (NZL) – 4:24:37
4. Chloe Hartnett (AUS) – 4:26:02
5. Rebecca Kingsford (NZL) – 4:39:54