Poznan got to celebrate a Polish winner in the professional men's field at IRONMAN 70.3 Poznan, as Robert Wilkowiecki took the win in front of a home crowd.
In the women's, it was Diede Diederiks who took home the win for the Netherlands. Susie Cheetham was the best Brit in Poznan this weekend, with a fourth place finish.
PRO Men – Polish 1-2
In front of a home crowd, Wilkowiecki, who won IRONMAN 70.3 Warsaw in June, managed to beat fellow countryman Kacper Stepniak for the win in Poznan, as Henrik Goesch of Finland rounded out the podium.
It was Stepniak who led out of the water, closely followed by Dutch athlete Menno Koolhaas, with Wilkowiecki close behind. The eventual winner led from T1 on to the bike, but there was no let up from Stepniak, with both of the home athletes coming out onto the run together.
Stepniak made the early moves on the run and led the initial stages, but Wilkowiecki proved to just be too strong for his compatriot. The winning margin was 75 seconds, with Wilkowiecki surging throughout the run to distance himself from Stepniak, whilst Goesch was a distant third another two minutes back.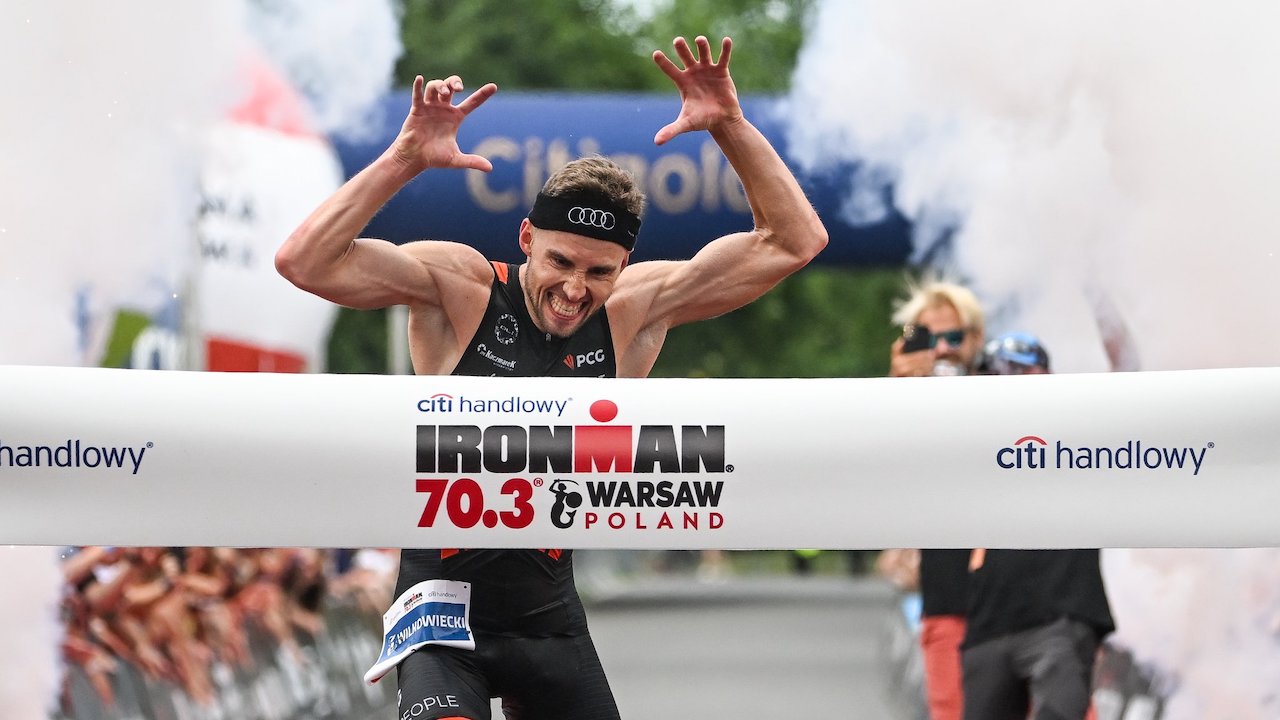 PRO Women – Dutch win via Diederiks takes tape
In the women's race, eventual third place finisher Lottie Lucas made her intentions clear early on as she led out of the water and into T1 alongside Hana Kolarova of the Czech Republic.
Lucas held strong through the first 20km on the bike, but her lead was soon overturned by Anne Reischmann who lay down a ferocious bike leg to put herself in the box seat heading into T2, with Diede Diederiks her nearest rival at almost half a minute back.
Out on the run however, Diederiks kept her composure and slowly reeled the German in, before putting close to 60 seconds into Reichsmann in the 5km section between the 13km and 18km marks. Over the final two miles Diederiks powered on, taking the tape a minute and a half ahead of Reichsmann, with Lucas beating Susie Cheetham for the final podium spot.
IRONMAN 70.3 Poznan 2022 results
Sunday 4 September 2022 – 1.9km / 90km / 21.1km
PRO Men
1. Robert Wilkowiecki (POL) – 03:43:27
2. Kacper Stepniak (POL) – 03:44:49
3. Henrik Goesch (FIN) – 03:47:01
4. Menno Koolhaas (NED) – 03:47:25
5. Mattner Christoph (GER) – 03:48:46
PRO Women
1. Diede Diederiks (NED) – 04:10:07
2. Anne Reischmann (GER) – 04:11:33
3. Lottie Lucas (UAE) – 04:19:08
4. Susie Cheetham (GBR) – 04:20:13
5. Jana Uderstadt (GER) – 04:21:32