Matt Hanson and Skye Moench made it an American double as they justified favouritism with wins at IRONMAN North American Championship Des Moines on Sunday.
Wearing #1 for the men was Hanson, who came into the event on the back of a strong second place recently at IRONMAN 70.3 Chattanooga and here he finished nearly three minutes clear of runner-up Andre Lopes (BRZ).
Moench, fourth recently at the IRONMAN World Championship in St George, secured her latest Regional Championship title in stunning style, winning by over 20 minutes.
Pro Men – TOD back in the mix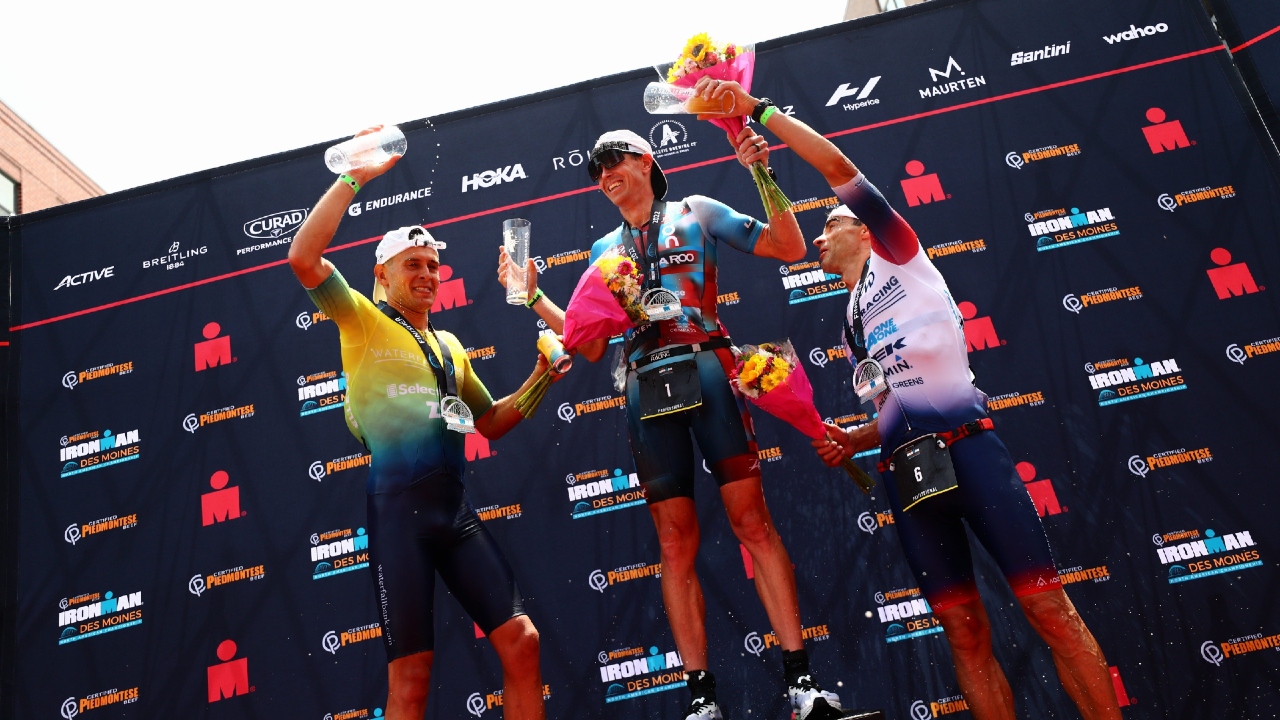 The men's swim finish was bunched but it was wonderful to see Tim O'Donnell to the fore as he continues his return to racing after his heart attack at Challenge Miami 2021.
He was sixth at a very competitive 70.3 Chattanooga and he, Hanson and Jesper Svensson (SWE) were the lead group for most of the bike leg.
Hanson started to assert towards the end of that and he was in control from that point onwards in what was the first full-distance IRONMAN triathlon hosted in Iowa's capital city.
O'Donnell was his closest challenger for the first half of the run but dropped back to third as Lopes set a fastest-of-the-day 2:29:29 marathon, just a fraction ahead of Hanson's 2:30:21.
Hanson stopped the clock in 7:56:48 to earn his fourth North American Championship title, while Lopes also dipped just under the eight hours mark.
Pro Women – Plain sailing for Moench
In the women's race it was all about Moench.
She was in the lead group on the swim, took complete control on the bike and started the run with a with a lead of over 14 minutes over Jen Annett (CAN).
That continued to move out and she crossed the line in 8:51:44, more than 20 minutes to the good.
Kelly Fillnow (USA) was third and Britain's Susie Cheetham took fourth.
IRONMAN Des Moines 2022 Results
IRONMAN North American Championship
Sunday June 12, 2022 – 3.8km / 180km / 42.2km
PRO MEN
1. Matt Hanson (USA) 7:56:48
2. Andre Lopes (BRZ) 7:59:27
3. Tim O'Donnell (USA) 8:10:07
4. Luciano Taccone (ARG) 8:15:45
5. Matt Russell (USA) 8:22:06
6. Stephen KIlshaw (CAN) 8:30:39
7. Jesse Vondracek (USA) 8:35:50
8. Patrick Brady (USA) 8:36:48
9. Christopher Dels (GER) 8:38:39
10. Elliot Bach (USA) 8:47:21
PRO WOMEN
1. Skye Moench (USA) 8:51:44
2. Jen Annett (CAN) 9:11:49
3. Kelly Fillnow (USA) 9:20:07
4. Susie Cheetham (GBR) 9:22:54
5. Linsey Corbin (USA) 9:24:32
6. Fiona Moriarty (IRL) 9:45:53
7. Elizabeth James (USA) 9:51:02
8. Britt Vocke (USA) 10:15:00
9. Jenny Fletcher (CAN) 10:29:03