The tragic events which unfolded at IRONMAN Hamburg have raised many questions, and this week we conducted an in-depth interview with IRONMAN CEO Andrew Messick to put many of them to him.
A motorcycle operator, carrying a race photographer, lost his life following a collision with an age-group athlete who was riding in the opposite direction on and out-and-back section of the course. The athlete remains in hospital but the photographer has been released.
The amount of motos around the sport's biggest races has been a much-debated topic, and one we will focus on in far more detail in the next part of this interview.
But should the race itself have been stopped once the incident had occurred? And what was the process that went into making the decision to continue with both the pro and age-group races?
Who made Hamburg call?
Messick told us: "Our operational team on-site always has the authority to not start a race or to terminate a race. The senior on-site operational executive is empowered to make that decision because we recognise that any race that's taking place in real time, there isn't an opportunity to be able to manage a broad or a long chain of command.
"And that's the person who has the best information of what's going on on the ground, that has direct contact with public safety, with the community, with all of the different constituencies that are operating the race. Those are the people who have the best information and who ultimately need to make the decision.
There are people always available within our organisation further up the chain to help those people make those decisions, but ultimately it's the executive on the ground that is empowered to make the call.
"There's a bunch of us in this organisation that have a lot of experience, but they're not always available. Sometimes it's the middle of the night, sometimes someone's on an aeroplane, sometimes someone's at a different race. And we had races that took place all over the world this last weekend.
"The system that we have is designed so that we have accountability where it needs to be. And there's never a situation where somebody has to sit there waiting for someone to call back, or for someone's plane to land or for someone to get out of bed in the morning."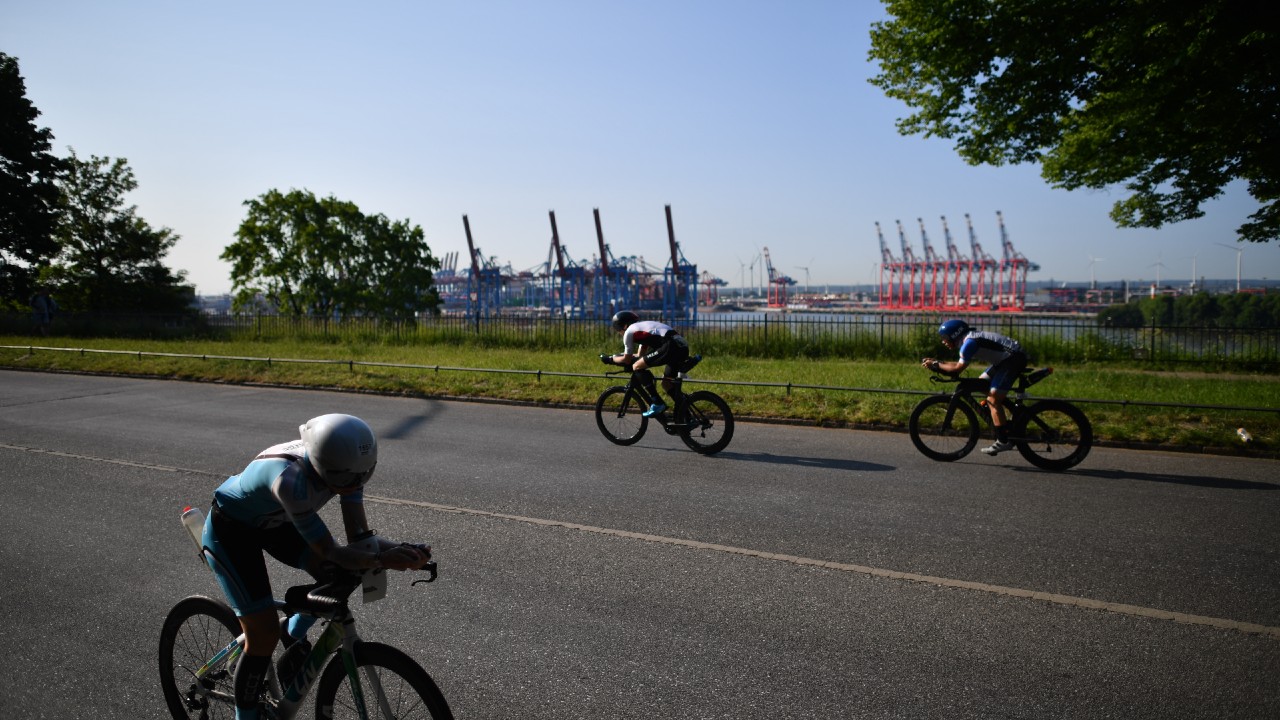 Why did IRONMAN Hamburg continue?
Explaining how that applied to Sunday's race in Hamburg, Messick said: "There's a document called the Global International Operations document that everyone, every race follows. Our international ops team have pulled that together and it defines what you do, when you do it, how you do it, anytime there's a critical incident.
"There was a whole bunch of things that happened on Sunday and so there was a decision about whether the race should continue. There were decisions around how do we make sure that we're getting the right care to the people who were affected by the incident? And on Sunday that's the moto driver. It's the cameraman on the back and it's the athlete. And there's a whole series of communication steps and paths around what do you tell people and when do you do it? And those need to be coordinated with local public safety and critically the families of the people who are affected by the incident.
"I mean something terrible happened and we all recognise that and I don't want to diminish the seriousness of a fatality but it wasn't as though the race course was unsafe – we weren't dealing with critical weather conditions, we weren't dealing with cold or heat or fire or smoke, all of which are things that are more likely to cause us to cancel a race. And there wasn't a sense that the race course in and of itself was unsafe.
'Alternative is in many cases worse'
"We had workarounds on the bike course that inconvenienced athletes. I get it and no-one wants to be inconvenienced, but it didn't put anyone in harm's way was the judgement of the people on the ground. And you always have to compare that to the alternative of how do you handle a race cancellation in mid-race.
"We don't allow athletes to race with phones. There needs to be a mechanism by which you communicate to athletes. There needs to be a place for them to go. There needs to be safe ways for people across a very large race course to be able to get back to transition. And our general view is that that's more dangerous than continuing to let people manage a course that's controlled and has support and has medical and has all those things.
"And so the decision to keep the race going, I have yet to see any evidence that makes me think that wasn't the right decision.
And I don't want us to sound heartless or callous about that because obviously something terrible happened.
"But the alternative is in many cases worse and more dangerous to have 2,000 age group athletes, not all of whom speak German, trying to figure out how to get back to transition."
And while Messick ultimately feels it was the right call to continue with the race for the reasons set out above, he did admit "regret" that IRONMAN's broadcast wasn't halted.
Next, we put the spotlight on that motorbike convoy which covered the race – including TV cameras, referees and others – both from a safety and fairness point of view.