Ahead of Kona, Sebastian Kienle had talked on 'Breakfast with Bob' about the challenge of "pushing your limits in training" to try and keep in touch with Norwegians Gustav Iden and Kristian Blummenfelt, who have transformed the sport.
Referencing the tricky balance, he said: "I think a lot of guys have crossed that line – and I have to feel that Lionel [Sanders] is one of them."
And after trailing home in 34th position, more than 52 minutes behind winner Iden, 'No Limits' himself admitted that was very much the case.
Speaking on his post-Kona video on YouTube which is embedded below, Sanders said: "I came into this really well trained, in fact that may have been part of the problem.
"And I came into this having worked crazy hard, which may also have been part of the problem.
"I probably left a lot of it in training – it's too much for me. I guess we're sort of trying to copy Gus and Blu and what they're doing. And I'm not necessarily sure if it's the right framework for me because clearly I am deteriorating now and it comes to the fore in the heat."
'I'm just exhausted'
Going into more detail, he said: "I want to be the best in the world and I'm looking what the best guys in the world are trying to do in training and trying to copy them.
"Somewhere along the line I don't think I've been recovering or giving my body time to recover. And seemingly each race has just gotten worse and worse.
"I knew immediately when I got on the bike it was not going to be a good day. I'm just exhausted."
Sanders, soon to become a father for the first time, was quick to put everything into perspective as he added: "It's not the end of the world. Life is good. This race (Kona) has deeply inspired me, it got me into triathlon.
"My intuition was 'you're in pretty good form but it's not going to go well'. And my intruition was right. But I don't regret coming, we learned a lot and had a fun time."
Recalibrating the needle
And while he's now going to take a well-deserved break, he rightly pointed out: "Five months ago I did finish second in a Championship race [in the rescheduled 2021 IRONMAN World Championship at St George]."
And Sanders already has a plan and a target to get things back on track.
He explained: "If you don't want to get demoted then you will have to evolve. I think the door has now been closed on the way I used to race.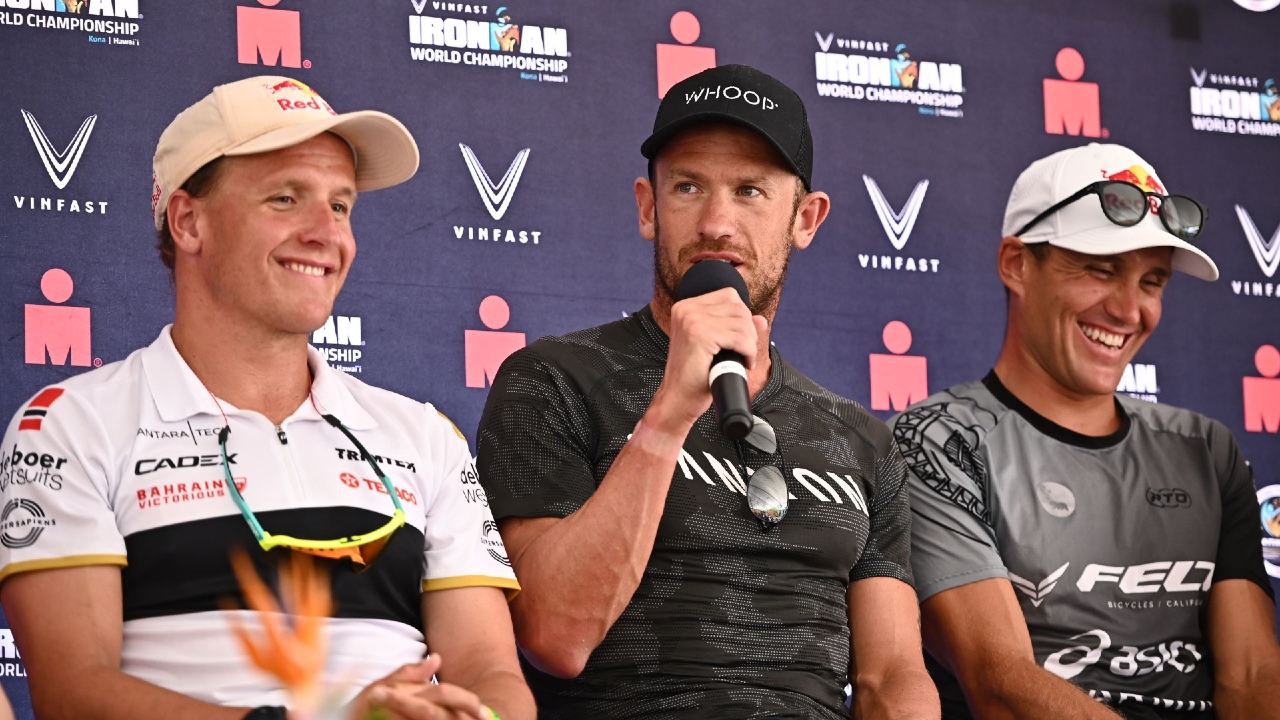 "Coming out of the swim with Kienle is what it used to be, now [Magnus] Ditlev is the cutoff – if you're not coming out with him then you're not going to be winning. I think he was a minute-and-a-half down in this race [Sanders was a further three minutes back].
"So I need to go back and do what I did in 2017 [when he went away, worked on his swimming and then matched Kienle]. We will return to Championship level when I move my needle to the Magnus Ditlev swim level.
"So it hurts a bit but life is still good and I'm really fired up to keep progressing."
Showcasing the sport
Sanders also talked about the pitfalls of talking about every aspect of his training and performance on YouTube, admitting: "I enjoy sharing the journey. What I don't enjoy is reading the [negative] comments."
The vast majority of the comments are actually hugely positive and the sport benefits massively from him providing a brutally honest insight into the Pro world and what it really takes to compete at the highest level.
To illustrate that, his latest video is rocketing up towards 100,000 views inside 24 hours.
To put that into context, it's set to overtake IRONMAN Now's Kona highlights package of the men's race which has had 100,000 views in four days. Win or lose, 'No Limits' will always be box office…