Daniela Ryf looks to become a six-time IRONMAN World Champion as the race returns to its spiritual home on the Big Island and bib numbers have been published – the defending champion wearing the F1 bib.
Pro Women racing at Kona
2021 IRONMAN World Championship runner-up Kat Matthews misses out after her recent collision with a car in training, but there is still a star-studded list of names ready to take on the challenge in Kona.
Anne Haug (F3), who took victory the last time the IRONMAN World Championship took place in Hawaii, will be aiming for a fourth straight podium, while Lucy Charles-Barclay will be hoping to add gold to her trio of silvers earned in 2017, 2018 and 2019.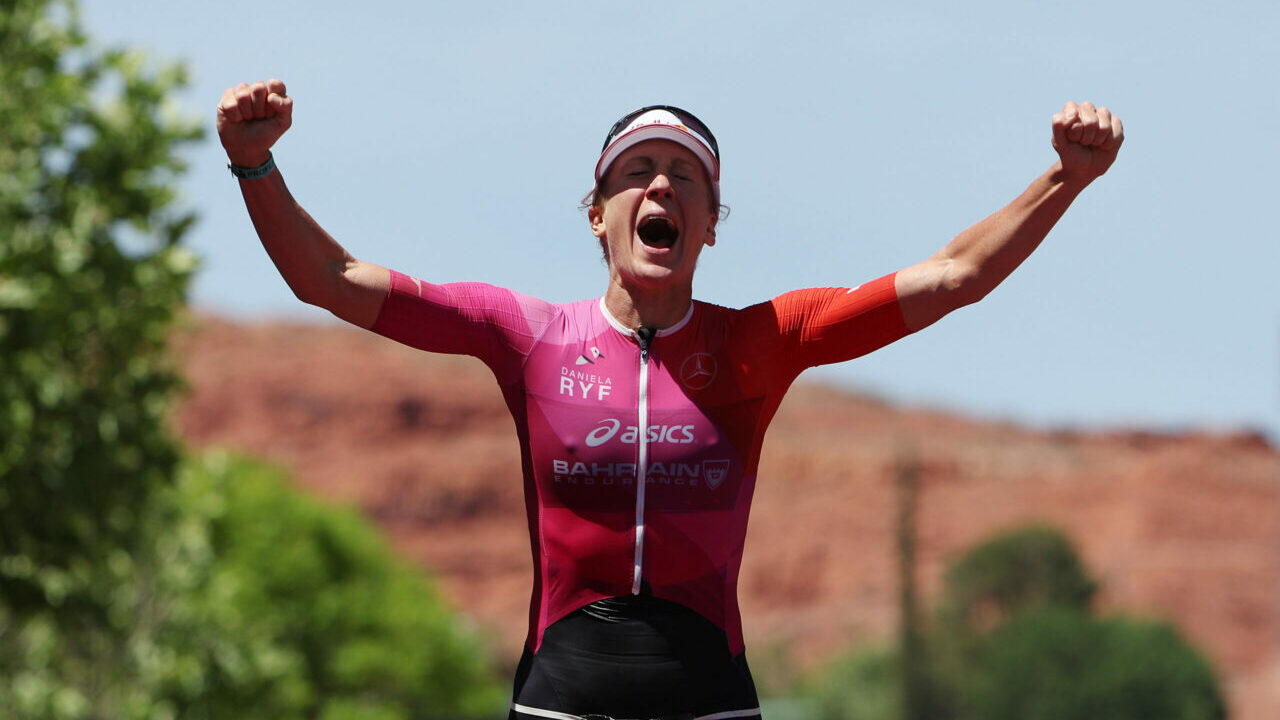 Two time bronze medalist Sarah Crowley (F7), and American Heather Jackson (F9) are the only other former podium dwellers on the start line.
Four of the PTO World Rankings top five will be in attendance, Laura Philipp (F8) the only member of the quartet who is yet to achieve a podium in the past.
USA has ten athletes on the start line, a country that hasn't had a female IRONMAN world champion since Paula Newby-Fraser took victory in 1996. Great Britain is represented by seven athletes, as are Germany.
Start list and bib numbers – Pro Women
| | | | |
| --- | --- | --- | --- |
| BIB | FIRST | LAST | COUNTRY |
| F1 | Daniela | Ryf | SUI |
| F3 | Anne | Haug | GER |
| F4 | Skye | Moench | USA |
| F5 | Ruth | Astle | GBR |
| F6 | Lucy | Charles-Barclay | GBR |
| F7 | Sarah | Crowley | AUS |
| F8 | Laura | Philipp | GER |
| F9 | Heather | Jackson | USA |
| F10 | Lisa | Norden | SWE |
| F11 | Laura | Siddall | GBR |
| F12 | Fenella | Langridge | GBR |
| F14 | Gurutze | Frades Larralde | ESP |
| F15 | Maja | Stage-Nielsen | DEN |
| F17 | Sarah | True | USA |
| F18 | Jocelyn | McCauley | USA |
| F19 | Daniela | Bleymehl | GER |
| F20 | Sara | Svensk | SWE |
| F21 | Pamella | Oliveira | BRA |
| F22 | Haley | Chura | USA |
| F23 | Simone | Mitchell | GBR |
| F24 | Chelsea | Sodaro | USA |
| F25 | Laura | Zimmermann | GER |
| F26 | Manon | Genet | FRA |
| F28 | Rebecca | Clarke | NZL |
| F29 | Justine | Mathieux | FRA |
| F30 | Lauren | Brandon | USA |
| F31 | Elisabetta | Curridori | ITA |
| F32 | Joanna | Ryter | SUI |
| F33 | Rachel | Zilinskas | USA |
| F35 | Renee | Kiley | AUS |
| F36 | Jen | Annett | CAN |
| F37 | Heini | Hartikainen | FIN |
| F38 | Kelly | Fillnow | USA |
| F39 | Kristin | Liepold | GER |
| F40 | Elena | Illeditsch | GER |
| F41 | Dimity-Lee | Duke | AUS |
| F43 | Chantal | Sainter | GBR |
| F44 | Penny | Slater | AUS |
| F46 | Kylie | Simpson | AUS |
| F47 | Magda | Nieuwoudt | RSA |
| F48 | Jodie | Robertson | USA |
| F49 | Jenny | Schulz | GER |
| F50 | Beatriz | Neres | BRA |
| F51 | Susie | Cheetham | GBR |
| F52 | Kate | Bevilaqua | AUS |