American Sarah True and Canada's Cody Beals were the winners of IRONMAN Lake Placid, both following up victories at 70.3 Eagleman last month.
True's IRONMAN 70.3 Eagleman win was on her reappearance following the birth of her son, while Beals' success here was all the more impressive following a hugely difficult build up to the race.
But Beals' triumph also came after a dramatic meltdown for Justin Metzler (USA) deep into the marathon after he'd led the way and looked on course for one of the four (two MPRO, two FPRO) Kona slots available.
Instead, those options go to the two winners along with men's runner-up Michael Weiss (AUT) and the women's third Jodie Robertson (as second-placed Heather Jackson had already qualified).
Pro Women – Cruise control for True
The only person to head True was Rachel Zilinskas (USA), out on her own in the water.
She clocked 50:57 and that was way clear of the rest, True the closest rival, albeit 4:38 back.
But that big gap came down quickly on the bike, so much so that True had built up a lead of nearly two minutes by the halfway point.
And from then on she was in complete control. By T2 True had blitzled the field – she was just under six minutes to the good, with veteran Dede Griesbauer (USA) now second.
Fastest on the bike with a 4:52 split was Jackson (USA), runner-up last year in this event and a two-time winner – as well as already being a qualifier for Kona on account of winning IRONMAN Florida last year.
Out of transition Jackson, who had given herself a mountain to climb on the swim, had edged into second and she was never to budge from that position, though never a threat to True.
True cruised home to an emphatic win, 16:01 to the good, with Jackson second and Robertson rounding out an American 1-2-3.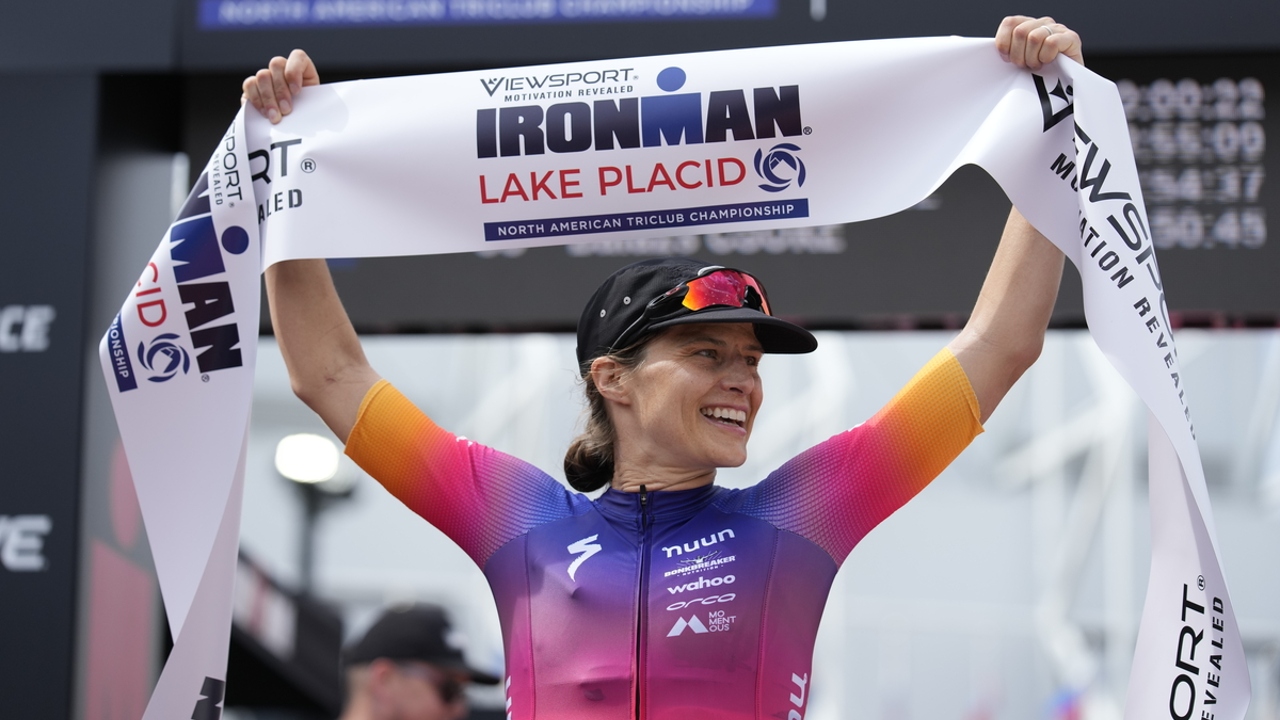 Speaking afterwards to Mike Reilly, True said: "I took a three-year hiatus from IRONMAN racing, came back slowly and didn't put a date on it but I just wanted to race for the love of the sport – I didn't really care about the result, but it's really nice to win!
"I grew up in upstate New York so this is about as close as I can get to a hometown race, it's very special."
Pro Men – Beals judges it perfectly
Metzler was to the fore throughout until his devastating decline, one of a group of four in front after the swim and exiting T1 in first place, a split second ahead of Pamphiel Pareyn (BEL), with Beals and James Capparell (USA) in close attendance.
And it stayed similarly tight well into the scenic bike course, with no change to the front three – well past the halfway point there were less than five seconds between Metzler, Pareyn and Beals.
But heading towards T2, Metzler started to assert and also moving into the picture was Weiss, who had given up a minute in the swim.
Starting out on the marathon Metzler had a 1:33 advantage over Weiss, with Pareyn now 3:14 back and Beals 6:45 adrift.
And early on the run, no one was moving more smoothly than Metzler, which started to contrast sharply with Weiss.
The athletes could see the gaps at various points on the two-lap course and Metzler gradually increased his advantage to 4:30 over Beals, who by now had moved into second.
But alarm bells started ringing with around 10 miles to go, when Metzler slowed to a walk, potentially cramping or over-heating.
And it didn't take long for his big lead to be rapidly reduced, with Beals now looking strong and Weiss, back on an even keel, suddenly also a threat.
Beals powered past – as did Weiss soon afterwards – and that pair filled the top two places, earning Kona places in the process.
Metzler bravely kept on for fourth, with Pareyn completing the podium.
Afterwards Beals said: "My grandfather died exactly a week ago. He was the biggest fan of mine. He was on my mind all day and I just wanted to honour him with that performance."
IRONMAN Lake Placid 2022 Results
Sunday July 24, 2022
PRO MEN
Cody Beals (CAN) 8:15:11
Michael Weiss (AUT) 8:17:04
Pamphiel Pareyn (BEL) 8:23:26
Justin Metzler (USA) 8:27:28
Matt Russell (USA) 8:28:54
PRO WOMEN
Sarah True (USA) 9:00:22
Heather Jackson (USA) 9:16:23
Jodie Robertson (USA) 9:22:02
Rachel Zilinskas (USA) 9:32:33
Melanie McQuaid (CAN) 9:34:32