Turning Silver into Gold (in record-breaking style) at IRONMAN New Zealand
Joe Skipper (2016, 2018), and Teresa Adam (2019, 2018), both started the 36th edition on IRONMAN New Zealand on Saturday with two previous second place finishes at the event. Both earned their first Taupo victories in fine style with hugely impressive wins, breaking records along the way.
A third IRONMAN win – the first British male athlete to achieve that feat – represents the tenth full-distance M-Dot podium for the hugely popular British athlete. He made light of a swim deficit of more than six minutes to uber-swimmer Dylan McNeice – and more than four minutes to the key chasing group (Mike Phillips, Braden Currie, Ben Phillips, Mathias Lyngso Petersen) – to go on and take victory by more than seven minutes.
Male pros swim
Dylan MCNEICE  (#8)0:45:42
Mathias LYNGSØ PETERSEN  (#9)0:47:34
Mike PHILLIPS  (#1)0:47:37
Braden CURRIE  (#2)0:47:37
Ben PHILLIPS  (#14)0:47:39
Mark BOWSTEAD  (#5)0:47:40
Simon COCHRANE  (#10)0:49:54
Chris SCHROEDER  (#7)0:50:02
Cameron BROWN  (#3)0:51:45

— IRONMANLive (@IRONMANLive) March 6, 2020
Key to success was a 4:13:03 bike split, which, joined by Philipp Koutny (SUI), saw the duo work together and reach T2 with a five minute buffer over defending champion, Mike Phillips, and Mark Bowstead. Surprisingly perhaps, Braden Currie – was nine minutes down after a 4:27 bike effort.
Leaders @Noaveragejoe88 and @PhilippKoutny have 15kms to go – they are over Heartbreak Hart and closing in on Taupo township and T2 with 3:45 on @MBowstead and @MikePhillipsNz pic.twitter.com/ze6doTHmyc

— IRONMANLive (@IRONMANLive) March 6, 2020
Skipper pulled clear of Koutny early in the run – and it was game over in terms of top spot on the podium. When you run a 2:43:07 marathon (also the quickest on the day), then you really give your opposition few chances.
Time to enjoy the plaudits coming along the waterfront for the final time #IMNZ for @Noaveragejoe88 pic.twitter.com/9Bdv6D7bDC

— IRONMANLive (@IRONMANLive) March 7, 2020
When Joe finished second in both 2016 and 2018, he was beaten by course record  times. He set out to make sure he was the one that broke that record this time and he delivered. It was an emotional finish too, inspired by his Nan who passed away while he was away in New Zealand.
https://www.facebook.com/IRONMANnow/videos/821509028367042/
Teresa Adam's win was perhaps even more complete. Fastest through the opening 3.8km swim by a full two minutes (50:26), it was on the bike that she truly impressed.
Female Pro Swim
Teresa ADAM  0:50:25
Meredith KESSLER  0:52:26
Radka KAHLEFELDT  0:52:33
Jocelyn MCCAULEY  0:52:35
Rachel MCBRIDE  0:52:37
Judith CORACHAN VAQUERA  0:52:38
Kelsey WITHROW  0:52:38
Alyssa GODESKY  1:02:05
Julia GRANT  1:02:10
Federica DE NICOLA  1:03:51

— IRONMANLive (@IRONMANLive) March 6, 2020
Her 4:36:12 bike split, cut more than 15 minutes from the 4:51:39 time ridden by Great Britain's Lucy Gossage in 2016. Her T2 lead was a whopping 18 minutes over five-time Taupo champion, Meredith Kessler (USA).
https://www.facebook.com/IRONMANnow/videos/256644462004030/
Teresa's bike skills are pretty impressive, the National Time Trial champion just two weeks ago:
2020 NZ Elite National ITT Champion! #cycling #timetrial pic.twitter.com/bZwDsGMGQw

— Teresa Adam (@TeresaJAdam) February 21, 2020
Adam was very close to completing the 'fastest in all disciplines' sweep with her 3:05:19 marathon, but Kessler in second and Spain's Judith Corachan Vacquera who completed the podium, both finished with 3:04:XX run splits.
As #IMNZ leader @TeresaJAdam heads out of town for the penultimate time, behind @KORAXAN has passed @Rachel_McB for third. pic.twitter.com/0IGPbrsO1O

— IRONMANLive (@IRONMANLive) March 7, 2020
Winner of IRONMAN Cairns, IRONMAN Western Australia and now New Zealand in her last three full-distance races,(all well under nine hours), Adam is now firmly in the top echelon of female long distance athletes and she looks et to be one of the automatic selections for the Internationals team in the Collins Cup.
https://www.facebook.com/IRONMANnow/videos/509769159728269/
IRONMAN New Zealand, Taupo – Saturday 7th March 2020
3.8km / 180km / 42.2km
PRO MEN
1st – Joe Skipper (GBR) – 7:54:18
2nd – Mike Phillips (NZL) – 8:01:28
3rd – Braden Currie (NZL) – 8:04:37
4th – Philipp Koutny (SUI) – 8:07:04
5th – Dougal Allan (NZL) – 8:13:16
6th – Cameron Brown (NZL) – 8:14:36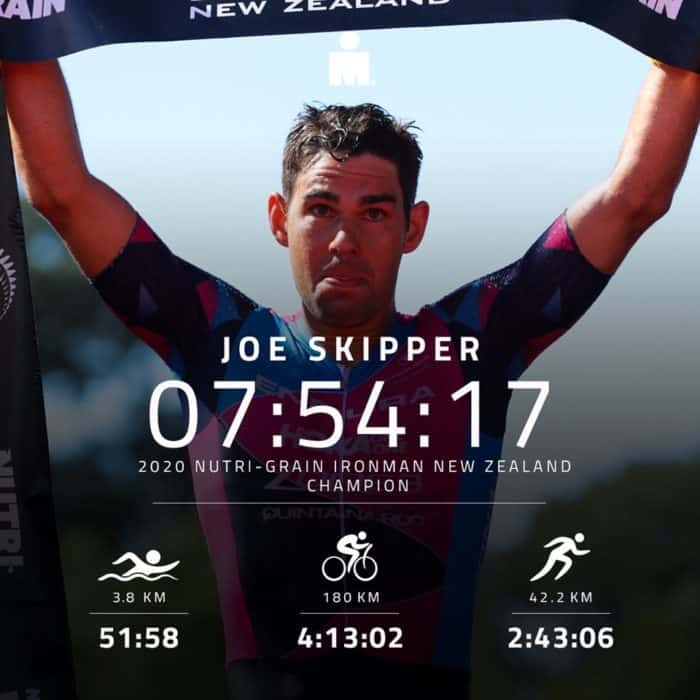 PRO WOMEN
1st – Teresa Adam (NZL) – 8:40:30
2nd – Meredith Kessler (NZL) – 8:56:04
3rd – Judith Corachan Vacquera (ESP) – 9:03:22
4th – Rachel McBride (CAN) – 9:10:07
5th – Julia Grant (NZL) – 9:35:25
6th – Lisa Roberts (USA) – 9:36:03