As part of TRI247's 'Behind The Lens' series, we step back from the images of world-class triathletes to discover the people behind the camera, and the realities of the life of a triathlon photographer. We began the series by featuring Tommy Zaferes in October last year, and now it's time to get to know Jack Schofield.
If you follow the world's elite triathletes on social media, you will undoubtedly have come across Jack's handy work (www.two26photography.co.uk). Be it videos with two-time IRONMAN champion Ruth Astle, photos of Olympic runner turned world-class short-course triathlete Beth Potter putting in hard sessions on the track, or lovely group shots of athletes such as Kat Mathews and Patrick Lange on a Lanzarote training camp.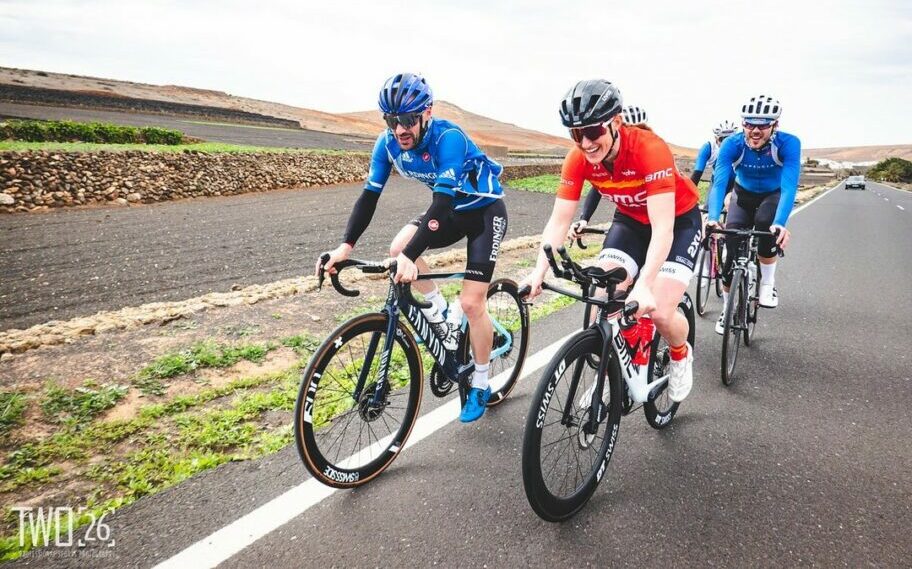 You might be surprised to hear that Jack is relatively new to the world of triathlon photography; he has been shooting sports photos for just over two years now, but has worked hard to develop his craft.
Why triathlon photography?
Jack explained what attracted him:
"I did architecture at university, but quickly realised it wasn't the career for me. I was quite keen on the idea of setting up a business so was assessing my strengths and stumbled on the idea of photography. I knew a lot about images and creating pictures but had no idea how to use a camera, so over the last three years I've slowly been teaching myself how to do that part. Editing comes easy to me, but taking pictures is still tricky!"
Jack is an accomplished age-group triathlete, and he described how this experience gave him an insight to the demands on an athlete as well as the obstacles facing those wanting images from race day:
"I'm a competitive age-grouper myself, I've qualified for Kona a few times, so triathlon photography was an easy transition as I understood what the athletes were going through and could fit in around training. I was also a bit disillusioned with the price and quality of sports photography. The top photographers seemed inaccessible, and race photos leave a lot to be desired – so I wanted to start to fill the gap."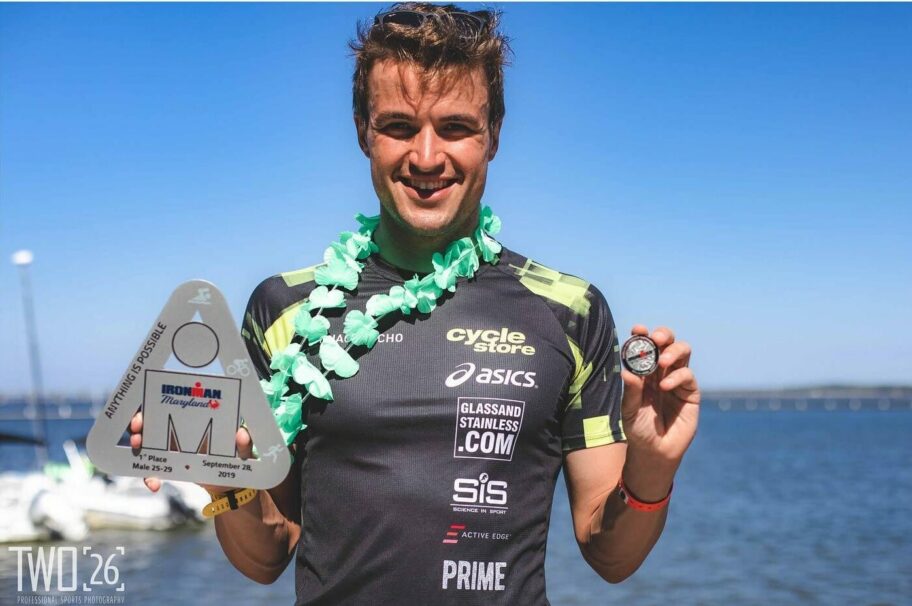 Athlete support
In a relatively short period Jack has been privileged to work closely with a number of athletes that are rapidly climbing the elite triathlon ladder, including Ruth Astle, Beth Potter, and Fenella Langridge. They will be pleased to know he specifically named them as a pleasure to work with. He explained what drives him and why he is drawn to sports photography, but would only hint at some interesting behind the scenes anecdotes:
"I don't think there are athletes that I haven't liked working with. I much prefer to work with athletes where I can really make a difference. Up and coming, less established or even struggling financially. I like to help people out, it's why I started sports photography in the first place. Interesting stories wise, we've certainly had some funny moments along the way, but you'll have to wait for a good after party to get them out of us!"
The advent of social media
It is a contentious and hot topic, but the reality is that for a pro-triathlete having a social media following is crucial. It's a subtle balance between acting as an advertising platform for sponsors whilst also being authentic. This is where Jack gets involved:
"Some athletes know exactly what they want from social media, some are happy to let me take the creative lead and they provide the messaging. It's certainly important to have a social media presence nowadays, but I think integrity is also very important. High quality content and good messaging is the key, we see it less about marketing and more about telling your story. If people like the story, they'll follow along. It's my job to represent the athletes and show all sides to that story."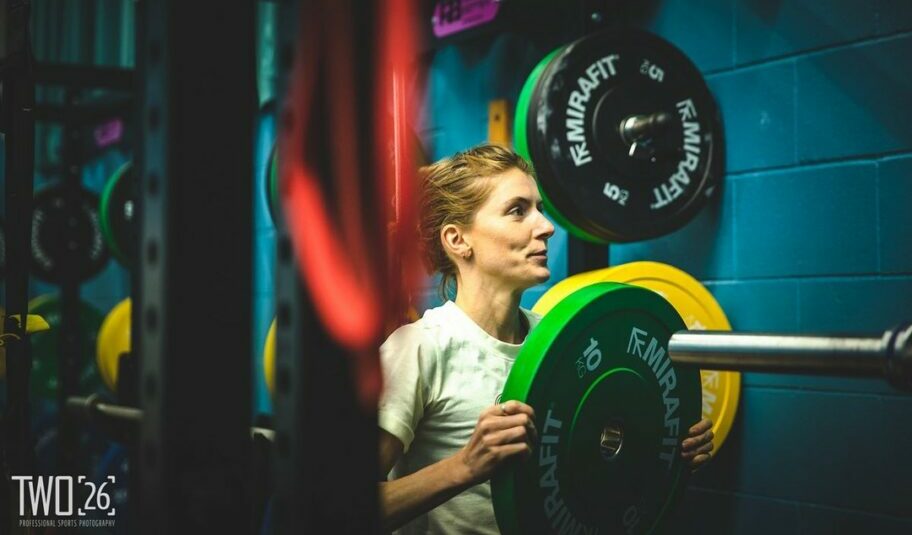 Jack reiterated that the focus and needs of pro-triathletes are changing, but for age-groupers the expectations and hopes for photos remains the same:
"I feel like there's a shift happening towards video for the professionals, but age-groupers just want high quality shots of them racing at an affordable price. We're just creating memories at the end of the day, they shouldn't cost an arm and a leg to create. Triathlon is an expensive sport; I'd like to work with race organisers to make content more accessible. Like the Outlaw model of free photos – though there still needs to be more focus from the photographers on creating high quality shots rather than just having lots of them."
Perfect shot
What does it take to get the perfect shot? Do you need a top end camera or is it really possible to get high quality photos with a phone? Jack's view is that it's not all about the camera:
"I shoot on a Canon 5D mk4. I want to go mirrorless but to be honest I think camera choice is somewhat overrated. Some of my best shots are on a compact Sony RX100 mk6. It was about £500 complete and creates some beautiful shots. It's more important to have a good eye for photos than a really expensive camera. I can still take a fairly nice iPhone photo."
Jack continued to share his wisdom on what to consider when trying to create the best content:
"I always like to break it down really simply – the main thing is the focus of the image. Do you want the athlete to be big (the main focus) or small, blending into the background? Once you know that, you need to consider the composition. If the athlete is the main focus, what's behind them? A lamppost or phone wire can quickly ruin the best photo.
"I worry less about location, we can't always shoot in the mountains. Sometimes we're on the track and it's cold and raining and the light is terrible – you just have to work with what you've got on these shoots. Think outside the box, work out what you want to create with the shot and how you want to make people feel. The rest takes care of itself!"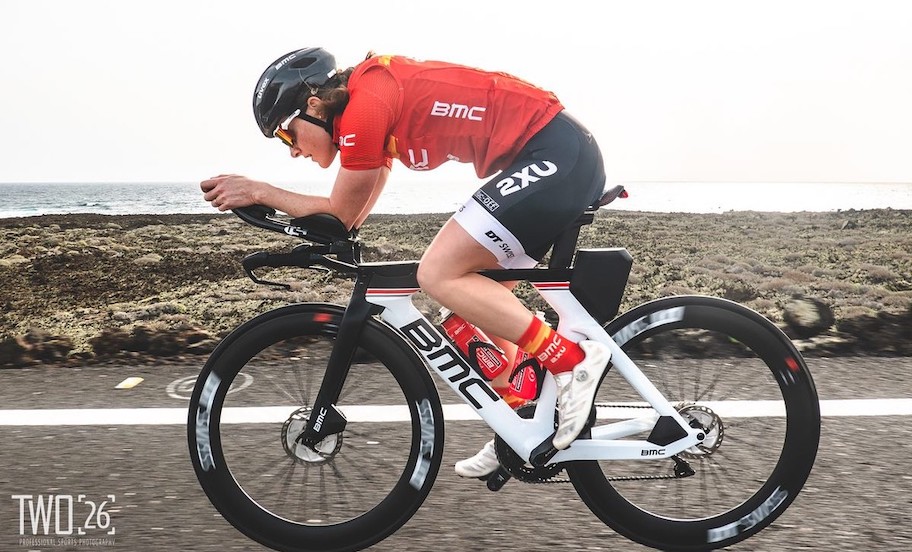 Favourite pictures and locations
Jack has spent many hours taking pictures of athletes. There must be some locations and particular images he is particularly fond of. However, due to Jack being at the early stage of his sports photography career he hasn't yet been to the same race location twice. Despite this, two places stick out:
"Daytona was cool for the experience, but I didn't have any credentials so had to shoot as if I was a spectator. That was hard but the content came out well. I'd like to go back to a few [places] and shoot them differently, to see if I can see the race through a different set of eyes. I do love creating on camp though. Boulder stole my heart and some of the shots came out amazing. I practice really hard when the conditions are bad, so when we end up in beautiful places, it feels too easy sometimes!"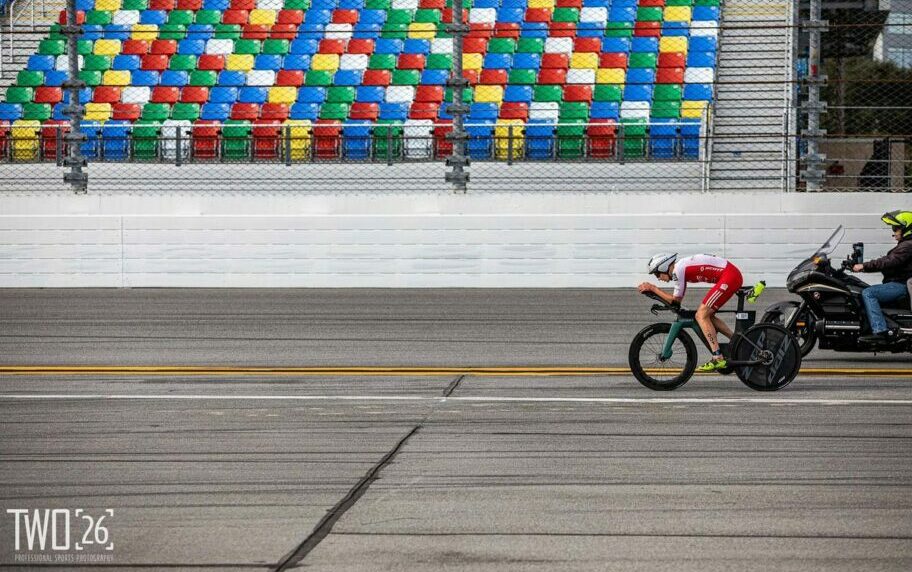 So, does Jack have a favourite shot? Sometimes the greatest pride comes from performing well in difficult conditions. Being based in the UK, and often shooting during the winter months, Jack has to be creative. Also, the story and experience behind an image can give a photo a particular value:
"Sure, creating in the mountains is great, or at golden hour on the beach in Florida… but when you nail a shot at the pool in bad light or capture a special memory for someone at a race you know they'll appreciate, that hits different. Also, the times I've created images of pivotal moments in [an] athlete's careers, like Ruth's win in Mallorca, I know we'll look back on them for a long time. It can be hard to appreciate all my work though, there's always something about a shot I can improve!"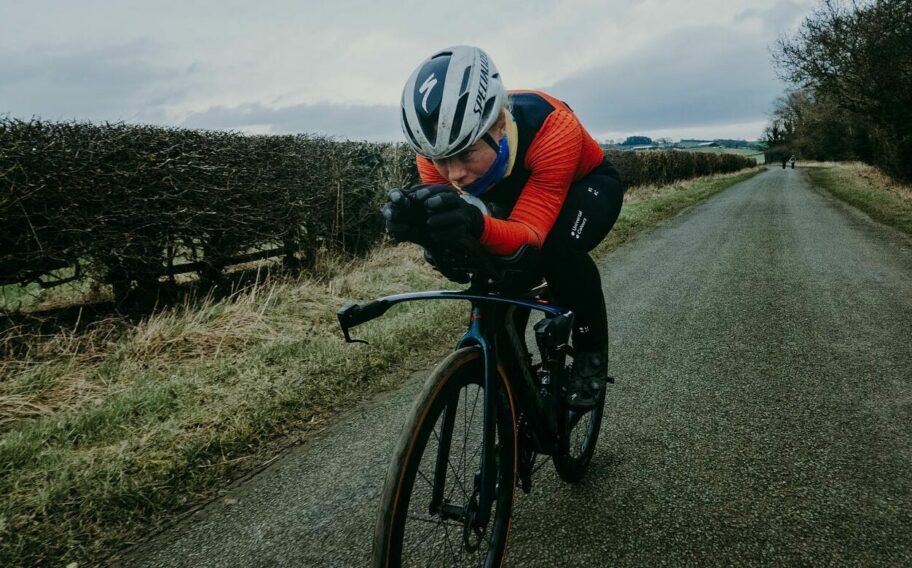 Day to day life
Jack's job reflects the trend that athletes want to tell stories, to give fans an insight into their real life and the rollercoaster that can be the life of a professional athlete. As a result, rather than spending much of his life at races, a large proportion of Jack's time involves shooting athletes day-to-day:
"The majority of my work is away from racing – I try to avoid shooting races as they're really hard work! I just try to tell stories, ask the athletes what training they have on, fit in and create around that. I try and keep a nice balance of photo and video, and a mix of sports. So just capture as much of what the athlete is up to as possible. Sometimes sponsors want certain things, but usually we just try and capture what we think people should see. We try and keep it as honest as possible though, I'll shoot the bad days too so it's not always sunny and fast!"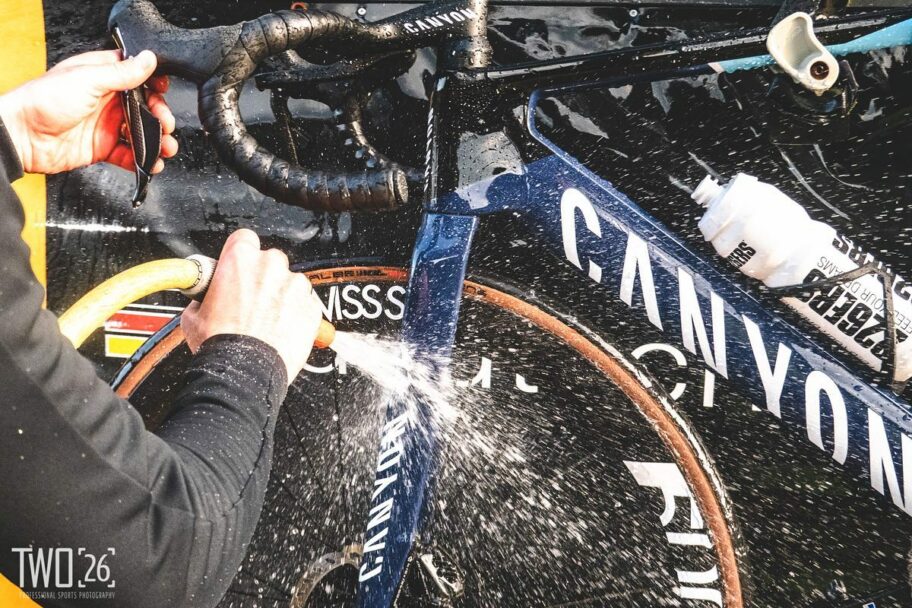 He went onto describe how he arranges his calendar during the season. As you may expect it is athlete driven:
"To be honest at the moment it's just around where the athletes I work with most are. Beth [Potter], Ruth [Astle], and Fenella [Langridge]. I also have to consider If it's financially viable for me, and if I'm not racing myself.
"I'll be in Kona racing so the content will look very different, but otherwise I just fit in. I try and go on most camps. Bike/run I can keep up in most sessions – so I'll join in and create around that. We usually try to get a sponsor to cover the costs and give them all the content we create. It's mega cheap for them, and means we can continue delivering quality content."
Race day
Jack touched on races being tough and demanding from his perspective. He went into detail about the realities of working around and on race day:
"…race days are pretty savage, it usually starts a day or two before! If I'm filming athletes we'll get content in the build-up, pre-race thoughts etc. I also like to put them [content] out before the race, so usually end up only getting 4/5 hours sleep the couple of nights before. The morning of [a race] I always make sure I'm down at the time the athletes are. I help where I can, I'm fairly calm in those situations so like to make myself useful.
"Then it's straight out on the course to start creating. After the race it can take up to two/three hours to get all the images/videos from my camera into my laptop; then it's time to edit. I'm a bit obsessive and like to get the content out ASAP, so usually I'll work until 10/11pm then stop for dinner. At that point it's either off to the after party – or back to finish editing.
"If I'm selling shots individually I'll edit them through the night and sleep the next day, just so I know they're finished. The same before I travel home, I like to wrap up trips and come back present and ready to recover."
Creating memories
As Jack mentioned above, for him sports photography is about creating memories. He elaborated on what he loves about his job.
"The people. I love capturing memories and telling stories. When I meet people and get to play a small part in their journey, it feels rewarding. It can be the person that finishes last, or the pro that wins. If I've got a shot they appreciate and thank me for, it's a job well done. That's the same with the YouTube videos; if people can take things away, feel happy or learn something, we're on the right track. Then connecting with them is always a rewarding exchange."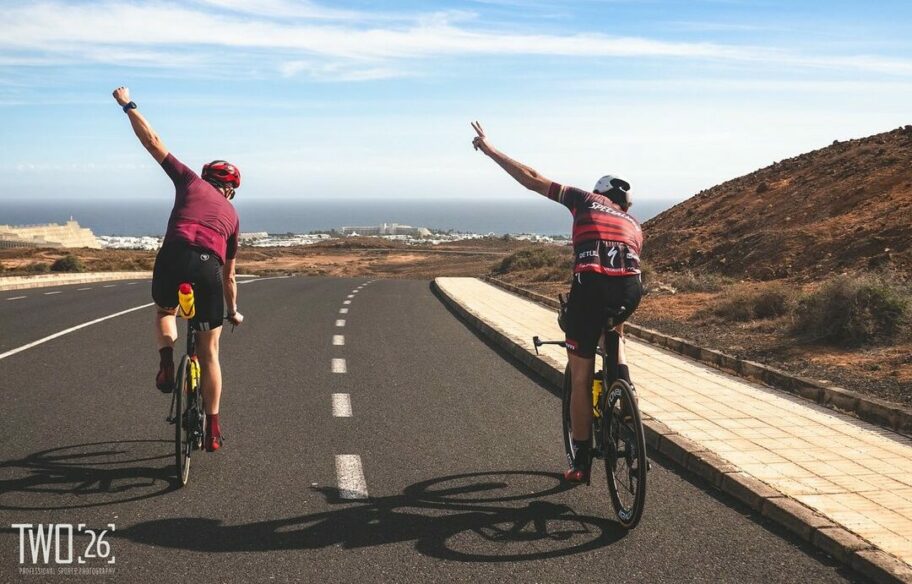 Work, work, work
The realities of life as a sports photographer may surprise some, especially when we see the glamorous locations captured in the pictures. Jack shared some of the reality of life behind the lens:
"Yeah a lot of travel, not always exotic locations though. I certainly never come back from a trip feeling like I've had a holiday, though I'm always incredibly grateful for the opportunities. Through the winter it's often freezing cold on the side of an A-road – so I take the trips when I can!"
"We work really, really hard. I can see how it looks like we fly about, train with the pros, and point and click a camera a bit. And because we don't work 9-5, it's easy to fall into the trap of thinking we don't do much work. It's pretty relentless; I'm not saying we work harder than anyone else, it's just a different format, but it's certainly not a jolly."
Making money?
In addition, a major frustration and challenge for professional sports photographers must be people taking images without paying for them. Jack confirmed this view, but said it isn't the biggest frustration:
"Haha yeah that's pretty annoying, but it's not the biggest frustration. Those sorts of people just don't quite realise the impact that has. It's stealing really, it's how we make our living and if you take it for free we miss out, but it's not usually malicious.
"Another is the 'I'll tag you' – unfortunately a tag doesn't pay my mortgage. The biggest frustration is trying to earn money from brands, it's sometimes hard to make them see the value in an ongoing partnership. Nowadays it feels like everyone wants something for free too, this is my job after all!"
Making money from a passion can be difficult, and when margins are small it can make being successful even more challenging. Jack gave some insight into how he strives to make money:
"It varies shoot-to-shoot. A lot of the time I can go to a race and lose money, which hurts. It's a gamble. Often the sponsors will agree to a certain amount of shots, or the organiser will pay for my time. But it's really varied. There's no one size fits all and as I said before, everyone seems to want things for free. Once people see the value in ongoing partnerships, making money becomes much easier.
"Brands have the most money as well as big race organisers – athletes are usually struggling! But if you're an athlete, consider ways you can help the photographer. Ask your brands to buy shots or commission some time – or even just take a photographer to races they couldn't get to, it'll go a long way!"
Advice for aspiring photographers
Despite the challenges mentioned, Jack was very happy to share his thoughts and advice for any budding sports photographers:
"Get stuck in! Ask a local athlete if you can take some pictures, ask a photographer if you can help out. Usually on a paid shoot there's no space for people to help, but it's easy enough to come down to the track or out on a session to watch what we get up to.
"Follow the photography accounts you like – not just sport – and ask how they created each image. Once you are started you'll pick things up fast with curiosity. Oh – and pay the £9.99 a month for Adobe Lightroom – editing is where you'll make an average image beautiful."
You can find out more about Jack and Two26 Photography on Instagam.