The physical challenge of facing Jan Frodeno in elite triathlon competition is clear every time the German competes – but what about the mental barrier?
Superstar athletes and figures in many sports have gained not only a perfomative stranglehold over their specific genre down the years, but also a powerful psychological edge which means the opposition is often beaten before the start.
That in a nutshell was how it went down for American Sam Long in the inaugural Collins Cup in Samorin.
'The Big Unit' arrived in Slovakia in August talking up his hopes of racing and challenging the GOAT. He also vowed internally that he would not let the Frodeno factor get inside his head. Less than a week later, those plans were in tatters.
The end result was a dominant victory for Frodeno, while Long finished third of three behind the German and Aussie Sam Appleton – he was more than five minutes behind the man he is so desperate to dethrone.
Sam Long on Frodeno
Long spoke openly and honestly about that experience during the new PTO video, 'The Birth of The Collins Cup'.
He revealed: "This was a great experience, probably primarily to see Jan up front and to see how he acts, and how he behaves and how he prepares for races and performances.
"I'm a confident guy right, I go into races confident, I found myself not even believing that I could beat him. I said 'I'm not going do that, I'm not gonna let that happen, he's just a human being like anyone else'.
"And yet over the course of six days, by the time I got on that start line, I basically didn't even believe I could win any more."
Long clearly took this sobering experience to heart, doubling down his focus on 2022 as he bids to bridge the gap to the absolute elite of long-distance triathlon.
"It was this fascinating process of psychology and this transformative process that's challenged me to think bigger and better and how I prepare and how I prepare and view the top guys, and ultimately how I'm gonna take down the top guys. So it's a needed step for me."
Frodeno on young guns
While Long was on the receiving end of the dominant Frodeno aura, the German himself also provided a window into his own world and mindset. Fending off the hungry young challengers comes with the territory, something he apparently relishes.
"I had the two Sams obviously pre-race asking to face off against me, and in the end unfortunately they only faced off against each other, and that's I guess the Sam And Sam Show. I would have really loved to have seen a closer race."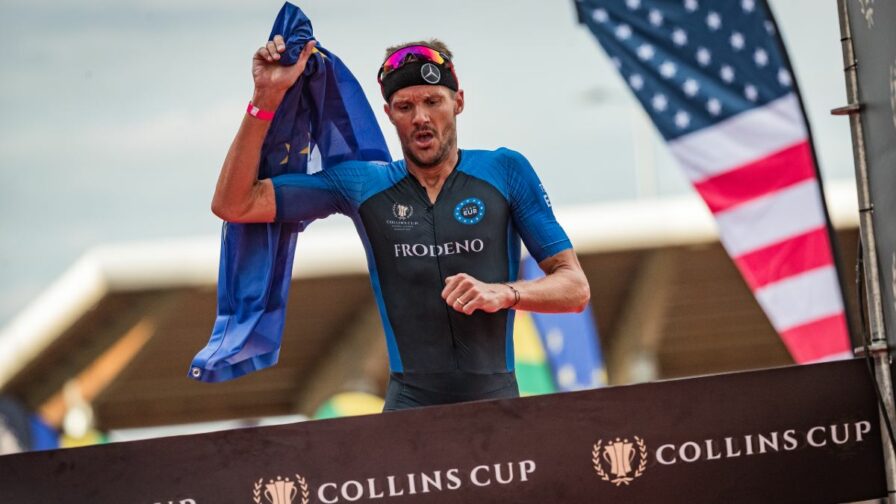 "Pressure is a privilege and being the number 1 in the world is quite relative. There are plenty of young guns out there who are quite hungry.
"And to be very honest, I've gone with the approach of winning every race. On raceday, unfortunately talking it up is easier than actually doing it."