Jeanni Metzler's victory at IRONMAN 70.3 St George at the weekend was significant for so many reasons and she put it best herself when posting on Instagram: "Getting to this start line happy and healthy again is the biggest win of my career."
She had only raced three times since her second place in the IRONMAN 70.3 World Championships, also at St George, in September 2021, explaining: "A few months ago I wasn't sure if I would continue professional triathlon.
"I felt lost and depressed. Navigating through my self-doubt, injury and health were the hardest moments of my life. It took me 18 months to find the right path again.
"I would not and could not have gotten through this without my husband [Justin Metzler] and my family.
"A huge thank you to my sponsors, team and everyone that supports me. I'm so grateful for how the triathlon community has embraced my return. St. George 2021 was the end of a chapter. St. George 2023 feels like the start."
'I really surprised myself'
So speaking to TRI247 in the last 24 hours it was no wonder that things were still taking time to sink in.
She told us "I'm honestly just feeling a bit overwhelmed just trying to gather myself and the emotions.
"I went into the race with pretty low expectations and really surprised myself to be able to win on the day, but absolutely happy with how the day panned out for me. I felt like I was just pretty steady all day with my swim, bike and run.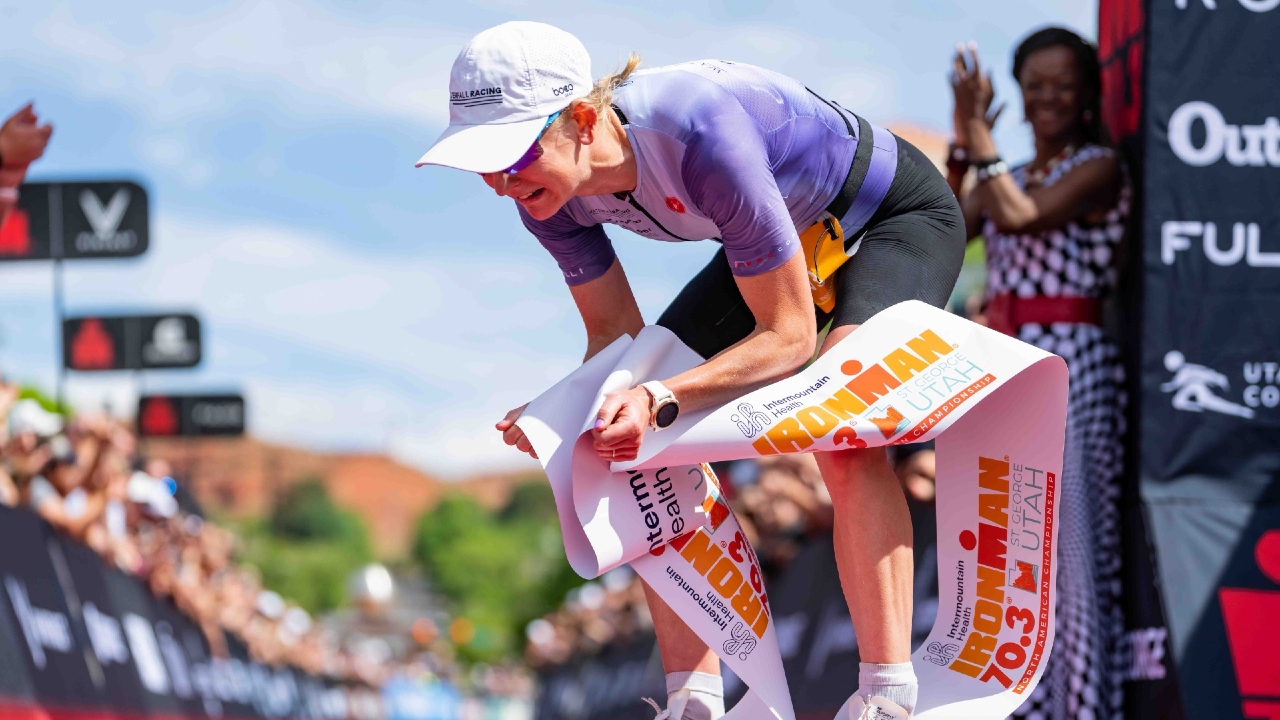 "I fell apart a little bit at the end just because I just haven't raced that hard in a while and it was a bit of a shock to my system. But I'm just really grateful to be back on a start line and racing and enjoying just competing again.
"I think the biggest win for me is just enjoying racing again. And obviously it was just amazing to just be with Justin and race the same course as him and just having my Mom and my dog there at the finish line was pretty special.
St. George 2021 was the end of a chapter. St. George 2023 feels like the start.
"I've raced in St George a few times and gotten second there three times [as well as those 70.3 World Champs in 2021], so to be able to win was just the cherry on top."
'You are not alone'
Metzler had written beforehand about her experiences and spoken of how she now wanted to help others who might find themselves in a similar position, saying: "When I take a triathlon start line again, my why is going to be much stronger than ever before.
"I want to be a voice for mental health that people are afraid to talk about. I want to inspire those who may feel the same as me, to believe in their own ability to overcome any challenge.
"So to anyone who is struggling, you are not alone. Asking for help when you need it is not a sign of weakness, it is a sign of great courage, self-awareness and strength."