Jeanni Metzler (RSA) claimed an emotional victory at the Intermountain Health IRONMAN 70.3 North American Championship St George.
Runner-up to Lucy Charles-Barclay at St George in the IRONMAN 70.3 World Championships of 2021, she'd had had a tough time of it since then, as she put it herself: "Navigating through my self-doubt, injury and health."
This was her first race of the season and beforehand she admitted: "I don't have any expectations, I'm not sure how it will go."
But she took the lead midway through the bike section, swapped first place with Skye Moench (USA) all the way into T2 and then ran away with it on the half marathon.
Moench kept on well to take second, with Danielle Lewis (USA) in third.
Swim – Brandon shows way
It was no surprise whatsoever to see Lauren Brandon (USA) underline her swim prowess and power clear in the water in a chilly Sand Hollow Reservoir.
Within minutes she'd put clear water between herself and the rest and soon started picking off many of the pro men too.
She clocked 24:44 for the swim which gave her an advantage of nearly a minute, with Metzler at this point in third.
Bike – All to play for
On the bike Metzler gradually started to close the gap on Brandon and the catch came around the 25-mile mark.
But that seemed to galvanise Brandon who stayed in touch and not long after the pair were also joined by Moench.
Moench and Metzler did eventually pull clear and it was the former who crossed the dismount line first – but Metzler who made up the handful of seconds she needed in T2 to lead out the run.
Run – Metzler takes the glory
Metzler asserted in style by taking a minute out of Moench in the first couple of miles, with the lead rising to two minutes at halfway.
By now Lewis – who had booked her Kona spot with fifth place at IRONMAN Texas just a fortnight ago – had moved into third, with Anna Bergsten (SWE) in fourth and that's how it would remain in the closing stages.
Metzler did slow markedly in the final mile but by then the work had been done and she was able to savour a famous win.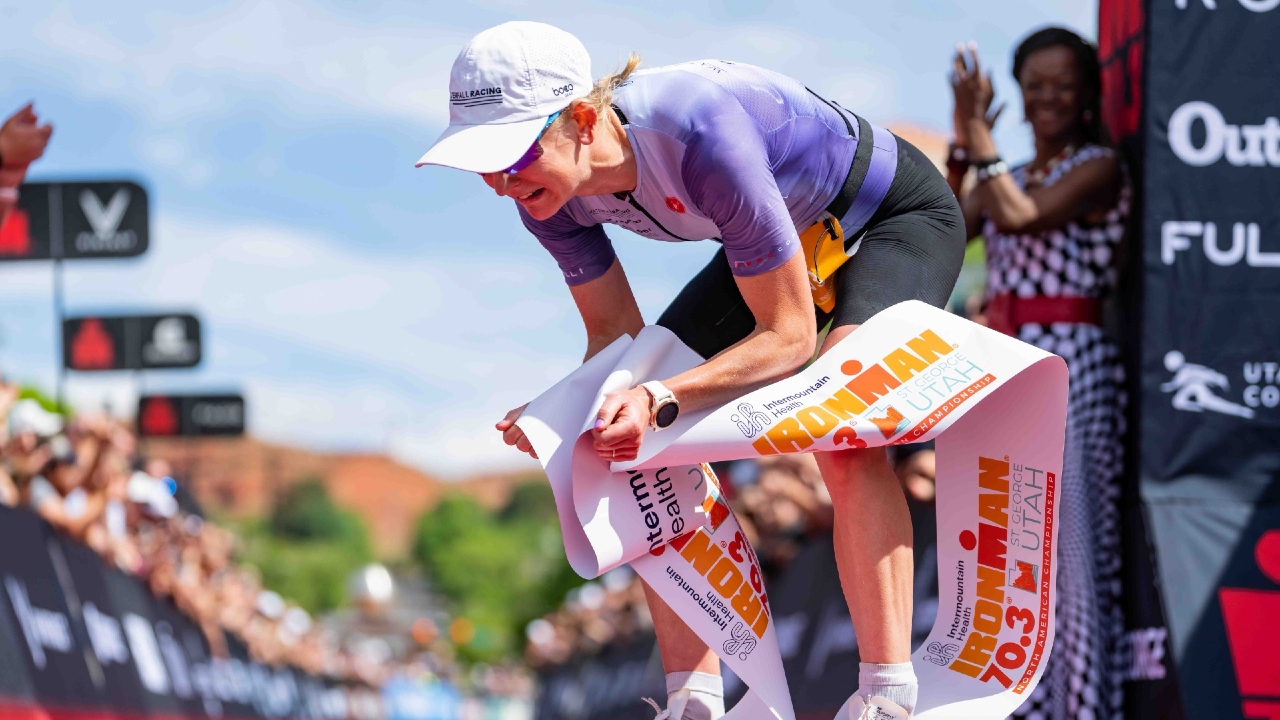 IRONMAN 70.3 St George 2023 results
Saturday 6 May 2023 – 1.9km / 90km / 21.1km
St George, Utah – North American Championship
PRO Women
1. Jeanni Metzler (RSA) – 4:16:42
2. Skye Moench (USA) – 4:17:42
3. Danielle Lewis (USA) – 4:18:24
4. Anna Bergsten (SWE) – 4:21:48
5. Jackie Hering (USA) – 4:23:35
6. Rach McBride (CAN) – 4:23:49
7. Olivia Mitchell (IRL) – 4:23:52
8. Meredith Kessler (USA) – 4:24:10
9. Rebecca Anderbury (GBR) – 4:26:37
10. Gabriella Lumkes (USA) – 4:27:44