Britain's Kat Matthews added another amazing chapter to triathlon folklore as she took victory in the women's race at Memorial Hermann IRONMAN Texas – The Americas Championship.
Less than than seven months after an horrific collision with a car when on a training ride in Texas, she completed an incredible comeback by running through the field to win by just under two minutes from long-time leader Maja Stage Nielsen (DEN).
Here's how…
Swim – Brandon out on her own
It was no surprise at all to see another masterclass from Lauren Brandon (USA) in what were perfect conditions.
The PTO's #1-ranked swimmer last season, the American took less than two minutes to open up clear water between herself and the rest.
And by the halfway point she was 1:32 ahead of Lottie Lucas (UAE), defending champion Jocelyn McCauley (USA) and Stage Nielsen.
There was then another 30 seconds to pre-race favourite Matthews who was by herself in fifth in what was her first IRONMAN race since that terrible accident.
And in the second part of the swim, Brandon went further and further clear as she extended her lead to over four minutes.
The next three were all in close proximity to each other but Matthews found herself distanced from them at +7:20 to Brandon.
There were no fewer than five spots up for grabs at the IRONMAN World Championship in Kona, with Brandon, who gave up around 30 seconds of her advantage with a slow transition, the only one of the leaders to have already booked her place.
Bike – McCauley makes her mark
The bike was all about McCauley. She had two "pretty major surgeries" in January and said beforehand that it would be a "miracle" if she could retain her title.
But she did add "miracles are possible" and planned "to have a pretty good swim / bike."
She certainly did just that, overhauling swim leader Brandon before the halfway point on the bike. Both Brandon and Stage Nielsen stuck with her until the closing stages before first Brandon and then Stage Nielsen started to lose ground.
It all meant that heading into T2 – and having admitted she has "no idea" what he run will be like – McCauley had opened up a 48-seconds advantage over the Dane.
Brandon by now had dropped back to +4:10 and there was also significant daylight to Matthews (+9:19) and the incredible Dede Griesbauer (+9:35), with the 52-year-old American again belying her age with another superb display on two wheels.
Lucas and Danielle Lewis were sixth and seventh respectively and still very much in contention for a Kona spot.
Run – Kat a class apart
It was emotional – and dramatic.
Matthews looked to have a huge amount to do and Stage Nielsen stayed strong throughout the marathon after powering past McCauley early on.
But Matthews was by far the fastest athlete on course (clocking 2:49:32 in the end) and while it looked touch and go for a while, the catch came inside the final few miles.
It completed a remarkable comeback in the best possible way, booked her return to Kona and underlined just what a force she will be there.
Stage Nielsen lost nothing in defeat, crossing the line just under two minutes back. McCauley was third while the other potential Kona slots went to American duo Lewis in fifth and Alice Alberts in sixth.
"It was pretty special," said Matthews afterwards. "I didn't have a great day, I don't think. A bad swim, a bad bike but I managed to pull it back on the run. I'm so happy and grateful to my entire team who got me on the start line and I don't know how I finished!"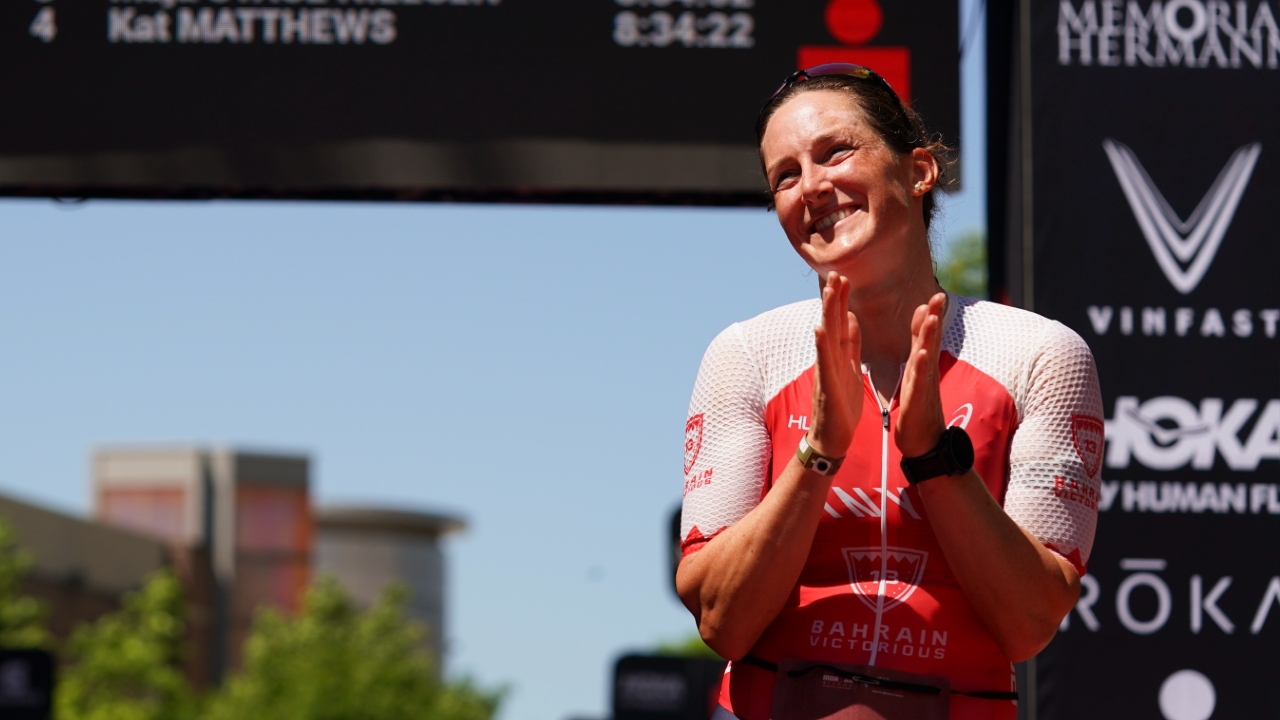 IRONMAN Texas – The Americas Championship 2023 Results
Saturday April 22, 2022 – 3.8km / 180km / 42.2km
PRO Women
1. Kat Matthews (GBR) – 8:32:52
2. Maja Stage Nielsen (DEN) – 8:34:51
3. Jocelyn McCauley (USA) – 8:45:45
4. Lauren Brandon (USA) – 8:53:07
5. Danielle Lewis (USA) – 8:56:28
6. Alice Alberts (USA) – 9:05:34
7. Joanna Ryter (SUI) – 9:06:43
8. Jen Annett (CAN) – 9:14:00
9. Jodie Robertson (USA) – 9:23:51
10. Amber Ferreira (USA) – 9:27:43