Vasco Vilaca will no doubt now agree with Jess Learmonth's mixed feelings about the sea swim for SLT Malibu this weekend after his seal bite drama ahead of Saturday's race!
We caught up with Jess to get her insights into both the Malibu venue and the Eliminator format which will be used this weekend.
'It adds in panic'
And she told us: "Personally I hate sea swims, but in terms of triathlon I do like them because they just throw the whole race into the air, it's so random!
"You can be the best in the field and end up coming out last, it's just ridiculous!"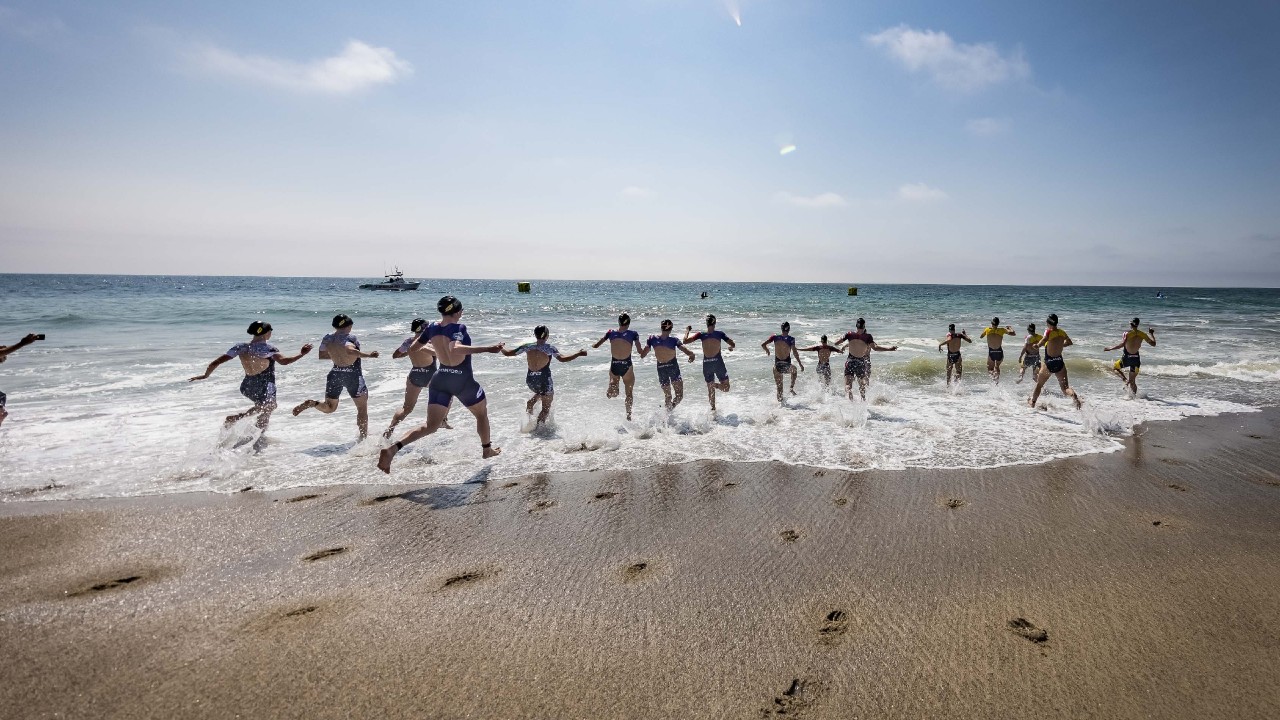 Looking back 12 months ago, Jess – who had won the three previous races – explained: "I think we – the Eagles – were unlucky last year to be placed where we were.
"Everyone though was quite fortunate with the swell but I do know it can get quite high there.
"It's unpredictable and it adds in panic because if you have a bad swim, you know you've got to do it twice more. But at least there's not much time to think!"
Plenty else to contend with
So the swim could prove pivotal on Saturday but things don't get completely straightforward after that.
Jess added: "There's obviously quite a long run out of the sea on sand and there are some people who can do it quick and some who are slow, like me!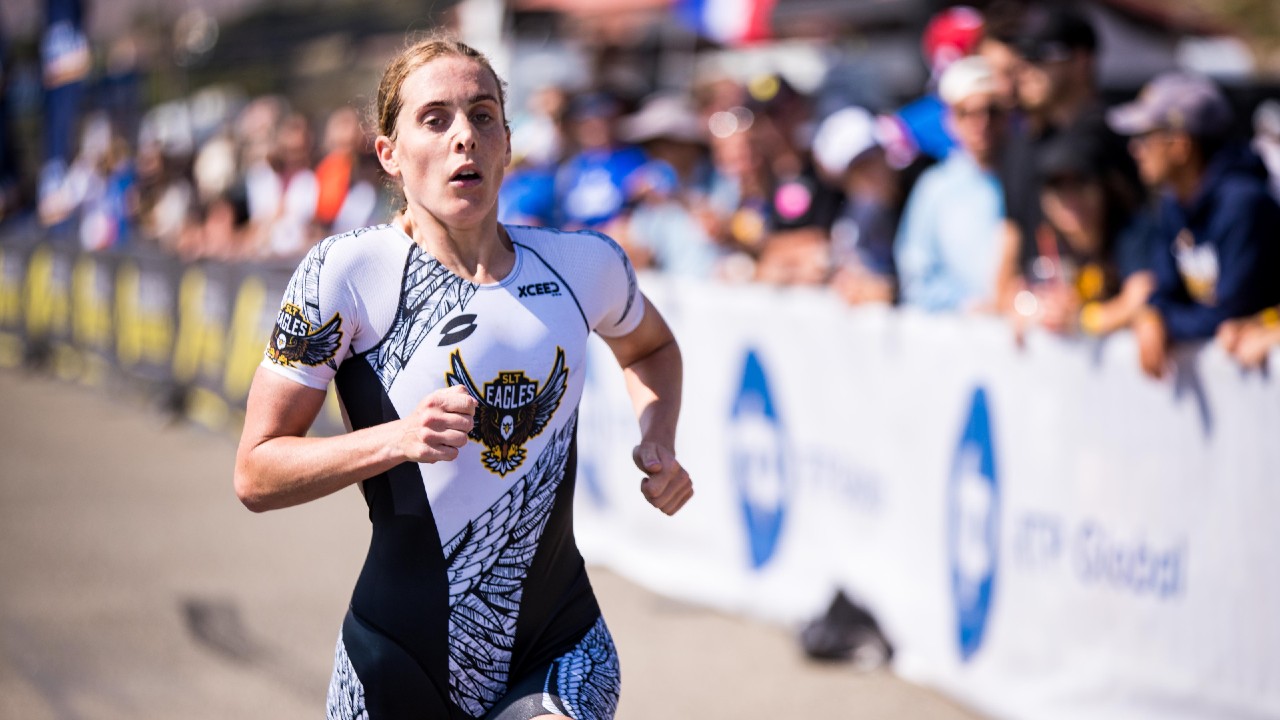 "That can add an extra element. I seem to remember it was roasting too so the sand was boiling hot.
"Then the bike was chaotic. I don't think it's a very good course for a breakaway, unlike Munich. There are no real places to attack – it's so technical and so short. If there's a break from the swim then that could stick but, if not, I don't think it will happen on the bike.
The bike surface was quite gritty too so you could be a bit unsure, so those that have done it before might have a bit of an advantage.
The run is pretty simple and flat. And you can see everybody throughout – I prefer 'out of sight, out of mind' ones."
Format evolving all the time
And what about the format being used for this first time this season – the Eliminator?
That means three regular (swim-bike-run) triathlons, with a short break in between. The last three athletes to finish in Stage 1 will be eliminated. Same again in Stage 2. All remaining athletes go for overall points in Stage 3, with that final element a pursuit start based upon combined times from Stage 1 and Stage 2.
Jess' verdict is: "I would say this is one of the hardest ones. The 90 seconds-rule is in place again and you hardly get any time between the three stages either. The distance between the transition and the start means that by the time you've sorted your bike and shoes and got your swim hat and goggles, it's literally time to go again.
"So if you're not organised and are dilly-dallying about, you could potentially miss the start. It's pretty tiring and this time it's the third weekend of racing in a row so could be hard."
That pursuit start this year for the final stage is something Jess picked up on straight away – but she isn't sure whether she's a fan of the change or not.
She explained: "The tactics will no dout change a bit as a result.
"The pursuit at the finish can tend to underline the advantage of those at the front.
"If someone's good enough to be at the front then they're probably going to gain more time and there's the risk that the finish isn't that exciting.
"But the flip side of that is it's likely to force a change of tactics. Because last year you'd just try and get through the first two stages and cruise it, and then just race the final one.
"So it's swings and roundabouts as it will make the first two stages harder – those at the front will be looking to try and get a good time. And those at the back will be desperate not to get eliminated."
And Jess revealed that many of the format tweaks come as a result of athlete feedback, saying: "They really ask the athletes for their input. I think it's brilliant how they are evolving it and changing things year from year.
"I'll really miss it – because they do make it good fun."