This is a preview – read our reports to find out how Taylor Spivey grabbed a win on home ground in the women's race and Hayden Wilde took a big step towards overall glory in the men's.
With its third race in just 14 days, the latest round of the 2022 Super League Triathlon Championship Series returns to Zuma Beach, Malibu, this coming Saturday.
After the Triple Mix in London and Enduro in Munich, it will be Eliminator for the SLT athletes this weekend. Here are all the details you need to know.
Start time and watch live
Racing takes place on Sunday September 17, 2022.
Women's Eliminator starts 1308 local time (2108 in the UK, 2208 CET, 1608 Eastern Standard Time)
Men's Eliminator starts 1420 local time (2220 in the UK, 2320 CET, 1720 Eastern Standard Time)
The great news is you can watch every second of Super League Triathlon Malibu 2022 live right here on TRI247.com via the embed below.
And our live blog on Sunday also provides the perfect 'second screen' experience, with expert insight again from Lucy and Mark Buckingham.
The broadcast will also be available on the BBC Red Button, iPlayer, Discovery+ and TriathlonLIVE, and will begin at 1300 local time, shortly before the race start times above.
The events are also free to spectate – so come down and watch the action in person.
Who's racing at Super League Triathlon Malibu?
The nature of Super League Triathlon racing is that you can get familiar with, broadly, the same athletes racing at each Championship Series round.
After Alex Yee (London) and Laura Lindemann (Munich), there are a few wild card entries and changes lining up in Malibu. We've already highlighted the appearance of Team INEOS rider Cameron Wurf, but there are a few other names too.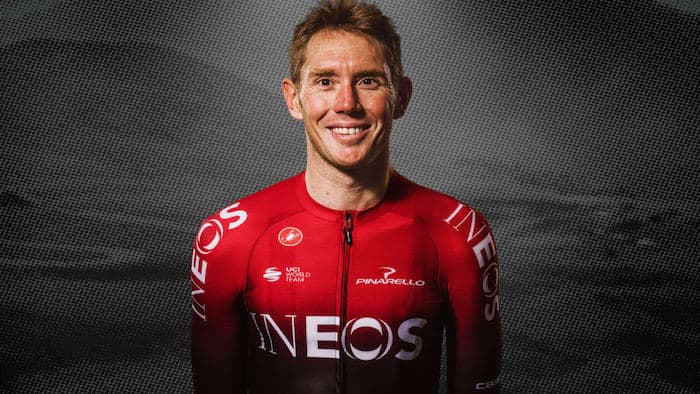 They include Germany's Maximilian Sperl and home athlete Davis Bove. Sperl will actually be stepping in for the remainder of the series, replacing the injured Joao Silva in Team Rhinos.
Two male athletes missing from the Munich line-up this week are Panagiotis Bitados and Kenji Nener, and so Bove will race for Michelle Dillon's Sharks, and Wurf will wear the colours of the table-topping Scorpions.
As she told us on Sunday, no Sophie Coldwell in the Fan Team Cheetahs, and she will be replaced by the wild card of Summer Rappaport.
Cassandre Beaugrand was always going to be absent for this round, and so stepping in to replace her for a week for the Scorpions will be Great Britain's Jessica Fullagar. Jess of course won Commonwealth Games gold as Guide to Katie Crowhurst at the Commonwealth Games in Birmingham, and then went on to become British Senior Elite Champion at the British Triathlon Grand Final Sunderland.
Continuing the theme of supporting local talent, there is one further wild card entry, Gina Serrano. Serrano will race in the colours of the Cheetahs.
That all leaves 20 men, and 21 women set to start on Saturday.
The absence of Coldwell could really open up the overall standings for everyone else. With Beaugrand also absent – and also having had a bad day in Munich – big points this weekend for Verena Steinhauser or Beth Potter in particular, would see them rocket up the overall standings. Similarly, more top results from Georgia Taylor-Brown and Taylor Spivey could make them both difficult to catch, with just two races remaining after this one.
Matt Hauser and Hayden Wilde will go head-to-head again, separated by just one point overall. While he doesn't have a podium yet, fifth in London and fourth in Munich shows that things are moving in the right direction for Jonny Brownlee. That consistency sees him currently sitting third in the points standings.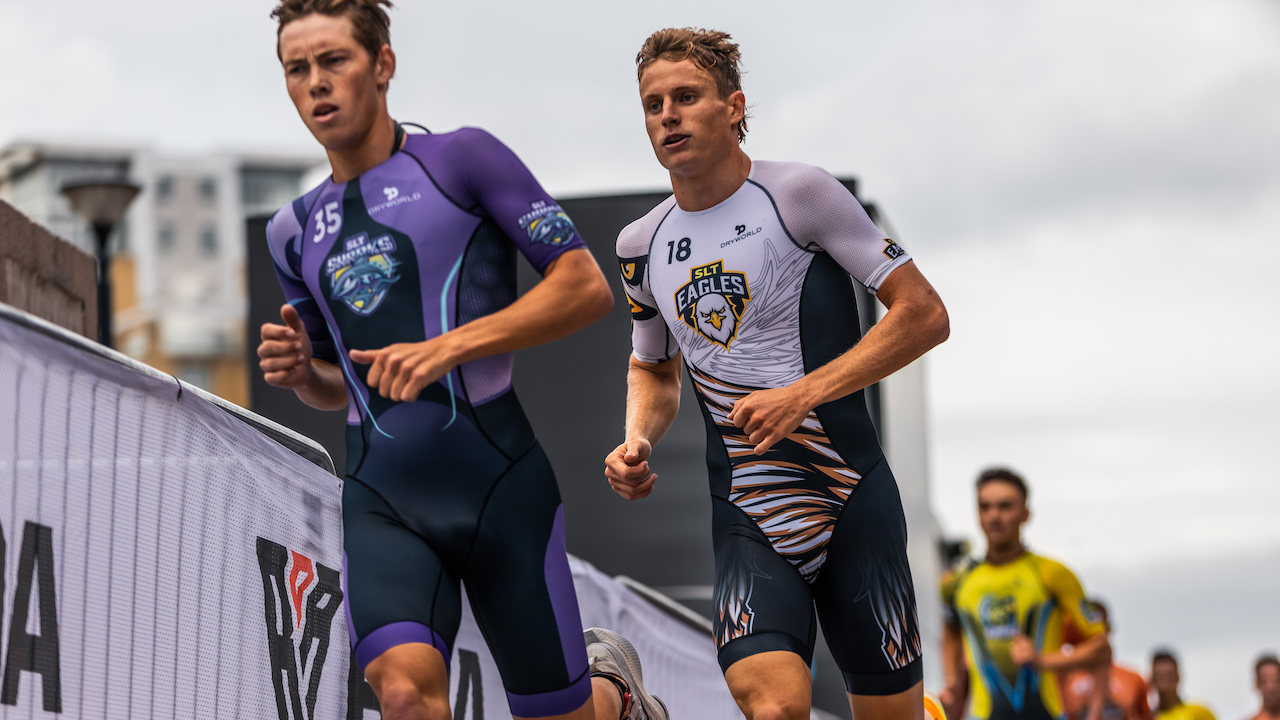 The Course
The format in Malibu is ELIMINATOR. There will be three regular (swim-bike-run) triathlons, with a short break in between. The last three athletes to finish in Stage 1 will be eliminated. Same again in Stage 2.
All remaining athletes go for overall points in Stage 3, with that final element a pursuit start based upon combined times from Stage 1 and Stage 2.
Each stage will consist of a 300m swim (one lap) ocean swim, a 3.6km cycle (three laps) and a 1.6km (two laps) run, on the coastline next to the Pacific Coast Highway.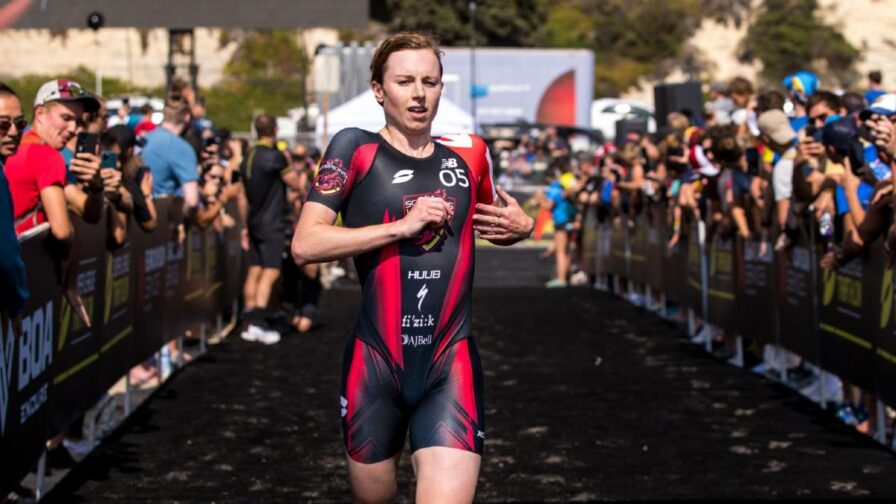 The 90-second rule is in play. So any athlete that falls 90 seconds or more off the leader's pace at the end of any individual lap is shown the Yellow Elimination Flag and is out of the race.
Short Chutes – new rules apply
Love them or hate them, the Short Chute remains part of the Super League Triathlon DNA for 2022. If you are new, the Short Chute is a 'short cut' that can be taken within the race by an athlete, having earned that right at a previous point in the event. Think of it as a bonus in real time, rather than a post-race adjustment (as is the case in the Tour de France for example). In that way, the 'first across the finish line wins' remains.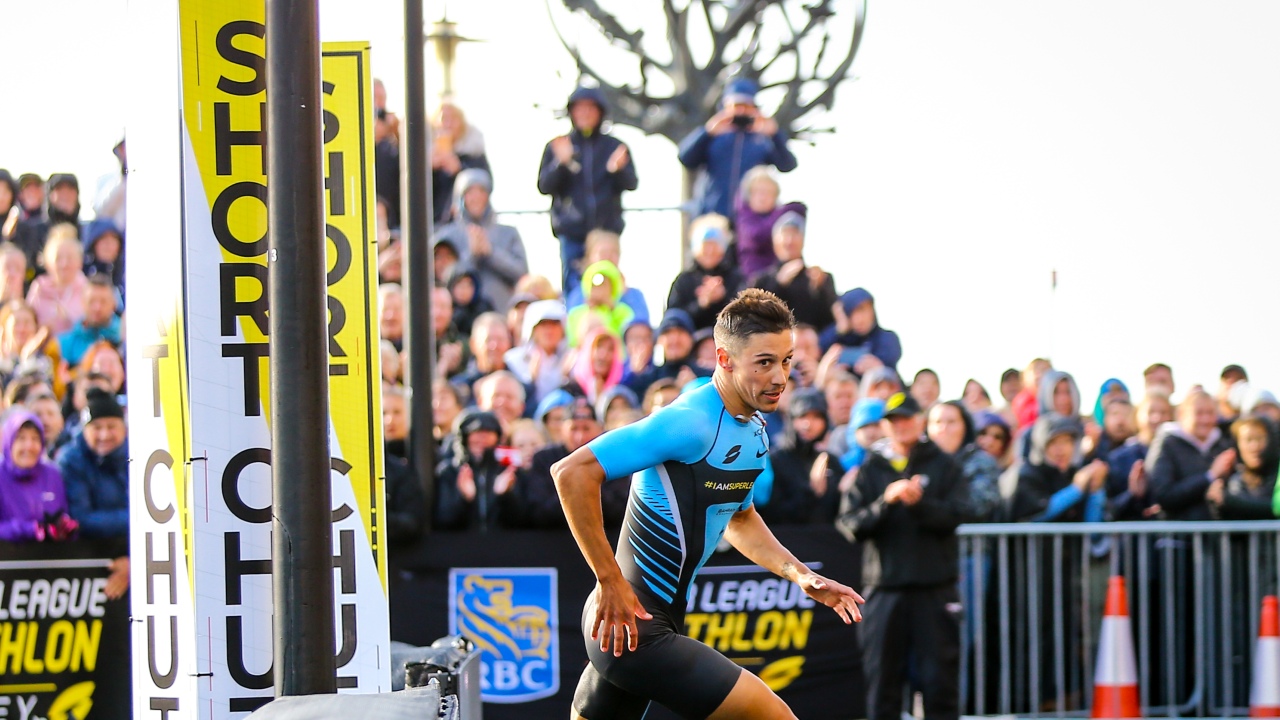 You can earn a short chute in Malibu as follows:
1. the first athletes across the Mount Line after the swim on Stage 1,
2. the first across the Mount Line after the bike on Stage 1 (i.e. after T2, starting the run)
3. the first athlete across the Mount Line at the end of Stage 1 (i.e. first to finish Stage 1)
Short Chutes are always taken on the final Run – Stage 3. And always on Lap 1, so even if you have an advantage, you are not yet over the line. That's a good move, and will help avoid situations such as the slightly disappointing finish – after a great race – in Munich last year, when Vincent Luis was able to take that advantage right next to the finish line.
With the further development of the SLT Teams concept, Team Managers can choose which of their squad will be awarded the short chute. Thus, while a fast swimmer could earn a short chute (point 1 above), the team could elect to award that advantage to another member of the team, who perhaps will be in a better position to secure overall success in the race at the end of the final stage.
Also of note – whatever happens, a team can only earn one short chute in an individual race.
SLT Rankings after Munich
Women
1. Georgia Taylor-Brown – 28pts
2. Taylor Spivey – 27pts
3. Sophie Coldwell – 26pts
4. Verena Steinhauser – 17pts
5. Beth Potter – 16pts
6. Cassandre Beaugrand – 15pts
7. Miriam Casillas Garcia – 13pts
8. Kate Waugh – 13pts
9. Nicole Van Der Kaay – 12pts
10. Jeanne Lehair – 12pts
11. Laura Lindemann – 11pts
12. Rachel Klamer – 10pts
13. Non Stanford – 10pts
14. Sian Rainsley – 10pts
15. Cathia Schar – 9pts
16. Sophie Green – 5pts
17. Natalie Van Coevorden – 4pts
18. Emma Jeffcoat – 2pts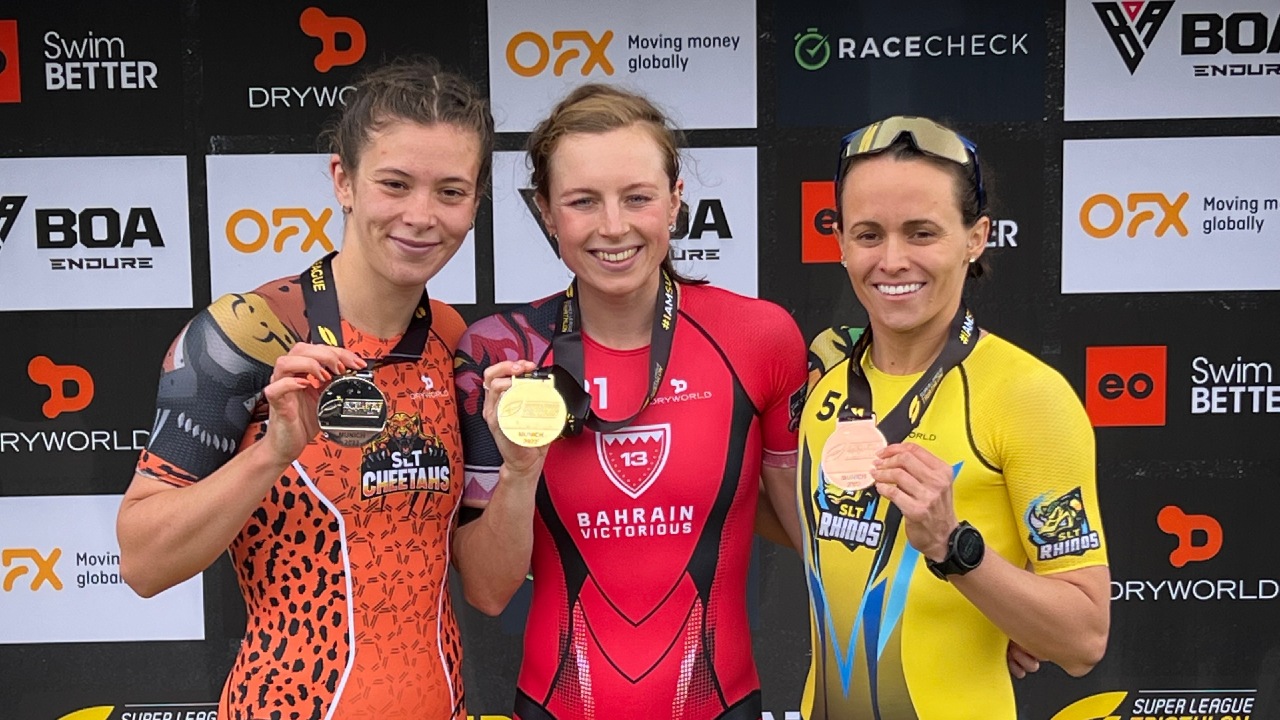 Men
1. Matthew Hauser – 29pts
2. Hayden Wilde – 28pts
3. Jonny Brownlee – 23pts
4. Kenji Nener – 20pts
5. Vasco Vilaca – 19pts
6. Tayler Reid – 18pts
7. Chase McQueen – 13pts
8. Tyler Mislawchuk – 13pts
9. Alex Yee – 13pts
10. Shachar Sagiv – 12pts
11. Sergio Baxter Cabrera – 12pts
12. Emil Holm – 11pts
13. Daniel Dixon – 9pts
14. Valentin Wernz – 6pts
15. Richard Murray – 6pts
16. Max Stapley – 4pts
17. Jamie Riddle – 4pts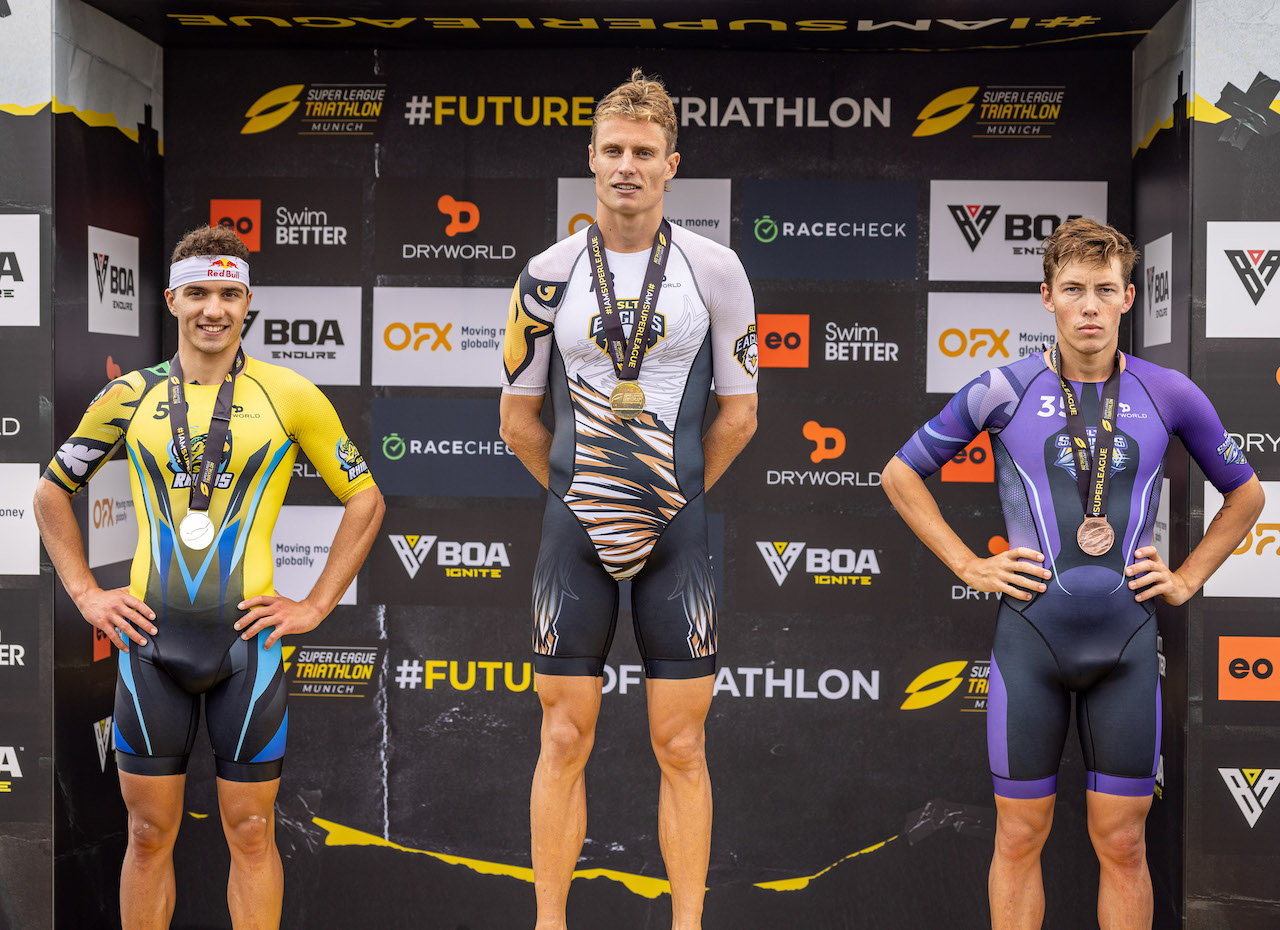 Teams
1. Scorpions – 164pts
2. Sharks – 148pts
3. Cheetahs – 125pts
4. Rhinos – 125pts
5. Eagles – 115pts