New Zealand's Hayden Wilde added to his SLT London success by taking the win at Super League Triathlon Malibu on Saturday.
In control throughout – he was first across the line in all the Eliminator stages – the California event makes him the overwhelming favourite for overall Championship Series success. His nearest rival, Matt Hauser, earned no points after a bike crash saw him eliminated on stage one.
Stage 1 – Hauser crashes out
In the women's race we saw SLT series leader Georgia Taylor-Brown crash out on stage two – but for the men, Hauser didn't even make it through stage one before he crashed out on exactly the same corner.
Unfortunately for Hauser, unlike GTB, that would be the end of of his day. Along with Chris Perham (Scorpions) and Davis Bove (Sharks), the Eagles athlete was in the final three across the line and thus eliminated. That will, probably, end his hopes of overall series success.
We said pre-race that Cameron Wurf would likely have a very tough time – and he fell foul of the 90-second rule and was eliminated, before even making it to the stage one finish line. Super League racing takes no prisoners.
The Short Chutes were won by the Eagles, Scorpions and Sharks.
Stage 2 – Hayden takes control
Jamie Riddle and Tayler Reid led out of the ocean on stage two, but Wilde was more than 30 seconds back in 12th, leaving him with plenty of work to do on the bike and run.
Reid went solo on the bike and would start the run 13 seconds clear of a group of eight athletes. Wilde, as seemingly always, had biked his way back into contention along with Tyler Mislawchuk, Shachar Sagiv, Vasco Vilaca, Dan Dixon, Max Stapley, Chase McQueen and Jamie Riddle.
He may have been behind after the swim, but Wilde was on a mission. He not only caught fellow Shark Reid, but pushed on to take the lead and, just as race one, take the win.
Eliminated were Ryan Fisher, Mislawchuk and Maximilian Sperl.
Stage 3 – Dixon impresses
The pursuit start would see Wilde kick off proceedings, followed eight seconds later by Sagiv. Just five after that, Vilaca, Riddle and Dixon would be chasing. The young Brit was having a great day.
With the surf up, conditions weren't easy and so there was still plenty of opportunity to see significant changes over just 300m of swimming. Wilde was quickly caught and was back down in fifth place as his feet hit the sand.
Onto the bike and Vilaca, Dixon and Sagiv went clear by a few seconds, but it wasn't long before Wilde hit the big watts and dragged Riddle along with him. McQueen soon made it six on the technical circuit next to the Pacific Coast Highway.
Of that leading six, only Riddle had a Short Chute advantage to take. As he did in Munich, Vilaca went to the front into T2, but it was Sagiv who was first onto the run.
Hayden quickly took the lead, but Sagiv was on his shoulder and looking really good, with Vasco trying not to let them pull away. As they went through the bell with 800m to go, Wilde upped his pace and unlike Munich, he wouldn't be denied today. Winner in London, this would be his second Championship Series title of the season.
Sagiv took a well deserved silver, while Vilaca bounced back from his seal bite (!). Just off the podium, Dixon impressed again. 15th in London, 8th in Munich – he showed that his "good momentum going forward" quote was more than just idle words.
Super League Triathlon Malibu 2022 results
Saturday 17 September 2022 – Eliminator – Elite Men
3-stages, each 300m / 3.6km / 1.6km
1. Hayden Wilde – 15pts
2. Shachar Sagiv – 14pts
3. Vasco Vilaca – 13pts
4. Daniel Dixon – 12pts
5. Jamie Riddle – 11pts
6. Chase McQueen – 10pts
7. Tayler Reid – 9pts
8. Richard Murray – 8pts
9. Emil Holm – 7pts
10. Valentin Wernz – 6pts
11. Max Stapley – 5pts
12. Maximilian Sperl – 4pts
13. Tyler Mislawchuk – 3pts
14. Ryan Fisher – 2pts
15. Davis Bove – 1pt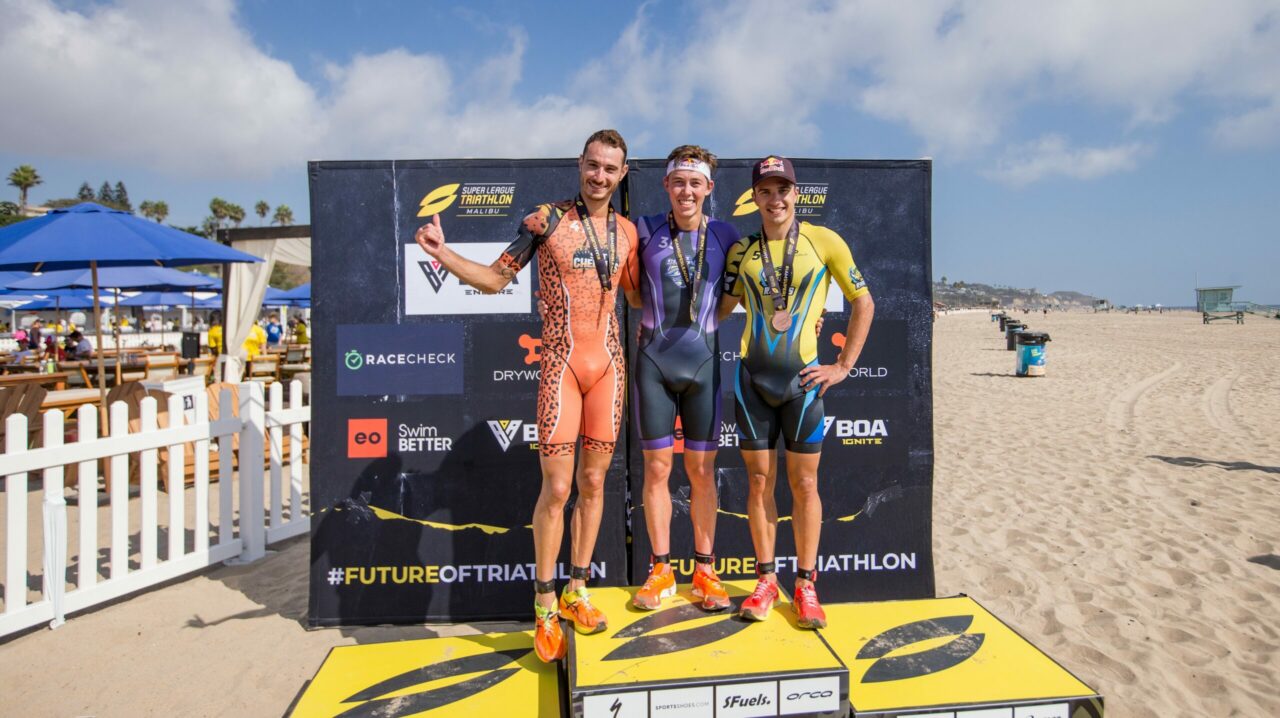 Overall standings after Malibu (round three)
1. Hayden Wilde – 43pts
2. Vasco Vilaca – 32pts
3. Matthew Hauser – 29pts
4. Tayler Reid – 27pts
5. Shachar Sagiv – 26pts
6. Chase McQueen – 23 pts
7. Jonathan Brownlee – 23 pts
8. Daniel Dixon – 21 pts
9. Kenji Nener – 20pts
10. Emil Holm – 18pts
Overall team standings after Malibu (round three)
1. Sharks – 235pts
2. Cheetahs – 216pts
3. Scorpions – 211pts
4. Rhinos – 181pts
5. Eagles – 178pts