The third race of the 2022 Super League Triathlon Championship saw a third female winner on Saturday in Malibu. After finishing second on London and third in Munich, the USA's Taylor Spivey completed the medal set with a clear win at Zuma Beach in the Eliminator.
In the process, she now takes a one point lead in the SLT Series, as Georgia Taylor-Brown overcome a bike crash to take third place in California.
Stage 1 – Lehair alert early on
Challenging sea conditions meant a difficult start for the athletes. Australian Emma Jeffcoat (Scorpions) used her open water skills to exit the water first and, she hoped, secure the first Short Chute for her team. Jeanne Lehair hadn't read that script however, and sprinted up the beach and into transition, to be first onto the bike and take that advantage.
Onto the bike and Lehair and Jeffcoat were joined by another two Scorpions, Taylor-Brown and Jess Fullagar. Come the dismount line however, there was little between the majority of the field, with Fullagar being first to start the run. That secured a Short Chute for the team in red.
Taylor-Brown was first to finish (blocking any further Short Chutes, with Team Scorpions having already earned one), but the key was who would be the final three athletes – and thus eliminated? The unwelcome yellow flag welcomed home Sara Röel (Eagles), Julie Behrens (Sharks) and Hanne De Vet (Rhinos).
Stage 2 – Crash for GTB
There was another Hawaii 5-0 style swim exit in stage 2, where GTB, Summer Rappaport and Sian Rainsley would be first onto the bike.
Drama early on the bike though, with Georgia crashing out on a corner and also losing her chain in the process. With around 40 seconds lost, could she get back enough time to even make it through the final stage? Remember, final three athletes across the line are eliminated.
More incidents too, with Rainsley also crashing out on a corner having suffered a front wheel puncture.
Up at the front, Rappaport was going full gas on the run with everything going on behind, trying to put herself and Team Cheetahs in prime position ahead of the final stage – which is pursuit start, based upon the combined times from the first two races.
GTB did get back into the race, but the unlucky trio departing were Fullager (Scorpions), Jeffcoat (Scorpions) and Gina Sereno (Cheetahs).
Stage 3 – Cruise control for Spivey
Spivey and Miriam Casillas started the final stage together, 10 seconds ahead of Verena Steinhauser with Rappaport just behind. Lehair was next (+17 seconds), with series leader and Munich winner, Taylor-Brown, with 22 seconds to make up to the leaders.
On home turf, Spivey caught a wave brilliantly at the swim exit (with a Short Chute too), to start the bike solo. Team Scorpions (quite why…?) elected not the give that advantage to GTB, but with a big deficit, would it have been of any value anyway?
That left Spivey starting the bike alone, Casillas and Rapport also solo in second and third, with a chasing trio of Taylor-Brown, Steinhauser and Lehair covering 4th to 6th.
Spivey could relax and finish in style for a home win, Casillas was also clear in silver, while Georgie Taylor-Brown made the best of a bad day to complete the podium.
Super League Triathlon Malibu 2022 results
Saturday 17 September 2022 – Eliminator – Elite Women
3-stages, each 300m / 3.6km / 1.6km
1. Taylor Spivey – 15pts
2. Miriam Casillas – 14pts
3. Georgia Taylor-Brown – 13pts
4. Summer Rappaport – 12pts
5. Jeanne Lehair – 11pts
6. Verena Steinhauser – 10pts
7. Beth Potter – 9pts
8. Non Stanford – 8pts
9. Nicole Van Der Kaay – 7pts
10. Cathia Schar – 6pts
11. Kate Waugh – 5pts
12. Rachel Klamer – 4pts
13. Sophia Green – 3pts
14. Natalie Van Coevorden – 2pts
15. Gina Sereno – 1pt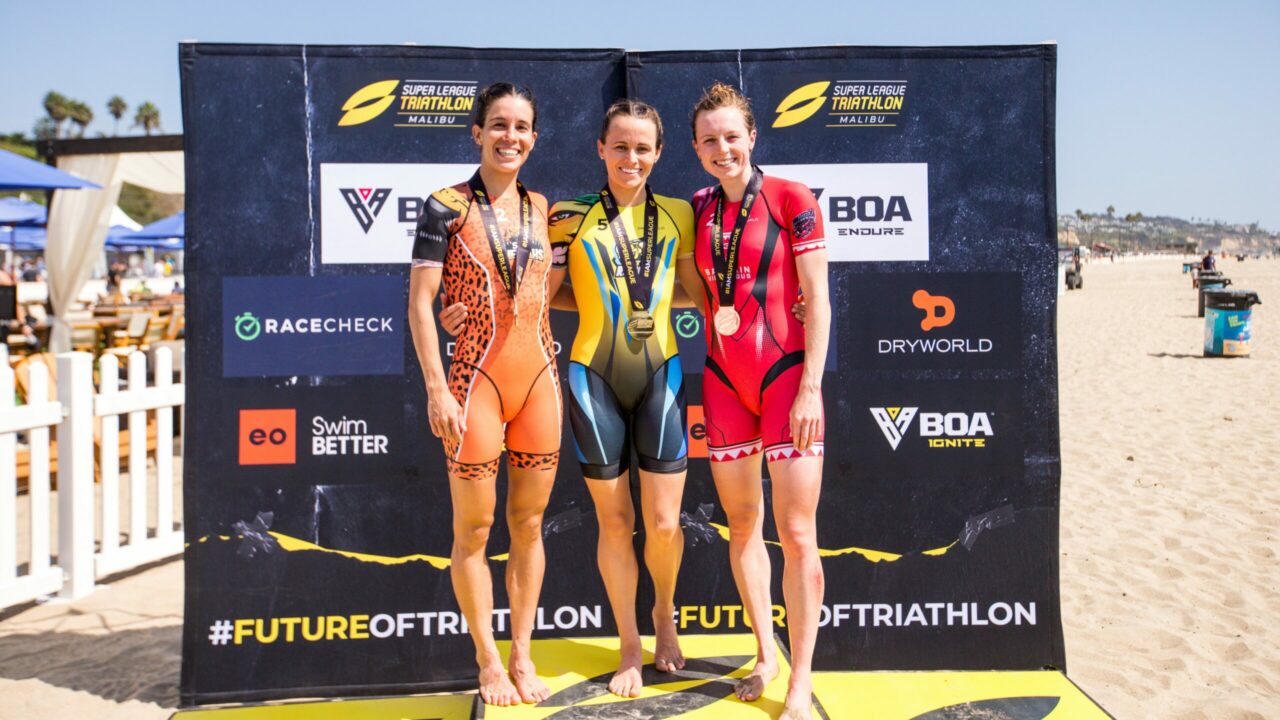 Overall standings after Malibu (round three)
1. Taylor Spivey – 42pts
2. Georgia Taylor-Brown – 41pts
3. Miriam Cassilas – 27pts
4. Verena Steinhauser – 27pts
5. Sophie Coldwell – 26pts
6. Beth Potter – 25pts
7. Jeanne Lehair – 23pts
8. Nicole Van Der Kaay – 19pts
9. Non Stanford – 18pts
10. Kate Waugh – 18pts
Team standings after Malibu (round three)
1. Sharks – 235pts
2. Cheetahs – 216pts
3. Scorpions – 211pts
4. Rhinos – 181pts
5. Eagles – 178pts