A two-time Olympian, the Elite career of Michelle Dillon also saw her become European Triathlon Champion, World Duathlon Champion and win many more World and European Cup races.
Still heavily involved in the sport, she will be a key part of Super League Triathlon London this coming Sunday, 4 September.
There, she will be both on-the-ground announcer at West India Quay, and Team Manager of the SLT Sharks. It's a strong team too, with Hayden Wilde and Beth Potter being her star names in what seems a well-balanced squad.
I spoke to her ahead of the first of five 2022 SLT Championships Series races. She is very confident about her team's prospects.
Will the weather be a factor?
It wouldn't be a British race without half an eye on the weather forecast, and at the time of writing at least, there's at least a small chance that we could see some rain on the tight West India Quay circuit. That's something Michelle is already thinking about.
"It's going to be raining this weekend I think – that could really change things for Super League racing. Someone like Hayden (Wilde), who really pushes the limits on the bike, you don't want him to overcook it. I might have to have a word – not that I think he'll take my advice! – just to say, be a bit cautious on those corners. That's especially true if you are behind a little on the swim and are pushing it to catch up.
"It is what it is though, and will add to the excitement and provide a whole different dynamic to the race. It will definitely be exciting, because as the first race of the series, nobody really knows what will happen, and people could be challenged by the new breed."
New talent
One of those new breed is a perhaps surprising addition, Panagiotis Bitados, (replacing the injured Jonas Schomburg), but Dillon has high hopes for him as the series develops.
"He's a Greek guy and he's actually improved a lot. He's from an XTERRA background and he looks like he's really strong across all three disciplines, and he's done really well over the 70.3 distance just recently [Ed. third at Challenge Walschee, ahead of some quality athletes]. Obviously he's not raced this format, which is a whole different ball game, but I can imagine that being quite young he will improve and progress more and more through the series as he learns.
"With a few people out like Vincent Luis and Jess Learmonth, I think it will be interesting to see what some of the younger guys and girls can do. I'm sure there will be someone that we didn't expect who will have that, 'where did they come from?' moment."
Sharks can certainly swim
As we've highlighted several times already, changes to the rules around Super League's Short Chute feature means that having some of the best swimmers could be even more valuable than ever. On the men's side in particular, Dillon seems to be well covered in that regards
"As Team Managers we get the pick of the short chute this year, and so with both Tayler Reid and Chase McQueen, that's two really strong swimmers who could be really useful. It's quite exciting and the Team Managers have to make a big call there – you have to calculate the best impact for team points. It's going to be interesting to see what happens there.
"I'm really excited about Chase McQueen as he's a youngster coming through from the US, that has a great swim and is good on the bike and run too. Top-five in Singapore at the Arena Games was a great result, and he'll get some good points for the team. With five races, I expect him to progress too."
Potter potential
Super League racing is always dynamic, exciting and sometimes unpredictable, and in Beth Potter, the Sharks have one of the form athletes of 2022 in their uniform. WTCS podiums in Montreal and Hamburg, combined with that Commonwealth Games bronze should leave the Scot full of confidence – but Dillon is keen to see her use that proven ability, and grab any chances as and when they arise.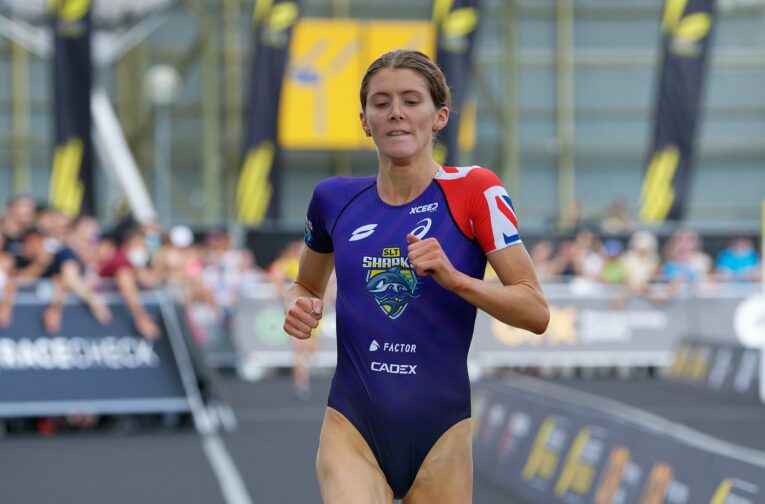 "With Beth Potter, she's a great athlete, but if anything might need to be a bit more assertive, and back herself a bit more. She led the swim at the Commonwealth Games and looked really comfortable – her stroke is so good. She trains a lot with the Brownlee brothers and I think year after year she has got so much strength just from training with them, and backing it up.
"For Beth, I think her key to success is being switched on and not missing things. In Super League you can't miss breaks, you have to be on the ball all the time. You snooze, you lose!"
Champion returns to London
The Sharks' headline name is Olympic bronze medallist, SLT veteran, and defending London champion, Hayden Wilde. Dillon was full of praise for how he has developed through the Super League Triathlon system to the current WTCS ranked #1.
"He is a born racer, and SLT suits this guy down to the ground. He just goes from strength-to-strength. You can see in the way he races, because of his skills, the way he positions himself in the swim, to the way he rides up to the front on the bike and the way he tactically races on the run. It's as though he knows the moves that his competitors are going to make before they do, which is really bizarre. He's got that embedded in him I think.
"I saw that a couple of years ago, before we even had these teams. I was doing the commentary in Malta which I think was back in 2019, and he was like the bridesmaid, coming second or third in those races, but I could see how hungry he was – I could see that this guy has got something. When it came down to picking the teams (in 2021), he got sort of left on the shelf, and I couldn't believe nobody had picked him, so I snapped him up at the first opportunity.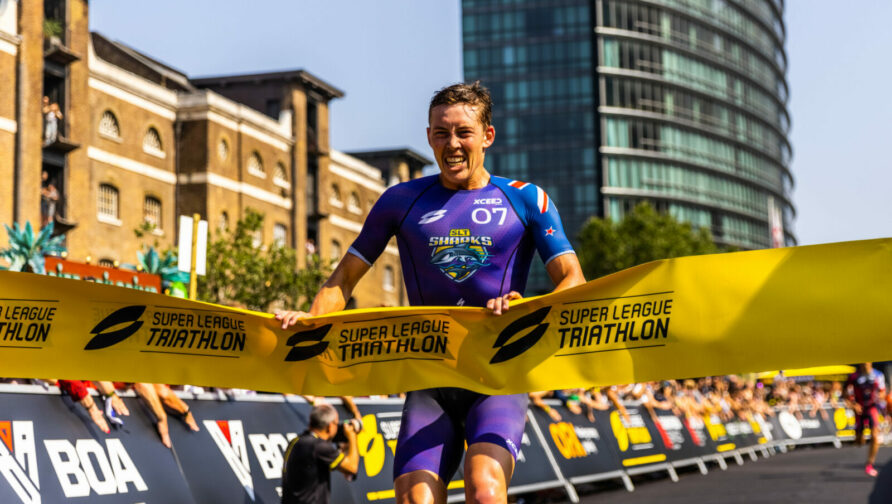 "I just think he's going to be right there again. I don't think it is always going to go his way, because the way these races are is quite unpredictable, but I think he'll be there or thereabouts, and win one or two of them for sure."
"I think Alex Yee [Ed. a wildcard entry for London] is going to be boosted racing in front of a home crowd – but let's just hope Hayden has been practising his sprint finishes, because I think he's going to need them!"
Are the Sharks the team to beat?
"I would have loved to have retained Non from last year too, but having retained Beth I couldn't. She's had such a great career, she's such a great person and would have been my next pick."
"I'm excited about my team though, I think that it's very strong – and that we are the ones to beat. I'm going to put it out there, look out for the Sharks!
"I think I've hit the jackpot – we are the purple people eaters, we are coming after you and we are ready!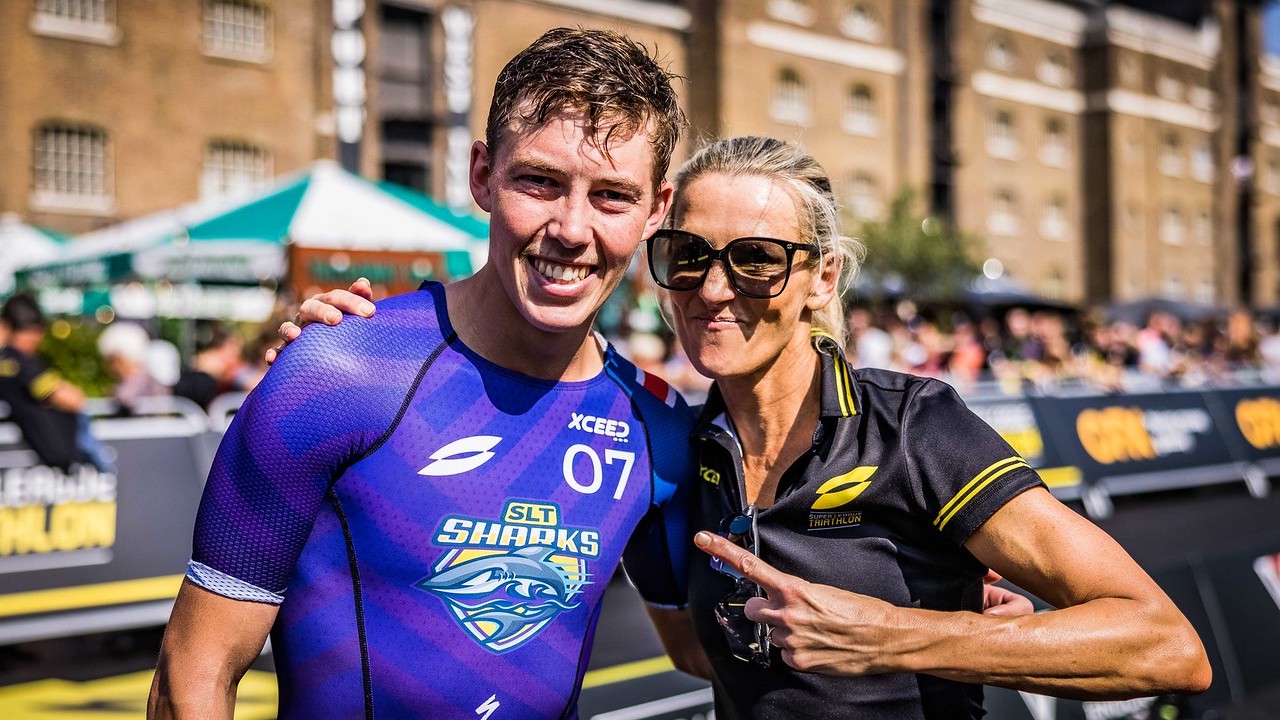 SLT Sharks for Super League Triathlon London 2022
Beth Potter (GBR)
Kate Waugh (GBR)
Nicole van der Kaay (NZL)
Julie Behrens (GER)
Hayden Wilde (NZL)
Tayler Reid (NZL)
Chase McQueen (USA)
Panagiotis Bitados (GRE)