This is a preview of the SLT opener in London – check out our reports to find out how Cassandre Beaugrand and Hayden Wilde claimed thrilling victories.
The Super League Triathlon Championship Series is back this week, and the first race of 2022 will take place this Sunday at West India Quay, Canary Wharf, London.
London is becoming one of the hubs for Super League Triathlon, having already hosted the packed-out Arena Games Triathlon at the Olympic Park Aquatics Centre in April this year.
Start time and watch live
Racing takes place on Sunday September 4, 2022.
Women's Triple Mix starts 1209 local time (1309 CET, 0709 Eastern Standard Time, 0409 Pacific)
Men's Triple Mix starts 1324 local time (1424 CET, 0824 Eastern Standard Time, 0524 Pacific)
The great news is you can watch every second of Super League Triathlon London 2022 live right here on TRI247.com via the embed above so you won't miss a second of the action.
And our live blog on Sunday also provides the perfect 'second screen' experience, with expert insight from Lucy and Mark Buckingham.
The broadcast will also be available on the BBC Red Button, iPlayer, Discovery+ and Eurosport and will begin at midday local time.
The events are also free to spectate – so come down and watch the action in person.
Who is racing in Super League Triathlon London?
We've got all of the Team Draft online – but of course there have been a few changes and some wildcards added for London since then.
Headline names for the men, following their Olympic Games and Commonwealth Games rivalries will surely be Alex Yee (wildcard) and Hayden Wilde. Wilde was a dominant winner in London last year, and after winning WTCS Leeds too, is quite at home here in the UK.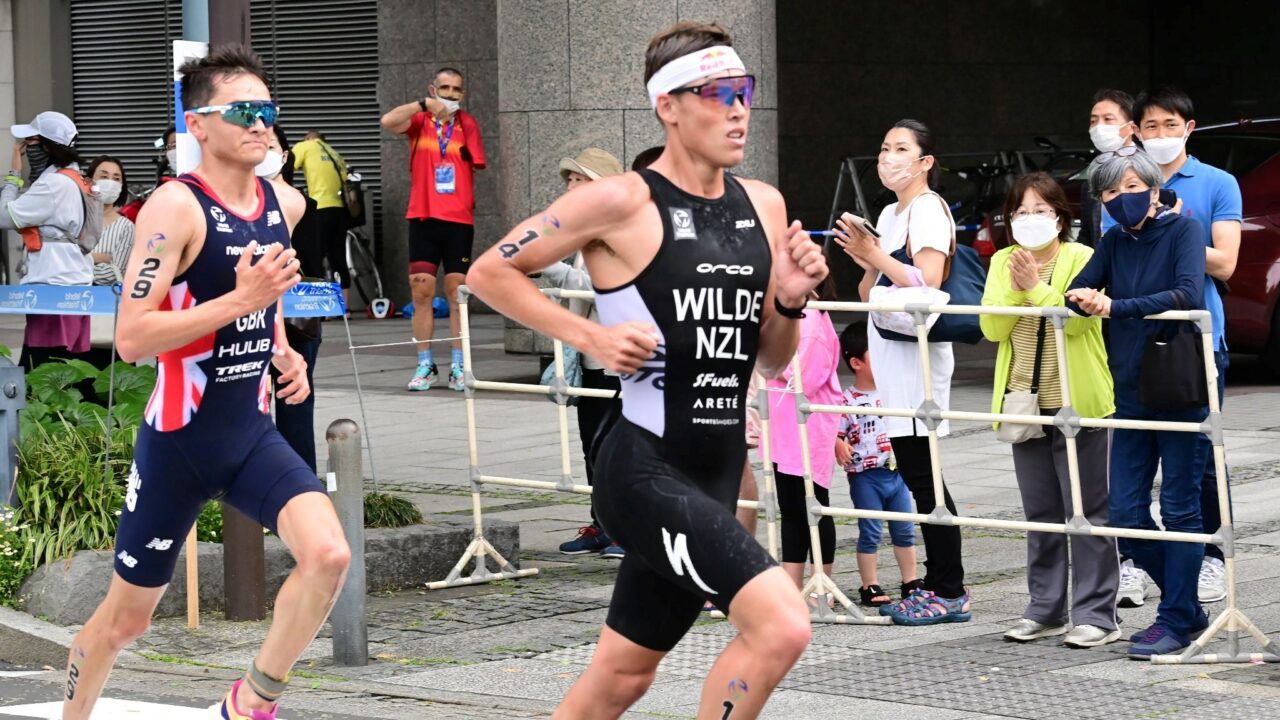 With no Vincent Luis and Jonathan Brownlee's fitness unclear yet after his recovery from that Leeds crash (he was 16th in Bergen on Sunday), is the scene set for another instalment of what could continue to be one of the biggest and best rivalries in the sport over the next 10 years? I think so.
Vasco Vilaça (POR) finished fourth in London last year – ahead of Yee – while it will be interesting to see how some of the youngsters such as Dan Dixon, Max Stapley and Sergio Baxter Cabrera perform.
For the women, 2022 SLT Champion Georgia Taylor-Brown is back, though will be missing friend and training partner, Jess Learmonth, who won three of the four events last year (including London), but is unfortunately out with injury this year. Georgia overcame a bike crash to still finish second in London 12 months ago and will of course be aiming one step higher this time around.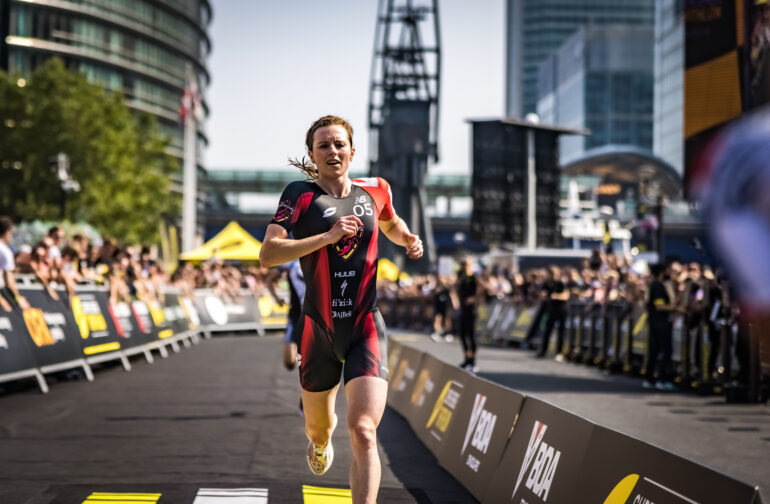 Non Stanford will be bowing out of professional triathlon at the end of the SLT season, but is in fine form following that Commonwealth Games MTR silver medal and winning the European Championships Munich in impressive style.
After concluding the first half of a busy year with bronze at the Commonwealth Games, Beth Potter continues to impress and improve, while Sophie Coldwell – fourth in Birmingham – will bring plenty of SLT experience to the Docklands.
Plenty of British talent then, and they are likely to be challenged by the skills of Cassandre Beaugrand (FRA), who was incredibly impressive while winning the Arena Games in London. She also took the victory at WTSC Leeds in impressive style. If she's on top form Beaugrand is very tough to beat – but she can also be inconsistent.
The Course – Revised for 2022
The North Dock, West India Quay in the business district of Canary Wharf will provide the host venue for the Triple Mix format which will see the athletes race three times, in three different racing formats:
Stage One – Swim, Bike, Run
Stage Two – Run, Bike, Swim
Stage Three – Bike, Swim, Run **
(** started in pursuit style, based upon times from the first two events)
Race distances will be 300m swim (one lap), 4km bike (four laps) and 1.6km run (two laps). There's little time for recovery either, with the 'rest' times between the stages being just two minutes (S1-2) and four minutes (S2-3), respectively.
The changing formats of the three stages both versatility and sometimes under pressure, memory, as to which discipline is next. In addition, should an athlete fall more than 90 seconds behind the leader after any discipline, they will be eliminated.
For 2022, the finish line has been moved further along the dockside outside the London Marriott Hotel, and the course will flow in anti-clockwise direction – opposite to the 2021 debut.
Short Chutes – new rules apply
Love them or hate them, the Short Chute remains part of the Super League Triathlon DNA for 2022. If you are new, the Short Chute is a 'short cut' that can be taken within the race by an athlete, having earned that right at a previous point in the event. Think of it as a bonus in real time, rather than a post-race adjustment (as is the case in the Tour de France for example). In that way, the 'first across the finish line wins' remains.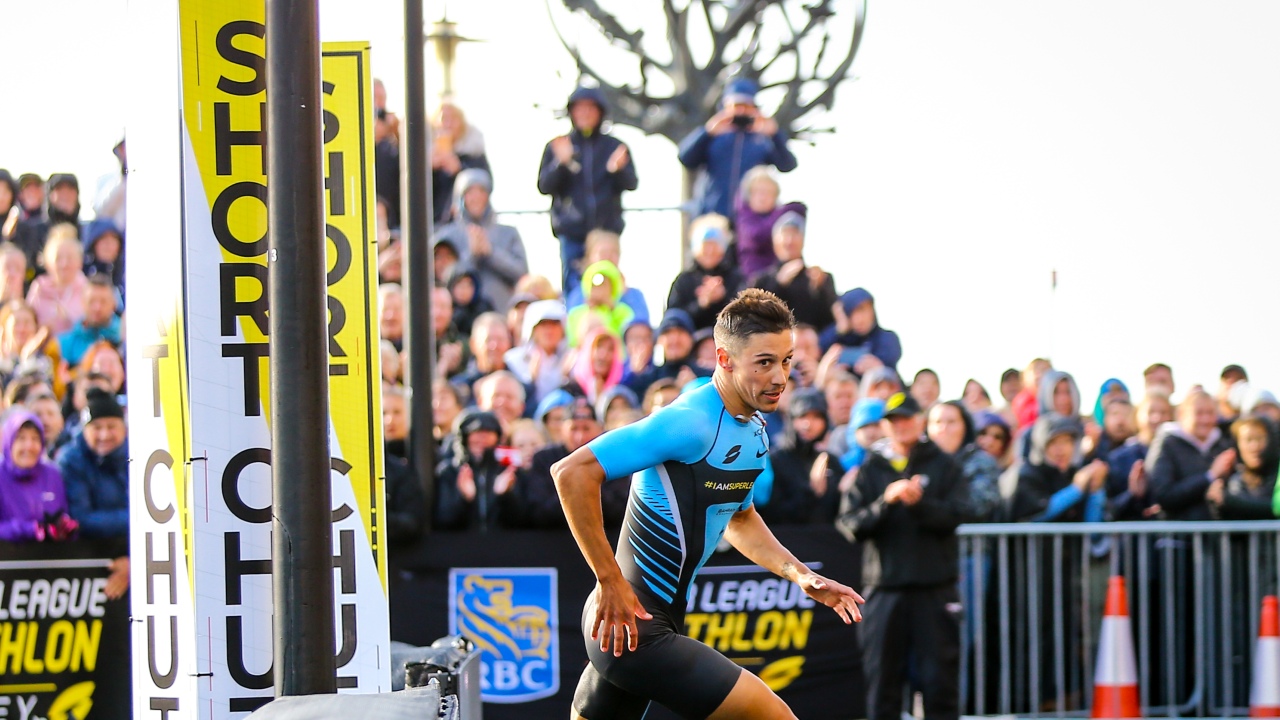 You can earn a short chute in London as follows:
1. the first athletes across the Mount Line after the swim on Stage 1,
2. the first across the Mount Line after the bike on Stage 1 (i.e. after T2)
3. the first across the Finish Line after the run on Stage 1.
Short Chutes are always taken on the final Run – Stage 3. And always on Lap 1, so even if you have an advantage, you are not yet over the line. That's a good move, and will help avoid situations such as the slightly disappointing finish – after a great race – in Munich last year, when Vincent Luis was able to take that advantage right next to the finish line.
With the further development of the SLT Teams concept, Team Managers can choose which of their squad will be awarded the short chute. Thus, while a fast swimmer could earn a short chute (point 1 above), the team could elect to award that advantage to another member of the team, who perhaps will be in a better position to secure overall success in the race at the end of the final stage.
Also of note – whatever happens, a team can only earn one short chute in an individual race.