Cassandre Beaugrand (FRA) produced the most complete display of racing we have ever seen in the format, to totally dominate Saturday's Arena Games Triathlon Series powered by Zwift at the Olympic Park in London.
With the fastest swims, record breaking runs and a powerful display of cycling that bodes well for her 2022 season prospects, she was in a different league from the start. Incredible performance.
(You can click here for the report from the Men's Elite race)
Stage 1: Record-breaking Beaugrand
A swim-bike-run to start, it was Cassandre Beaugrand (FRA) leading the way through the opening 200m, clocking an unofficial 2:13 on our watch. Jess Learmonth was just behind – and surprisingly to some (not us…) – Beth Potter was within a couple of seconds of her fellow Brit. Add in her lightening transitions to the mix, and they were soon away and clear once onto the virtual roads of Zwift.
Learmonth powered away at the front on the non-drafting 4km virtual roads, but could only stretch out around three seconds on the Arena Games Triathlon Munich winner. Small details matter in the Arena Games, and as Beth – yet again – nailed the bike to run transition, Learmonth had a shocker allowing Potter to reach the treadmill first.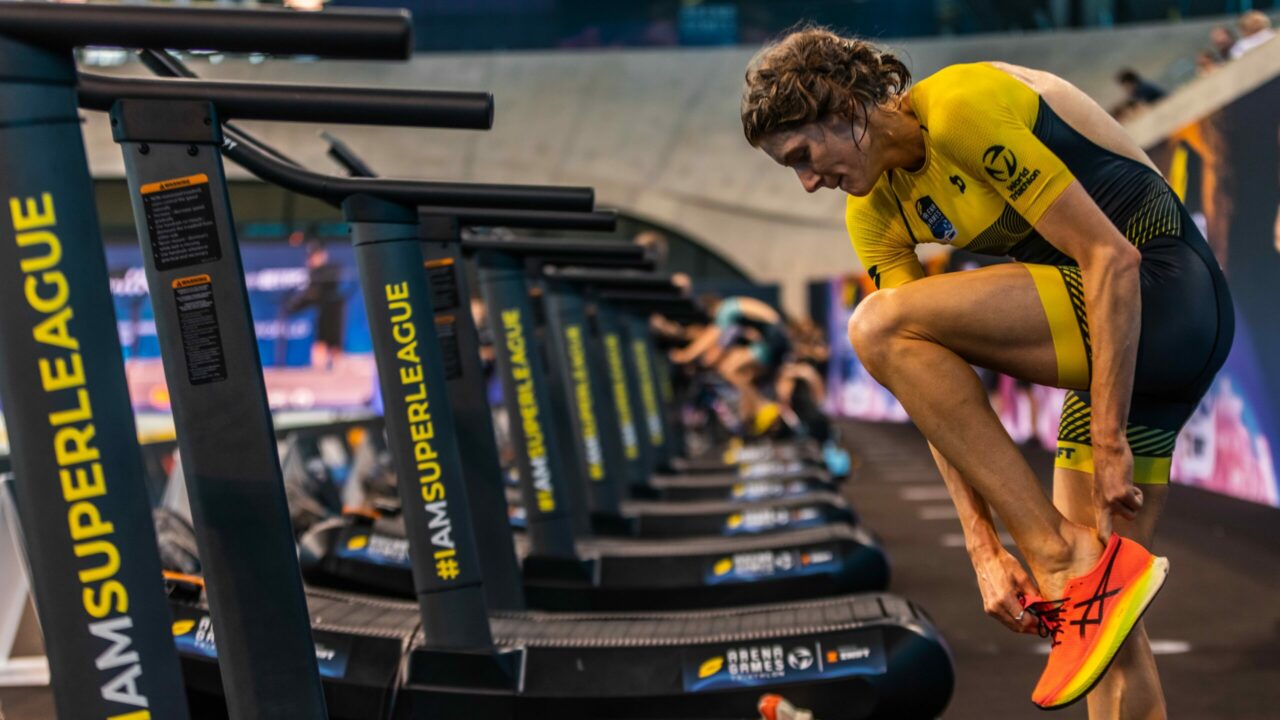 Just as we thought 'game over', Beaugrand started running like a gazelle to take stage one, three seconds ahead of the Scot. With Learmonth and Georgia Taylor-Brown already back 17 and 24 seconds respectively, this was already looking like a two athlete battle for the London title.
That Beaugrand run performance? An Arena Games record of 2:56 for the 1km, self-powered treadmill. No wonder Potter was showing, for the first time this year, signs of pressure against that.
Stage 2: Masterclass continues
Reverse order this time – run/bike/swim – and Beaugrand's run efforts to finish stage 1 didn't appear to be impacting her performance. Quite the opposite, she started fast again and upped it even more with an incredible 2:45. Records being destroyed all over the place. Impressive does not do it justice.
Onto the bike and clearly Cassandre had arrived in London in brilliant form. On what might be considered her weakest discipline, she was giving up absolutely nothing on the bike, heading back to the pool with a massive – in Arena Games terms – advantage of 17 seconds over Potter. Only a meltdown of epic proportions was going to stop her winning the Arena Games Triathlon Series London 2022. Clearly one of the 'big four' pre-race, this was turning into a masterclass for an athlete who should be hitting peak form at Paris 2024.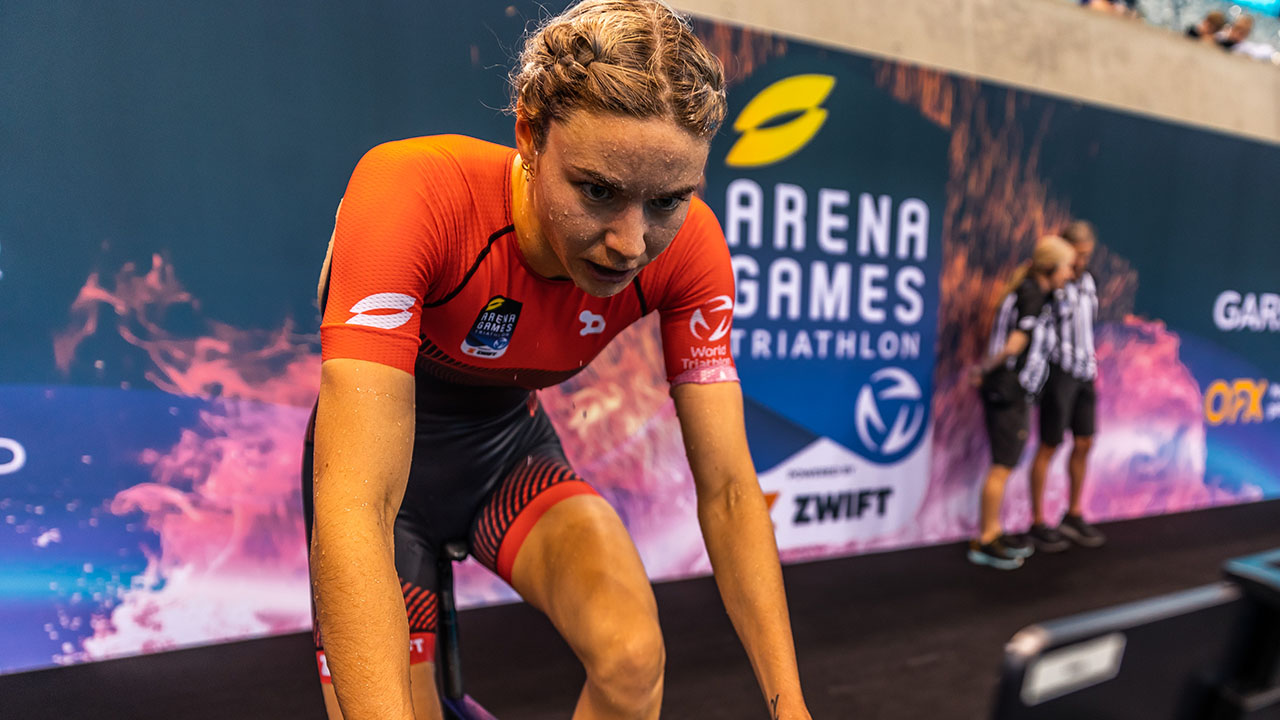 Behind, Potter just held on to second ahead of Learmonth and GTB – but in truth, the British trio were being taken apart on home soil. With a 21 second advantage over Potter, and a further 15 on Learmonth, Stage 3 was set to be the triathlon equivalent of a lap of honour.
Stage 3: Cassandre seals the deal
The podium positions looked pretty much set starting Stage 3. Would there be any last minute shocks?
Easing through the swim on the pursuit start, Beaugrand of course was well clear as she headed towards her bike for the final time today, with a healthy lead of well over 20 seconds. With just the run to come – and those record-breaking performances already – she was in total control.
Behind, Learmonth was closing the gap on the bike to Potter, but with Potter's transition and run skills, it looked unlikely that the Tokyo 2020 Mixed Relay Gold medallist would be able to move up to silver medal position.
She could coast home – but instead Beaugrand was hammering home her advantage, and would finish more than 30 seconds clear as her Zwift avatar crossed the finish line for the final time. Flawless. An absolutely brilliant display which raises the bar of what is possible in Arena Games racing.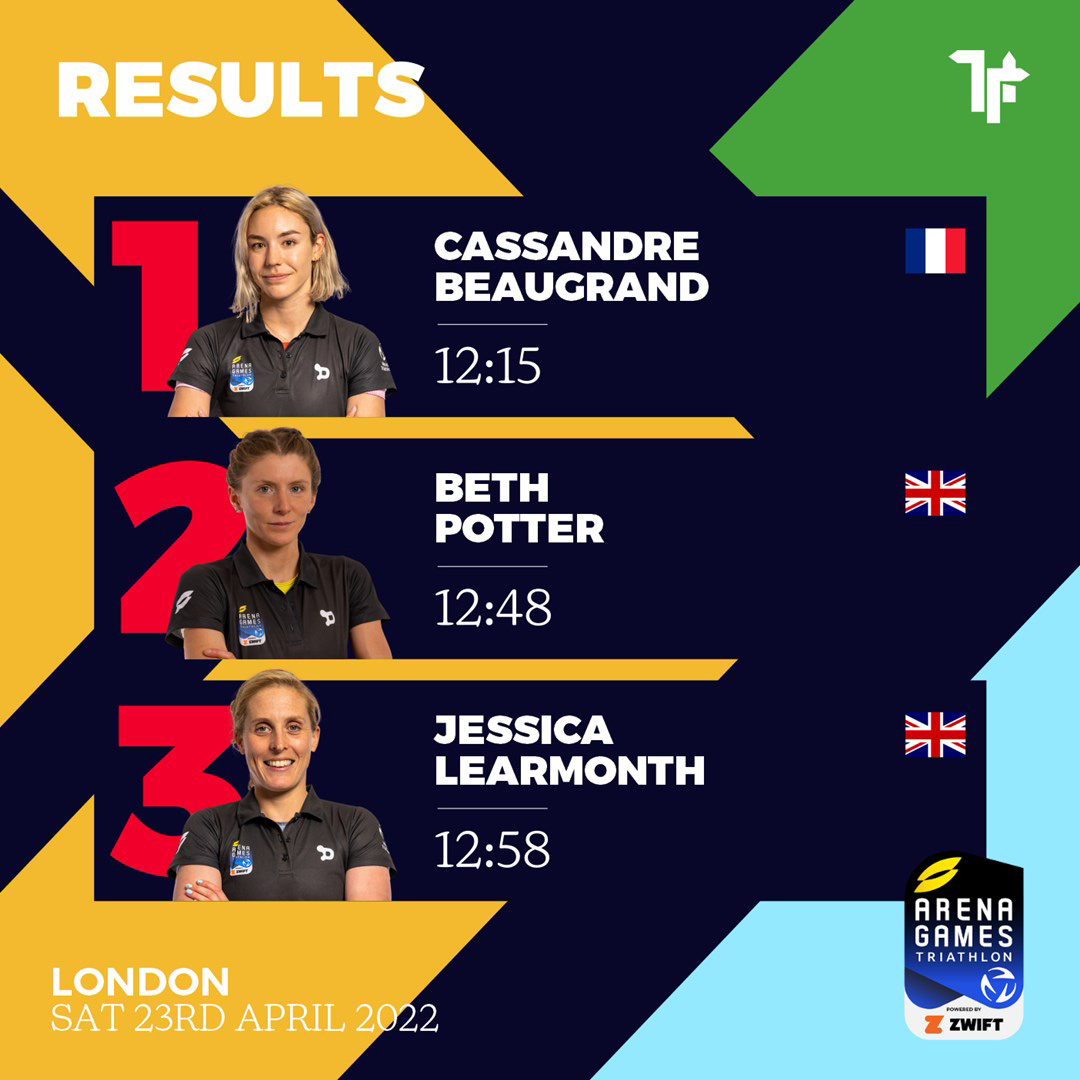 Arena Games London 2022 Results
Final, Women: Saturday April 23, 2022
1. Cassandre Beagrand (FRA)
2. Beth Potter (GBR) +0:32.5
3. Jess Learmonth (GBR) +0:43.0
4. Georgia Taylor-Brown (GBR) +1:09
5. Audrey Merle (FRA) +1:33
6. Sian Rainsley (GBR) +1:55
7. Petra Kurikova (CZE) +2:08
8. Kate Waugh (GBR) + 2:25
9. Annabel Knoll (GER) +2:57
10. Zsanett Bragmeyer (HUN) +3:13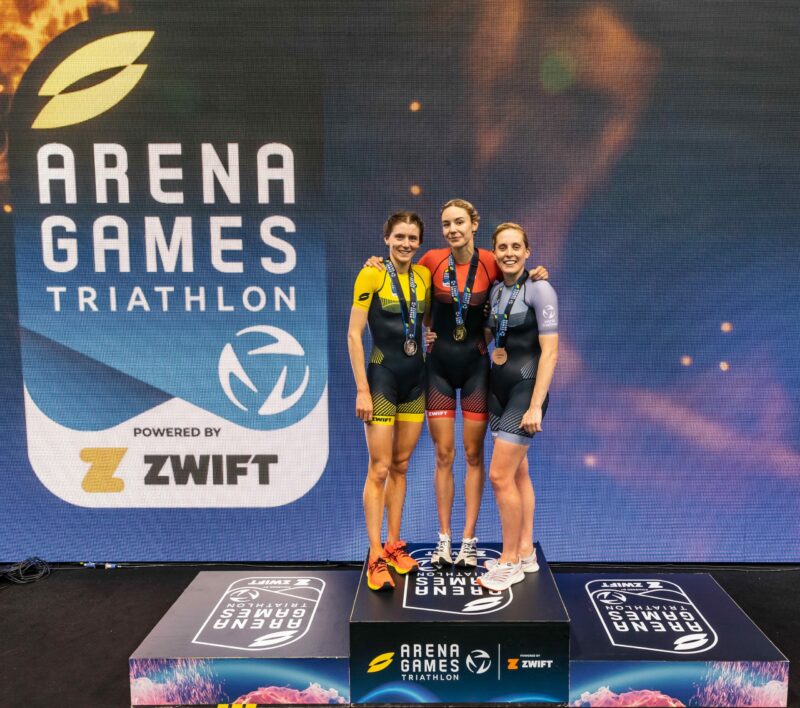 Arena Games Series Points Standings