A big Saturday of Pro triathlon coming up, and for many, that will include watching live the second race in the Arena Games Triathlon Series powered by Zwift, which takes place at the London Aquatics Centre at Queen Elizabeth Olympic Park, Stratford.
As well as global broadcast coverage, there will also be a large crowd of spectators in the venue – and based on our experience in Munich, it should create a fantastic atmosphere.
As with Munich two weeks ago – won by Beth Potter and Aurelien Raphael – we will be on-site to bring you live updates, including the morning heats. You can check our preview feature with all of the timings, along with the statistical insights and predictions from Super League's data analyst, Graeme Acheson.
The purpose of this feature is to give you my take on a change announced this week to the Arena Games format. The TLDR from me is that I think this is a bad decision for several reasons… but always willing to explain why, here is my logic which leads to that conclusion.
We've also got the thoughts of former elite athlete and now coach, Mark Buckingham, who provides an alternative view, along with his insight on what to look for as a result.
The rules have changed
Formally announced yesterday, the technical setup for the London event will be different to that of Munich, with the drafting function disabled in Zwift. What does that actually mean in practice?
As you will have likely seen, all of the athletes ride their regular road bikes, attached to the standardised Tacx Neo 2T smart trainers. Those smart trainers are then linked to the Zwift indoor cycling application, and each athlete is represented on screen by an avatar. The athletes' 'speed' on screen is then calculated by a complex algorithm which will take in a host of factors – their weight (which is why athletes have to 'weigh-in' on race day), height, the terrain of the (virtual) course and more.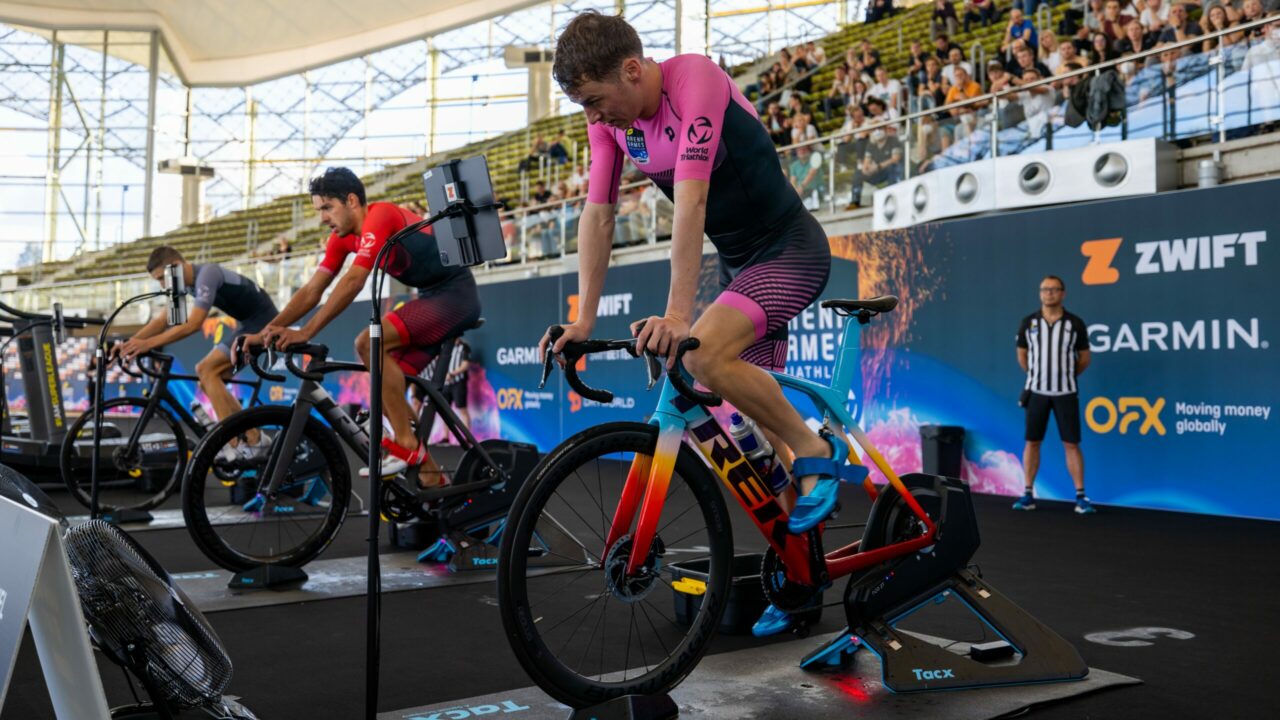 The result is that 'more power output' – as measured by the smart trainer and linked, in real-time, into Zwift – doesn't necessarily mean 'more speed'. For example, you would expect that Gordon Benson would produce more power than Alex Yee in absolute number terms, but Alex is slighter/lighter in stature, and so their watts/kg (a measure of relative power), is likely pretty close.
What Zwift also adds – the draft function – provide riders 'in game' with a more life-like representation of what happens in the real world if you are riding in a group / on the wheel of another athlete. In simple terms, if you can get close to another athlete on the roads of Zwift, the power output required to stay with them is lower than if you were trying to maintain exactly the same speed, at the same location, on your own. If you have never ridden on Zwift (or other platforms that have similar features), this probably sounds gibberish… but honestly, even as an exceptionally mediocre cyclist who has ridden a fair bit on the Zwift platform, it works pretty well.
What's the impact?
All of the athletes that race in the Arena Games are draft-legal specialists, primarily racing in the World Triathlon ecosystem – be that World Triathlon Championship Series, World Triathlon Cups, Continental Cups or perhaps even making that leap from domestic to international level racing.
The 'draft function on' in Zwift is thus a close (virtual) representation of what these athletes train for all year. One of the big talking points from racing in Munich was how Alex Yee missed the (virtual) break in Stage 1, being unable to bridge back his (small) swim deficit from the opening 200m pool swim, to get into that draft-legal pack on the bike. That saw him making big efforts (and big watts) to try and close the gap, ultimately unsuccessfully, and he finished that third stage 11 seconds behind Aurelien Raphael in seventh (last) place.
Just as we see in real world draft-legal racing, small margins matter. In Alex's case, those margins were very small. While last out of the pool (in a still speedy 2:11, with Chase McQueen leading the field in 2:03 for the 200m Long Course), at that point he was just two seconds behind Gordon Benson, who did make the group. Digging into the numbers, he also lost another two seconds to Benson in transition. Was that swim really why he missed the break? It's not quite that clear cut!
And that might be considered the beauty of draft legal racing – and explains the level of focus and training that the top athletes put into developing their swim skills.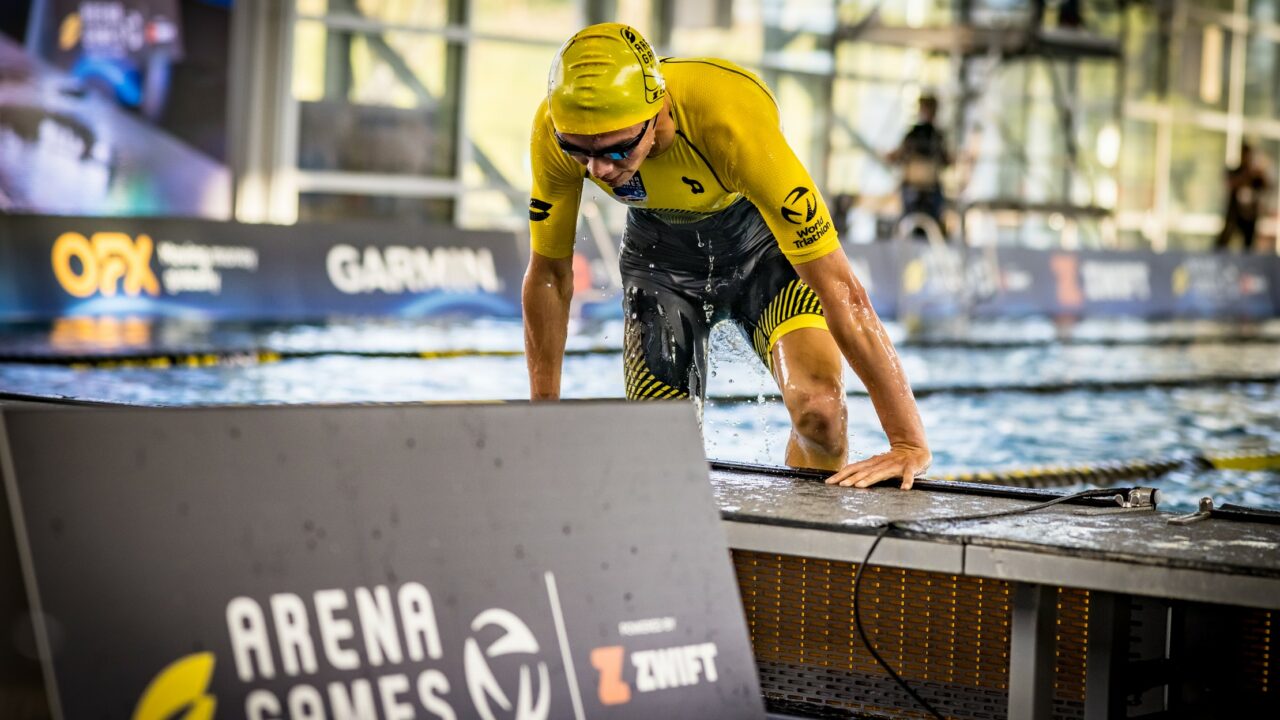 How will things change?
By removing Zwift's drafting function, you do change the event to more of a time-trial basis. The Super League explanation from data expert Graeme Acheson is:
That will mean the end of advantageous pack riding and deliver added incentive for athletes to gamble on putting down some big power to get away over the 4km bike legs.
The earlier versions of ITU/WTS racing used to ban drafting on the bike, before a rule change ahead of the sports inclusion in the Olympics in 2000. This was to improve the spectacle of the race, as it was felt bunched up racing was more appealing to viewers, but also to remove the drafting penalties that were usually applied at the end of the race, leading to the fact that the first across the line was not always the winner of the race.
Drafting was allowed on the bike to remove the need to apply penalties, increasing engagement as viewers could watch the race, knowing that the first across the line was the winner and removing the need for any mental gymnastics applying hypothetical drafting penalties.
However, with the introduction of Zwift and the Arena Games Triathlon there is a unique opportunity for triathlon to 'go back to its roots' as a pure athletic event, as drafting can be controlled entirely within the Zwift ecosystem. If drafting is turned off, it doesn't matter how close you are to the bike in front, there is no benefit obtained, but also crucially, no need to apply drafting penalties. The bike in effect becomes an easily policed TT.
This addresses some of the concerns that have been levelled at triathlon in general in recent years. The criticism may be over-the-top but the point is sometimes valid – often the bike section in a triathlon is a procession with athletes targeting a strong swim to make the bike pack, and then sitting in a 40 person peloton preparing for the run. Conversely, weaker swimmers are often isolated and this magnified on the bike if they miss the pack (see Alex Yee in Munich – he missed the bike pack being 2 seconds down on the swim, but was then 15 seconds off the back after the bike).
Now, however, weaker swimmers won't be punished in the same way – they have the opportunity to make up a few seconds on the bike, and run it home if they have the legs. We should see a different format of racing with athletes able to make ground in different sections of the race depending on where their strengths lie.
In big picture terms, I don't fundamentally disagree with much that is written above… but there is more to this that needs to be considered, in my opinion.
Why now?
This is what I don't get. The timing is TERRIBLE!
Super League Triathlon has, and continues to do, amazing things. I've attended events in Jersey, Malta and London in person, and have probably watched every single SLT race since Hamilton Island in 2017, live. The events are brilliant, innovative, vibrant – and Arena Games encompasses all of that, rightly picking up multiple awards for how it responded to the global pandemic with a completely new format.
Less than two years since its Rotterdam debut, we are now in the middle of a World Triathlon supported world series to determine the first eSports World Champion. That changes the game – and there are (formal) rules in place for exactly how Arena Games has to function operationally for a World Triathlon Championship. Appendix S, starting on page 182 if you are so inclined!
These were brand new this year, developed specifically to incorporate the requirements of Arena Games operations into the World Triathlon Competition Rules. They clearly state (8. G.) v.):
Drafting is allowed. Normal draft function will be enabled in the software
After one race, what has changed? Well, we now have a new rule…. announced yesterday (21/4/2022)
Drafting may be allowed. The athletes will be informed about this during the athletes' briefing. If drafting is allowed, normal draft function will be enabled in the software. Drafting Zone rules do not apply in either scenario as drafting features will be solely applied via the software solution.
World Championship status
The Arena Games Triathlon Series powered by Zwift is in place to determine the first eSports Triathlon World Champion. Super League have a stated goal to grow the eSports World Championship Series and to demonstrate why it should be considered for inclusion in the Olympics as early as 2028.
Big goals – but with that, in my view, come some responsibilities that may well be in conflict with the fast-moving, nimble, commercial operator. Specifically, don't change the sport two days before it takes place.
That is what is happening here. The physical skills required to optimise your performance to win this World Championship are different today, than they were at the beginning of this week. And we have already had one race. Is that fair to the athletes racing?
What happens in Singapore in two weeks time at the Grand Final? Based on the new ruling, 'drafting may be allowed'. That doesn't feel right to me. Are we going to toss a coin to determine the rules?
World Rankings
The impacts of these decisions and rules go well beyond the scope of what happens in Munich, London or Singapore. All Arena Games events can impact an athlete's World Triathlon Ranking.
Separate from the World Triathlon Championship Series (WTCS) which is used to determine the World Champion, the World Triathlon Ranking is key in determining things such as Olympic qualification, starts at wait-listed events and more. It includes results from WTCS, World Triathlon Cup, Continental Cup and other selected events over a multi-year period.
To the best of my knowledge, every race that would fall under that umbrella would be considered draft-legal. That has now changed, if points from a (non-drafting) Arena Games virtual triathlon can impact Olympic qualification for a real world draft-legal triathlon. The points awarded for winning an Arena Games Championship Series (Munich or London) is in line with a Continental Cup, while the Arena Games Championship Series Grand Final (Singapore) will provide the winner with 500 points – the same as a World Triathlon Cup.
There have been athletes sceptical of the concept of Virtual races (potentially) impacting the Olympic qualification process already. This potentially provides them with more ammunition to push back.
Conflict of Interest?
Perception is important. How are decisions made?
Who are the biggest athlete beneficiaries of this change? Well, according to Super League Triathlon co-founder, Chris McCormack, in his predictions feature today, Jess Learmonth and Alex Yee will surely be among them – and I wouldn't disagree with that assessment.
Yee and Learmonth are two of the biggest stars of Super League racing and have been for several years. Sceptical people – and there will be plenty out there in this digital world – might question why this decision has happened now, two days before the event?
Irrespective of your views on that, I don't feel that is fair on the athletes. Learmonth was in a class of her own in Rotterdam in 2020, while Yee would doubtless be more than ready to prove that he can win under the same rules as Munich, if given the chance.
Looking forward two weeks, what are the rules for Singapore – drafting or not? Who is making that decision, and how?
"A great addition"
There's always two sides to every story, and so I asked Mark Buckingham (who coaches Gordon Benson, among others) for his take on the news:
"I think it's a great addition. Obviously it can't be done outside, so with the advantage of having the technology it will be good to see a 'pure' short course triathlon. No swimming on feet, no sucking the wheel, no sheltering on the run, 100% you.
"For the women it helps Jess, as everyone has to be on the rivet for the full race, no chance to recover, and she is one of the best athletes ever at dominating a tired field. I think Beth we be equally as strong in this format as her biking has moved up another level over the winter.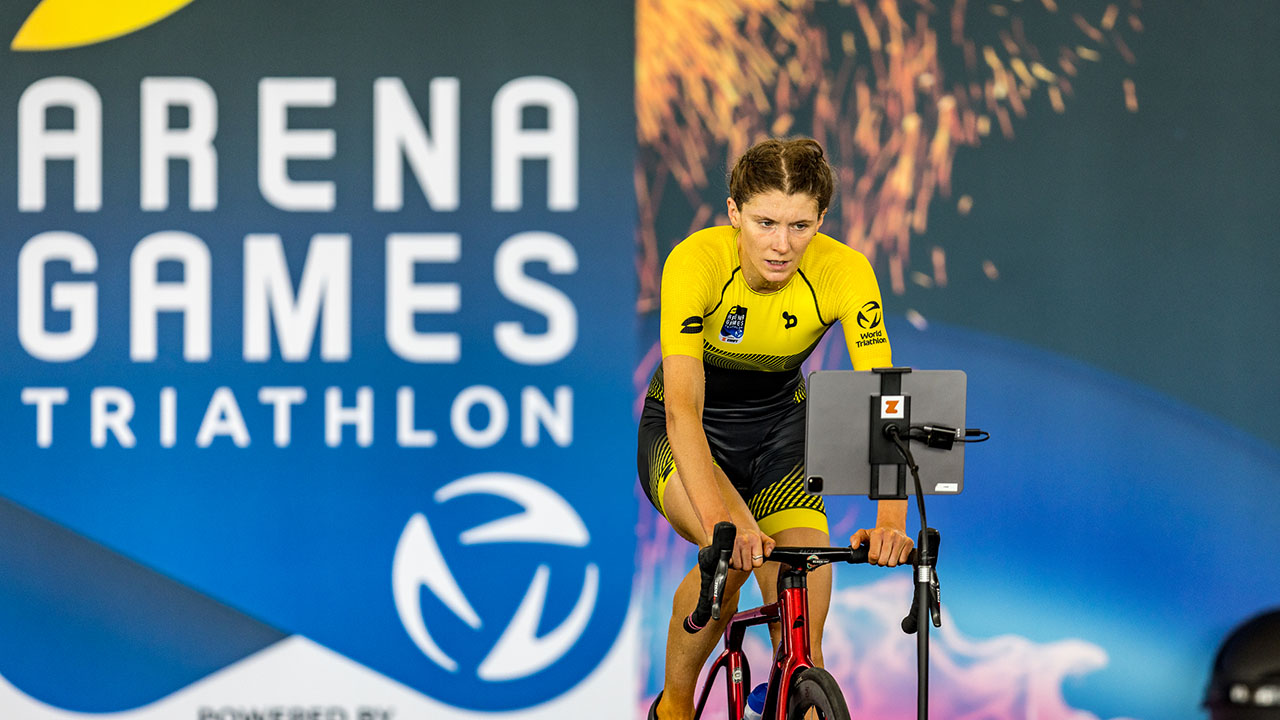 "The men's gets really interesting with no drafting, as Alex Yee and Justus Nieschlag have consistently shown to be able to hold high watts per kg (w/kg) on the bike, whereas Munich's winner, Aurelien Raphael, had a quite a low w/kg. Maybe he was conserving his effort for the run, so we will see.
"I think we will see much slower run splits across the board this week, as athletes will be really fatigued immediately after the bike."
The Roundup
Hands up, this has been a pretty long article – and congratulations if you have made it this far. This change is certainly a talking point, even if the whole concept of software configuration changes in a virtual cycling app is something alien to you!
Before I wrap, just one extra thing to add from me, which might seem in conflict to what I've written so far but I think I should make clear:
I'm actually pretty indifferent as to whether the cycle leg on Zwift for Arena Games Triathlon events utilise the draft function or not!
Honestly, my issue here is not for or against drafting.
Does it change things? Absolutely. Are there pros and cons to be made for both approaches? Totally. Will the racing be fantastic either way? 100%!
My issue here is with the timing of this amendment. Changing the rules of the game (literally), in what is now a World Triathlon Championship event, midway through the series. That's my biggest gripe.
The racing will still be fantastic and I can't wait to see it in person tomorrow – I just wish, for all parties involved, the goal posts hadn't moved so close to kick off.